8-Bay Storage Expansion Enclosure, Rackmount, Dual Power, Rack kit included

QNAP UX-800U-RP 8-Bay Storage Expansion Enclosure, Rackmount, Dual Power, Rack kit included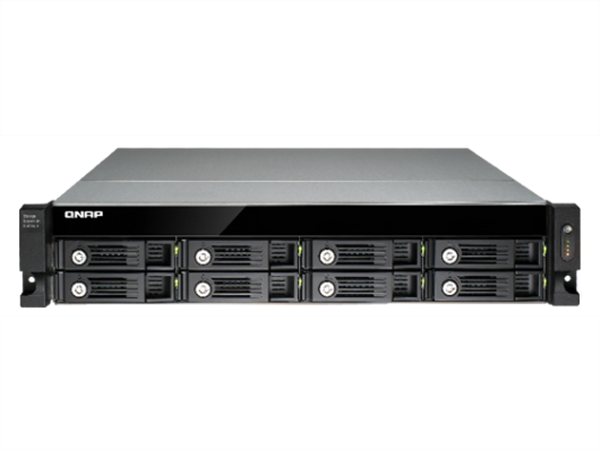 8-Bay Storage Expansion Enclosure, Rackmount, Dual Power, Rack kit included
For Select QNAP Turbo NAS Units
8 x 3.5" or 2.5" SATA III Drive Bays
Supports Hard Drives and SSDs
QTS Storage Manager
Missing Mode Protection
RAID 0, 1, 5, 6, 10
Turbo NAS Backup Solution
Redundant 300W Internal PSUs
The UX-800U-RP 8-Bay RAID Expansion Enclosure from QNAP delivers volume expansion and data backup for select QNAP Turbo NAS units. Designed for business use, the UX-800U-RP is an expansion alternative that features user-friendly setup and 8 hard drive bays that also make it useful for digital media collections and video surveillance.
The UX-800U-RP is compatible with the QNAP TS-453U-RP, TS-453U, TS-451U, TS-853U-RP, TS-853U, TS-1253U-RP, TS-1253U, TS-469U-RP, TS-469U-SP, TS-470U-RP, TS-470U-SP, TS-869U-RP, TS-1269U-RP, and more. To utilize this expansion enclosure, simply connect it to one of the supported Turbo NAS models and power it on. The Turbo NAS will automatically detect the hard drives as newly installed local drives, after which the capacity of the Turbo NAS may be expanded as a large volume by using the QTS Storage Manager.
The QTS Storage Manager presents tools and options for managing system storage with a graphical user interface, which helps to further simplify the process of managing the expansion unit and its expansion capacity. Users will be able to monitor the health status of the UX-800U-RP and the disks within it. When multiple expansion enclosures are connected, the Locate Disk and Locate Enclosure functions help assist you in maintaining the UX-800U-RP. In the event that your UX-800U-RP is accidentally disconnected, the Turbo NAS then enters missing mode and blocks I/O access to protect the stored data. This helps the system recover from missing mode to a normal state with the data remaining intact.
The UX-800U-RP features 8 hot-swappable drive bays to help with drive installation & removal. The automatic insertion/removable detection and rebuild technology help also help allow for easy system management. Featuring support for RAID 0, 1, 5, 6, and 10 and also managed by the QTS Storage Manager, the UX-800U-RP helps strong maximum performance and data security.
The UX-800U-RP may also be used as external storage to perform backup tasks for the Turbo NAS. A system administrator may back up data from the Turbo NAS to the UX-800U-RP on a real time or scheduled basis. For proper functionality, the QTS 4.0.5 or newer operating system is required for the Turbo NAS unit.
The UX-800U-RP operates using a redundant power supply with 100-240 VAC inputs at 50/60 Hz and a 300W output. Included is an accessory pack, 2 x AC power cords, a USB 3.0 cable, 32 x flat had screws (for 3.5" drives), and 24 x flat head screws (for 2.5" drives).