4 Bay SATA 6Gb/s NAS, Quad-Core Intel Celeron 2.0GHz CPU, 2GB DDR3L (Max. 8GB) RAM, 2 Gigabit Ethernet, Tower Chassis

QNAP TS-451+-2G 4 Bay SATA 6Gb/s NAS, Quad-Core Intel Celeron 2.0GHz CPU, 2GB DDR3L (Max. 8GB) RAM, 2 Gigabit Ethernet, Tower Chassis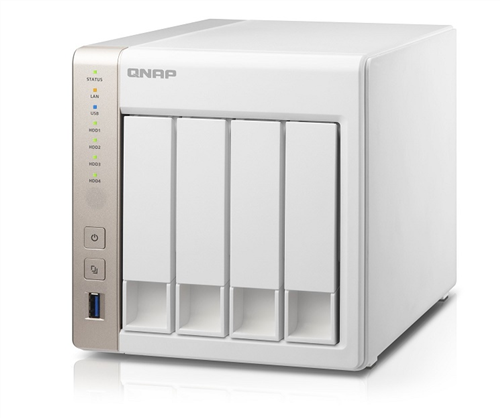 Purchase NAS and hard disk drives together and we'll fit them before we deliver to you.
4-Bay NAS, Intel Celeron Quad-Core 2.0GHz (up to 2.42GHz), 2GB DDR3L RAM (max 8GB), SATA 6Gb/s, 2 x GbE, hardware transcoding, HDMI out with kodi, remote control included, Virtualization Station, Surveillance Station (max 40 Ch), max 1 UX-800P/500P expansion unit.
Facing the increasing demand for data storage, sharing and multimedia processing, more and more users are looking for a NAS system with good performance and an affordable price tag.
The Intel quad-core TS-451+ provides an uncompromising high-performance scalable storage solution for professional users. Powered by the intelligent QTS 4.2 operating system, the TS-451+ performs as an easy-to-use yet powerful NAS for data backup, file synchronization and sharing, remote access and multimedia applications, and is ideal for users to create a secure private cloud to access their data easily.
· Centralize your file storage, sharing and backup with excellent performance
· Run multiple Windows, Linux, UNIX and Android™ based virtual machines with the Virtualization Station
· Operate multiple isolated Linux systems as well as download containerized apps with Container Station
· Play 1080p videos with the bundled remote control and multi-channel audio pass-through via HDMI
· Transcode Full HD videos on-the-fly or offline*
· Stream multimedia files via DLNA, AirPlay, Chromecast and Bluetooth with multi-zone multimedia control
· Quickly find specific files by real-time, natural search with Qsirch
· Scale up to 12 drives with QNAP UX-800P expansion enclosure
Specification
CPU:
• Quad-core Intel Celeron 2.0GHz (burst up to 2.42GHz)
GPU:
• Intel HD Graphics
Memory:
• System memory: 2GB DDR3L RAM (1 x 2GB)
• Total memory slots: 2 SODIMM
• Expandable up to: 8 GB
Notes:
• When installing two memory modules, please ensure that they are the same size and ideally use the same type of RAM for both memory slots.
• For the information of RAM module installation and compatible NAS models, please refer to the QNAP RAM Module Installation Guide
Flash Memory:
• 512MB
Drive:
• 4 x 2.5" or 3.5" SATA 6Gb/s, 3Gb/s HDD or SSD; hot swappable trays
Note: For the HDD compatibility list, please visit the Qnap website
Expansion Unit:
• Max. 1 (UX-800P, UX-500P)
Gigabit LAN Ports:
• 2
USB:
• 2 x USB 3.0 (Front: 1, Rear: 1)
• 2 x USB 2.0 (Rear)
IR Receiver:
• Yes (QNAP RM-IR002 remote control)
HDMI:
• 1
LED Indicators:
• Power/Status, LAN, USB, HDD1-4
Buttons:
• Power, Reset, USB Auto Copy
Alarm Buzzer:
• System warning
Form Factor:
• Tower
Dimensions (HxWxD):
• 177 x 180 x 235 mm
• 6.97 x 7.09 x 9.25 inch
Weight (Net / Gross):
• 3 kg (6.61 lbs) / 4.3 kg (9.48 lbs)
System Fan:
• 1 x 12cm, 12V DC
Kensington Security Slot:
• 1
Power Supply:
• External Power Adapter, 90W, 100-240V
Power Consumption (W):
• S3 sleep: 0.57
• HDD standby: 15.78
• In operation (typical): 33.88
Temperature:
• 0 - 40 °C
Humidity:
• 5~95% RH non-condensing, wet bulb: 27°C
CPU:
• Quad-core Intel Celeron 2.0GHz (burst up to 2.42GHz)
GPU:
• Intel HD Graphics
Memory:
• System memory: 2GB DDR3L RAM (1 x 2GB)
• Total memory slots: 2 SODIMM
• Expandable up to: 8 GB
Notes:
• When installing two memory modules, please ensure that they are the same size and ideally use the same type of RAM for both memory slots.
• For the information of RAM module installation and compatible NAS models, please refer to the QNAP RAM Module Installation Guide
Flash Memory:
• 512MB
Drive:
• 4 x 2.5" or 3.5" SATA 6Gb/s, 3Gb/s HDD or SSD; hot swappable trays
Note: For the HDD compatibility list, please visit the Qnap website
Expansion Unit:
• Max. 1 (UX-800P, UX-500P)
Gigabit LAN Ports:
• 2
USB:
• 2 x USB 3.0 (Front: 1, Rear: 1)
• 2 x USB 2.0 (Rear)
IR Receiver:
• Yes (QNAP RM-IR002 remote control)
HDMI:
• 1
LED Indicators:
• Power/Status, LAN, USB, HDD1-4
Buttons:
• Power, Reset, USB Auto Copy
Alarm Buzzer:
• System warning
Form Factor:
• Tower
Dimensions (HxWxD):
• 177 x 180 x 235 mm
• 6.97 x 7.09 x 9.25 inch
Weight (Net / Gross):
• 3 kg (6.61 lbs) / 4.3 kg (9.48 lbs)
System Fan:
• 1 x 12cm, 12V DC
Kensington Security Slot:
• 1
Power Supply:
• External Power Adapter, 90W, 100-240V
Power Consumption (W):
• S3 sleep: 0.57
• HDD standby: 15.78
• In operation (typical): 33.88
Temperature:
• 0 - 40 °C
Humidity:
• 5~95% RH non-condensing, wet bulb: 27˚C