Multi-WAN router, VDSL2, 1x GbE WAN/LAN, 5x GbE LAN, VPN

DrayTek DV2866 Multi-WAN router, VDSL2, 1x GbE WAN/LAN, 5x GbE LAN, VPN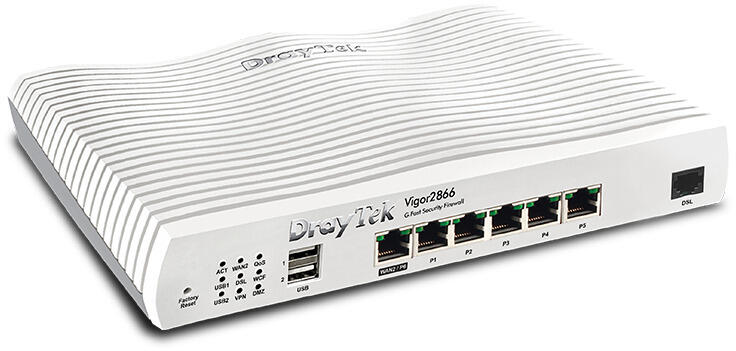 Multi-WAN G.fast/VDSL2 35b Supervectoring & Ethernet Security Firewall Routers for SMB
The Vigor2866 series routers support multi-WAN with one xDSL WAN port and one configurable Ethernet WAN port. The built-in xDSL modem is compatible with VDSL2 including profile 35b supervectoring, ADSL2+, and G.fast which can deliver fibre-like speeds up to 1 Gbps. The WANs can be configured in either load-balance or failover modes to maximise Internet bandwidth and up-time.
The Vigor 2866 series features VPN, QoS, route policy, firewall, content filtering, bandwidth management, captive hotspot portal, and a lot more. The Vigor2866ax model also supports 802.11ax (WiFi 6, AX3000) wireless features.
Multi-WAN with 1 x G.fast WAN port which is backward compatible with VDSL2 35b Supervectoring / ADSL2+, 1 x configurable GbE WAN/LAN port, 2 x USB ports and 2 x Wi-Fi WANs for (ac/Vac models)
1 x XDSL port and 1 x configurable GbE WAN/LAN port for Failover, Load Balancing and High Availability mode
2 x USB 2.0 ports for 3G/4G LTE USB modems, FTP server, network printer or thermometer
5 x Gigabit LAN ports with multiple subnets and 60,000 NAT sessions
32 x VPN tunnels (including 16 x Open VPN/ SSL-VPN tunnels) with comprehensive secure protocols
Fast VPN throughput, VPN Load Balancing and backup for site-to-site VPN applications
Hardware Acceleration and Hardware QoS for up to 8k NAT and routing connections, and 940Mbps (Single WAN) or 1.8Gbps (Multi-WAN) Firewall speed
16 x VLANs for secure and efficient workgroup management
IPv6 & IPv4
Up to 1022 IP addresses and 8 IP subnets
High Availability mode
Object-based SPI Firewall and CSM (Content Security Management) for network security
Supports VigorACS 2 and VigorACS 3 Central Management software for remote management
SD WAN capability when used with VigorACS 3
Central VPN Management for up to 8 remote Vigor routers
Central AP Management for up to 20 Vigor Access Points
Central Switch Management for up to 10 VigorSwitches
Load Balancing
Maximise throughput and reliability by using multiple Internet connections.
xDSL Modem
Integrated xDSL modem supporting G.fast to deliver fiber-like DSL speed.
VPN (Virtual Private Network)
Build a secure and private tunnel from the LAN of the Vigor2866 Series to remote offices and teleworkers over the Internet.
SSL VPN
SSL VPNs work through firewalls providing secure remote access to any network environment.
Bandwidth Management
Prevent one device using all the bandwidth with bandwidth limit policy, session limit policy, and QoS settings.
Firewall & Content Filter
Filter web pages by URL keywords or web category to block access to insecure or inappropriate content.
VoIP Friendly
The Vigor2866 Series can do port forwarding and reserve bandwidth for VoIP traffic automatically, making VoIP setup effortless.
DrayDDNS
Free DDNS service to access the router using a fixed hostname of your choice.
Central AP Management
Use the Vigor2866 router as a wireless controller to maintain and monitor VigorAPs.
Central Switch Management
Set up VLANs easily from the router and get a centralised hierarchy view of the switches.
Hardware Acceleration
Without sacrificing traffic control features such as QoS, Bandwidth Limit, WAN Budget, Traffic Graph and Data Flow Monitor, Hardware Acceleration enhances performance for:
NAT & routing connections
QoS
IPsec VPN
Hardware NAT & Routing
With Hardware Acceleration and Hardware QoS enabled, the router supports up to 8k NAT and routing connections, and firewall performance reaching 940Mbps on single WAN and 1.8Gbps combined performance on multi-WANs.
Hardware QoS
Hardware QoS allows prioritization of applications and services on DrayTek routers, to improve performance of critical applications such as VoIP, conferencing and video streaming, etc. Furthermore, it allows flexible bandwidth allocation to suit business requirements.
Hardware IPsec
While the Vigor2866 series already has improved IPsec performance over the previous Vigor2862 series, with Hardware Acceleration enabled, IPsec performance can now reach 800 Mbps. The first 16 tunnels are automatically accelerated on a first come first serve basis. If any drops out, a new tunnel will be put into the accelerator automatically to top off 16 accelerated tunnels.
APP QoS
Application QoS allows prioritisation of applications and services on DrayTek routers to improve and enhance critical applications such as VoIP, conferencing and video streaming, etc. It also allow flexible bandwidth allocation to suit business requirements.
VoIP First
VoIP is always a top priority! The default VoIP port, UDP 5060 (configurable) has priority out-of-box with QoS.
Improve Experience for Business-Critical Apps
Select your business critical apps, and easily put them into QoS classes.
Flexible Bandwidth Allocation
Bandwidth will be reserved for high-priority classes, and can be used by low-priority classes when available.
Interface

Fixed WAN Port

1 x RJ-11 for G.fast/VDSL2 35b/ADSL2+

LAN/WAN Switchable Port

1 x 10/100/1000Base-TX RJ-45

Fixed LAN Port

5 x 10/100/1000Base-TX RJ-45

USB Port

2 x USB 2.0 for 3G/4G/LTE USB modem, storage, printer or thermometer

Performance

NAT Throughput

800 Mbps

NAT Throughput
with Hardware Acceleration

940 Mbps (Single Ethernet or xDSL WAN)
1.8 Gbps (Ethernet WAN + xDSL WAN)

IPsec VPN Performance

300 Mbps (AES 256 bits)

SSL VPN Performance

150 Mbps

Max. Number of NAT Sessions

60,000

Max. Concurrent VPN Tunnels

32

Max. Concurrent OpenVPN / SSL-VPN

16
VDSL/G.fast/ADSL

VDSL Standards

ITU-T G.993.2 Annex A/B/M/Q
T1.424
ITU-T G.993.5 (Vectoring)

VDSL2 Profile

8a, 8b, 8c, 8d, 12a, 12b, 17a, 35b

G.fast Profile

106Mhz, 212Mhz (AU)

ADSL Standards

ITU-T G.992.1 (G.dmt), ITU-T G.992.3 (G.dmt.bis), ITU-T G.992.5 (ADSL2+) (G.adslplus), T1.413 Issue 2

Other Standards

ITU-T G.994.1 (G.hs), ITU-T G.997.1 (G.ploam), ITU-T G.998.4 (Retransmission)

Band Plan

998, 997

Internet Connection

IPv4

PPPoE, DHCP, Static IP, PPTP/L2TP

IPv6

PPP, DHCPv6, Static IPv6, TSPC, AICCU, 6rd, 6in4 Static Tunnel

802.1p/q Multi-VLAN Tagging

Multi-VLAN/PVC

Wireless WAN

2 (ac/Vac models)

3G/4G/LTE WAN with USB modem

Load Balancing

IP-based, Session-based

WAN Active on Demand

Link Failure, Traffic Threshold

Connection Detection

ARP, Ping

WAN Data Budget

Dynamic DNS

DrayDDNS
LAN Management

VLAN

802.1q Tag-based, Port-based

Max. Number of VLAN

16

Number of LAN Subnet

8

DHCP Server

Multiple IP Subnet, Custom DHCP Options, Bind-IP-to-MAC

LAN IP Alias

Wired 802.1x Authentication

Port Mirroring

Local DNS Server

Conditional DNS Forwarding

Hotspot Web Portal

Hotspot Authentication

Click-Through, Social Login, SMS PIN, Voucher PIN, RADIUS, External Portal Server

Networking

Routing

IPv4 Static Routing, IPv6 Static Routing, Inter-VLAN Routing, RIP, BGP (IPv4)

Policy-based Routing

Protocol, IP Address, Port, Domain, Country

High Availability

DNS Security (DNSSEC)

IGMP

IGMP v2/v3, IGMP Proxy, IGMP Snooping & Fast Leave

Local RADIUS server

SMB File Sharing

(Requires external storage)
VPN

LAN-to-LAN

Teleworker-to-LAN

Protocols

PPTP, L2TP, IPsec, L2TP over IPsec, SSL, GRE, IKEv2, IKEv2-EAP, IPsec-XAuth, OpenVPN(Host to LAN)

User Authentication

Local, RADIUS, LDAP, TACACS+, mOTP

IKE Authentication

Pre-Shared Key, X.509

IPsec Authentication

SHA-1, SHA-256

Encryption

MPPE, DES, 3DES, AES

VPN Redundancy

Load Balancing, Failover

Single-Armed VPN

NAT-Traversal (NAT-T)

DrayTek VPN Matcher

Firewall & Content Filtering

NAT

Port Redirection, Open Ports, Port Triggering, DMZ Host, UPnP

ALG (Application Layer Gateway)

SIP, RTSP, FTP, H.323

VPN Pass-Through

PPTP, L2TP, IPsec

IP-based Firewall Policy

Content Filtering

Application, URL, DNS Keyword, Web Features, Web Category* (* subscription required)

DoS Attack Defence

Spoofing Defence
Bandwidth Management

IP-based Bandwidth Limit

IP-based Session Limit

QoS (Quality of Service)

TOS, DSCP, 802.1p, IP Address, Port, Application

VoIP Prioritisation

Management

Local Service

HTTP, HTTPS, Telnet, SSH v2, FTP, TR-069

Config File Export & Import

Config File Compatibility

Vigor2862

Firmware Upgrade

TFTP, HTTP, TR-069

2-Level Administration Privilege

Access Control

Access List, Brute Force Protection

Notification Alert

SMS, E-mail

SNMP

v1, v2c, v3

Syslog

Managed by VigorACS

Central VPN Management

8 remote Vigor routers

Central AP Management

20 VigorAPs

Mesh Network

7 VigorAPs (Lac model)

Central Switch Management

10 VigorSwitches
Physical

Power Supply

DC 12V @ 2A

Max. Power Consumption

26.4 watts max (Vac model)

Dimension

241mm x 166mm x 46mm

Weight

680g max (Vac model)

Operating Temperature

0 to 45°C

Storage Temperature

-25 to 70°C

Operating Humidity (non-condensing)

10 to 90%
Interface

Fixed WAN Port

1 x RJ-11 for G.fast/VDSL2 35b/ADSL2+

LAN/WAN Switchable Port

1 x 10/100/1000Base-TX RJ-45

Fixed LAN Port

5 x 10/100/1000Base-TX RJ-45

USB Port

2 x USB 2.0 for 3G/4G/LTE USB modem, storage, printer or thermometer

Performance

NAT Throughput

800 Mbps

NAT Throughput
with Hardware Acceleration

940 Mbps (Single Ethernet or xDSL WAN)
1.8 Gbps (Ethernet WAN + xDSL WAN)

IPsec VPN Performance

300 Mbps (AES 256 bits)

SSL VPN Performance

150 Mbps

Max. Number of NAT Sessions

60,000

Max. Concurrent VPN Tunnels

32

Max. Concurrent OpenVPN / SSL-VPN

16
VDSL/G.fast/ADSL

VDSL Standards

ITU-T G.993.2 Annex A/B/M/Q
T1.424
ITU-T G.993.5 (Vectoring)

VDSL2 Profile

8a, 8b, 8c, 8d, 12a, 12b, 17a, 35b

G.fast Profile

106Mhz, 212Mhz (AU)

ADSL Standards

ITU-T G.992.1 (G.dmt), ITU-T G.992.3 (G.dmt.bis), ITU-T G.992.5 (ADSL2+) (G.adslplus), T1.413 Issue 2

Other Standards

ITU-T G.994.1 (G.hs), ITU-T G.997.1 (G.ploam), ITU-T G.998.4 (Retransmission)

Band Plan

998, 997

Internet Connection

IPv4

PPPoE, DHCP, Static IP, PPTP/L2TP

IPv6

PPP, DHCPv6, Static IPv6, TSPC, AICCU, 6rd, 6in4 Static Tunnel

802.1p/q Multi-VLAN Tagging

Multi-VLAN/PVC

Wireless WAN

2 (ac/Vac models)

3G/4G/LTE WAN with USB modem

Load Balancing

IP-based, Session-based

WAN Active on Demand

Link Failure, Traffic Threshold

Connection Detection

ARP, Ping

WAN Data Budget

Dynamic DNS

DrayDDNS
LAN Management

VLAN

802.1q Tag-based, Port-based

Max. Number of VLAN

16

Number of LAN Subnet

8

DHCP Server

Multiple IP Subnet, Custom DHCP Options, Bind-IP-to-MAC

LAN IP Alias

Wired 802.1x Authentication

Port Mirroring

Local DNS Server

Conditional DNS Forwarding

Hotspot Web Portal

Hotspot Authentication

Click-Through, Social Login, SMS PIN, Voucher PIN, RADIUS, External Portal Server

Networking

Routing

IPv4 Static Routing, IPv6 Static Routing, Inter-VLAN Routing, RIP, BGP (IPv4)

Policy-based Routing

Protocol, IP Address, Port, Domain, Country

High Availability

DNS Security (DNSSEC)

IGMP

IGMP v2/v3, IGMP Proxy, IGMP Snooping & Fast Leave

Local RADIUS server

SMB File Sharing

(Requires external storage)
VPN

LAN-to-LAN

Teleworker-to-LAN

Protocols

PPTP, L2TP, IPsec, L2TP over IPsec, SSL, GRE, IKEv2, IKEv2-EAP, IPsec-XAuth, OpenVPN(Host to LAN)

User Authentication

Local, RADIUS, LDAP, TACACS+, mOTP

IKE Authentication

Pre-Shared Key, X.509

IPsec Authentication

SHA-1, SHA-256

Encryption

MPPE, DES, 3DES, AES

VPN Redundancy

Load Balancing, Failover

Single-Armed VPN

NAT-Traversal (NAT-T)

DrayTek VPN Matcher

Firewall & Content Filtering

NAT

Port Redirection, Open Ports, Port Triggering, DMZ Host, UPnP

ALG (Application Layer Gateway)

SIP, RTSP, FTP, H.323

VPN Pass-Through

PPTP, L2TP, IPsec

IP-based Firewall Policy

Content Filtering

Application, URL, DNS Keyword, Web Features, Web Category* (* subscription required)

DoS Attack Defence

Spoofing Defence
Bandwidth Management

IP-based Bandwidth Limit

IP-based Session Limit

QoS (Quality of Service)

TOS, DSCP, 802.1p, IP Address, Port, Application

VoIP Prioritisation

Management

Local Service

HTTP, HTTPS, Telnet, SSH v2, FTP, TR-069

Config File Export & Import

Config File Compatibility

Vigor2862

Firmware Upgrade

TFTP, HTTP, TR-069

2-Level Administration Privilege

Access Control

Access List, Brute Force Protection

Notification Alert

SMS, E-mail

SNMP

v1, v2c, v3

Syslog

Managed by VigorACS

Central VPN Management

8 remote Vigor routers

Central AP Management

20 VigorAPs

Mesh Network

7 VigorAPs (Lac model)

Central Switch Management

10 VigorSwitches
Physical

Power Supply

DC 12V @ 2A

Max. Power Consumption

26.4 watts max (Vac model)

Dimension

241mm x 166mm x 46mm

Weight

680g max (Vac model)

Operating Temperature

0 to 45°C

Storage Temperature

-25 to 70°C

Operating Humidity (non-condensing)

10 to 90%