VDSL/ADSL/UFB Router, Firewall, VPN, 802.11ax WiFi 6

DrayTek DV2765AX VDSL/ADSL/UFB Router, Firewall, VPN, 802.11ax WiFi 6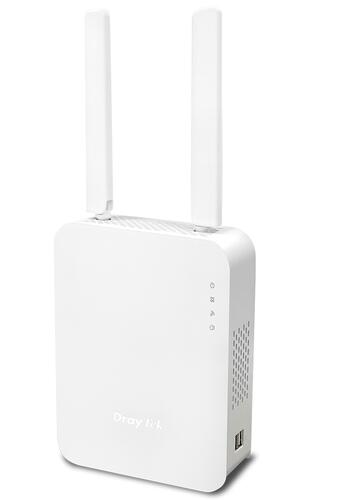 940 Mbps NAT Throughput w/ Hardware Acceleration
2x VPN tunnels (Supports IKEv2, SSL VPN, and OpenVPN)
50k NAT sessions, Recommended for a network of up to 30+ devices
VDSL2 35b, Download speed up to 300 Mbps
• Supports ADSL/VDSL/UFB (Ultra-Fast Broadband)
• 1 x VDSL2 35b/ADSL2+ WAN port
• 35b Supervectoring VDSL2
• 1 x configurable GbE WAN/LAN port (P4)
• 3 x Gigabit Ethernet LAN ports with 50,000 NAT sessions
• 2 x USB ports for 3G/4G LTE mobile broadband access, USB printer and storage
• Object-based SPI Firewall, CSM (Content Security Management) and QoS for network security
• IPv6 & IPv4
• 2 x VPN tunnels including 2 x SSL-VPN tunnels
• IPsec VPN throughput at 200 Mbps (AES 256 bits)
• Integrated IEEE 802.11ax (WiFi 6, AX3000) wireless Access Point; dual band; up to 2402 Mbps throughput (ax model)
• Supports VigorACS 2 and VigorACS 3 Central Management Software for remote management
• Central AP Management for the deployment of 2 Vigor Access Points
35b Supervectoring Modem
Integrated VDSL modem with 35b Supervectoring compatibility and VDSL2/ADSL2+ fallback.
________________________________________
Bandwidth Management
Prevent one device using all the bandwidth by bandwidth limit policy, session limit policy, and QoS settings.
________________________________________
VPN (Virtual Private Network)
Build a secure and private tunnel from the LAN of the Vigor2765 Series to remote offices and teleworkers over the Internet.
________________________________________
VPN Matcher
Helps routers behind NAT to find each other and establish a LAN-to-LAN VPN.
________________________________________
DrayDDNS
Free DDNS service to access the router using a fixed hostname of your choice.
________________________________________
Firewall & Content Filter
Filter web pages by URL keywords or web category to block access to insecure or inappropriate content.
________________________________________
Hotspot Web Portal
Market your business and communicate with guests by offering hospitality Wi-Fi.
________________________________________
Central AP Management
Use the Vigor2765 Series router as a wireless controller to maintain and monitor the VigorAPs.
________________________________________
Mesh
Easily link to other VigorAP to expand the wireless network.
Hardware Acceleration
Without sacrificing traffic control features such as QoS, Bandwidth Limit, WAN Budget, Traffic Graph and Data Flow Monitor, Hardware Acceleration enhances performance for:
NAT & routing connections
QoS
Hardware NAT & Routing
With Hardware Acceleration and Hardware QoS enabled, the router supports up to 4k NAT and routing connections, and firewall performance reaching 940Mbps on either xDSL WAN ( VDSL2 35b/G.fast) or Ethernet WAN.
Hardware QoS
Hardware QoS allows prioritization of applications and services on DrayTek routers, to improve performance of critical applications such as VoIP, conferencing and video streaming, etc. Furthermore, it allows flexible bandwidth allocation to suit business requirements.
New OFDMA Feature for 802.11ax (WiFi 6)
Higher Transmission Efficiency with OFDMA
OFDMA has been used in LTE for many years, and is now available in 802.11ax for multi-user mode.
With legacy OFDM, each frame is transmitted across the entire channel width. When the transmission rate is low, this causes more latency and jitters and lower the overall efficiency.
OFDMA splits a single frame into groups of subcarriers, and each subcarrier can be sent simultaneously. With multiple access mode, it allows multiple users to transmit at the same time thus improving efficiency and enhancing user experiences in high density environments.
AP-Assisted Roaming – built-in in selected Wi-Fi Vigor Routers and all Vigor Access Points
Extend Transmission Range
When a Wi-Fi client moves out of its effective transmission range which is defined by the Basic Rate and/or Received Signal Strength threshold, the AP forces the Wi-Fi client to pick up a nearby access point with stronger signals thereby extending the range.
Improve Data Rates
When the "Minimum RSSI with Adjacent AP" option is set, APs or routers on the same local subnet will exchange client information with each other and switch to the AP or router that has the strongest signal, ensuring that data rates can be as good as possible.
Better User Experience
Instead of ineffective transmission with low basic rates or RSSI, the better links provide better user experience while saving the airtime.
No Controller Required
Assisted Roaming is a built-in feature in all Vigor Access Points and a number of Wi-Fi routers; it saves the need for an ad-hoc wireless controller and is an ideal solution for simple network deployments.
Hotspot Web Portal
Market your business while offering free Wi-Fi
Wi-Fi Marketing
Redirect hotspot guests to the company homepage, online surveys, or display a promotion message.
Grow Customer Mailing List
Require guests to leave contact info or social media accounts before they can use the Internet services.
Various Authentication Types
A variety of login methods are supported to meet your business needs, including Facebook Login, Google Login, SMS PIN, Voucher PIN, and RADIUS.
3rd-Party Service Compliant
Supports external captive portal authentication so you can keep using the Wi-Fi marketing solution you prefer.
Data Quota Management
Bandwidth management is integrated into the Hotspot features to control the bandwidth and session usage of the Hotspot guests.
LAN Management
An all-in-one management platform for Vigor devices on the LAN side.
Automatic Device Discovery
Connect a Vigor Switch or AP to the LAN side of the Vigor Router, and the router will auto-discover the device to allow it to be managed.
Provisioning
Basic settings may be done on the Vigor Router, and then provisioned to the managed Vigor Switches or APs.
Monitoring
The Vigor Router provides a centralized view of managed devices, so you can monitor and check the status of Vigor Switches or APs connected.
System Maintenance
Perform factory resets, save/restore configuration backups, or trigger reboots remotely from the Vigor Router's interface. There is no need to log in to each device's management page.
All-in-One Management
Mesh Management
DrayTek Wireless app-support
Discovery
Auto-Provisioning
Monitoring
Centralized Hierarchy View
Central AP Management (Up to 2 APs)
Auto-Discovery
Auto-Provisioning
Monitoring
Centralized View
Alarm
Reboot VigorAP Remotely
Wi-Fi Client Load Balancing
Software Management (VigorACS 3)
Zero Touch Deployment & Provisioning
Auto VPN
Interface Quality & SLA
VoIP Optimization & Monitoring
Application Visibility
Application Based SD-WAN Policy
Customized Hotspot Page with Multilingual
Hotspot Clients Analytics
ACS Server Load Balancing / Failover
In-the-Box
Vigor2765ax Router
2 x Wireless Antennas
RJ-45 Cable (Ethernet)
RJ-11 to RJ-11 Cable (Annex A)
Power Adaptor
Quick Start Guide
Vigor2765ax