Triple WAN Router, Cat6 LTE, ADSL/VDSL, UFB, 5x Gig LAN

DrayTek DV2866L Triple WAN Router, Cat6 LTE, ADSL/VDSL, UFB, 5x Gig LAN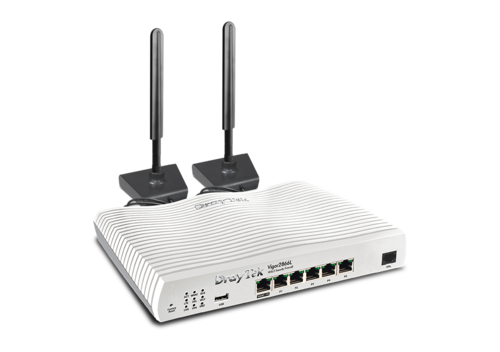 Cat.6 4G LTE modem with dual SIM slots (SIM slot 2 for Failover) for FDD & TDD 4G LTE WAN
Support 4G LTE bands: B1/B3/B5/B7/B8/B20/B28/B32/B38/B40; great coverage in Australia and New Zealand, Cat.6 4G LTE with 300Mbps download and 50Mbps upload speeds
Multi-WAN with 1 x VDSL2 35b/G.fast/ADSL2+ modem, 1 x configurable GbE WAN/LAN port, 1 x USB port, 2 x 4G LTE SIM slots
1 x XDSL port and 1 x configurable GbE WAN/LAN port for Failover, Load Balancing and High Availability mode
1 x USB 2.0 port for 3G/4G LTE USB modem, FTP server, network printer or thermometer
5 x Gigabit LAN ports with multiple subnets and 60,000 NAT sessions
32 x VPN tunnels (including 16 x Open VPN/ SSL-VPN tunnels) with comprehensive secure protocols
Fast VPN throughput, VPN Load Balancing and backup for site-to-site VPN applications
Hardware Acceleration and Hardware QoS for up to 8k NAT and routing connections, and 940Mbps (Single WAN) or 1.8Gbps (Multi-WAN) Firewall speed
16 x VLANs for secure and efficient workgroup management
Up to 1022 IP addresses and 8 IP subnets
IPv6 & IPv4
High Availability mode
Object-based SPI Firewall and CSM (Content Security Management) for network security
Supports VigorACS 2 and VigorACS 3 Central Management software for remote management
SD WAN capability when used with VigorACS 3
Central VPN Management for up to 8 remote Vigor routers
Central AP Management for up to 20 Vigor Access Points
Central Switch Management for up to 10 VigorSwitches
The Vigor2866 LTE series are VDSL2 35b/G.fast/ADSL2+ firewall routers with embedded 4G LTE connectivity, making them ideal for SMB where business continuity rely on xDSL or Ethernet Internet connectivity, or branch offices at new locations where xDSL or Ethernet connection is unavailable.
These routers have 1 x RJ-11 WAN port for VDSL2 (including profile VDSL2 35b Supervectoring)/G.fast/ADSL2+, 1 x GbE WAN/LAN switchable port, 2 x embedded SIM slots that support Cat.6 4G LTE (SIM slot 2 for Failover), and 1 x versatile USB port for an additional 4G LTE connection or other applications. These WANs provide robust Load Balancing and Failover functionality.
All models support professional features including QoS, High Availability, Route Policy, SPI Firewall, Content Filtering and much more, and can act as controllers to manage VigorAPs and VigorSwitches on the LAN, or can register to VigorACS for cloud-based remote management. The Vigor2866Lac model supports built-in 802.11ac Wave 2 wireless LAN.
The Vigor2866 LTE series router has 2 LTE antennas. A 1 metre extension lead with a magnetic base allows the antennas to be placed in the best position for optimum 3G/4G reception.
LTE/4G Specification
LTE/4G category 6
300 Mbps downstream and 50Mbps upstream
4G LTE FDD Band: 1, 3, 5, 7, 8, 20, 28, 32
4G LTE TDD Band: 38, 40
3G WCDMA Band: 1, 5, 8
The SMS feature allows status and alerts to be sent by the router, or an IT admin can reboot the router remotely. Learn more
For mission critical applications, the Vigor2866 LTE series routers can be used in High Availability mode to provide uninterrupted network connectivity in case the primary router fails.
The 4G LTE feature makes the Vigor2866 LTE series routers ideal solutions for applications such as:
Remote locations with no fixed line or NBN coverage.
Quick setup for new branches waiting for NBN connections.
Load Balancing or Failover backup for an existing primary Internet connection which can be any of xDSL/Ethernet/LTE type.
Temporary installations such as disaster recovery, emergency, exhibitions, sporting events, etc., where Internet access is required for a short period.
Provision of Internet access on public transport such as coaches, buses, trains, freighters, ferries, etc.
The Vigor2866 LTE series routers can be rack mounted using a 1RU rack mount bracket on a standard 19" rack or cabinet.