MS Teams Premium IP Phone, 7in Touch Screen, with Wireless Handset

Yealink MP58-WH-TEAMS MS Teams Premium IP Phone, 7in Touch Screen, with Wireless Handset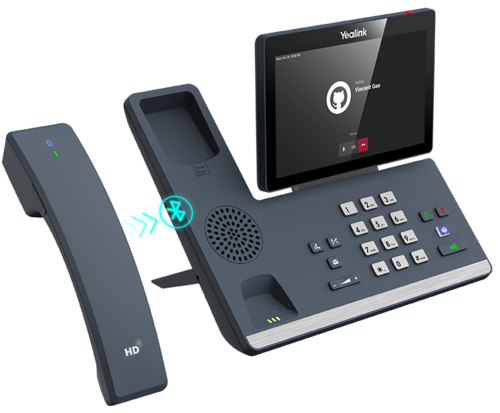 This is an MP58-TEAMS with BTH58 wireless handset.
The MP58-WH-TEAMS has a bluetooth wireless handset (BTH58) which allows the user to leave the desk and continue talking.
Based on Android 9.0 OS, Yealink MP58 IP phone provides a supreme Microsoft Teams user experience.
Yealink MP58 is a Microsoft Teams Certified desk phone with built-in Wi-Fi and Bluetooth for a superior communications experience in the office. MP58 runs Android 9.0 — modern, familiar user interface. The 7-inch touchscreen display makes it a joy to use. Press the dedicated Teams button to launch the service, answer Teams calls, check notifications and more — just one touch. The phone is fully compatible with Microsoft 365 — seamless experience for enhanced productivity. And it's flexible, too — hybrid SIP and Teams mode to use with multiple phone services at the same time.
Android 9.0
7 inch (1024 x 600) Capacitive Adjustable Touch Screen
Optimal HD audio, Yealink Noise Proof Technology
Dedicated Microsoft Teams Button
Supports Upgradability of Firmware to Teams or SFB Edition
Built-in Bluetooth 4.2 and Dual Band 2.4G/5G Wi-Fi
Supports Yealink Bluetooth Wireless Handset BTH58
Supports up to 3 Expansion Module EXP50
2 x USB Type A ports
Dual-port Gigabit Ethernet, supports PoE
Supports Microsoft/Yealink/Unify Square Device Management Platform
Hybrid mode (Teams version only
MP58 brings a professional experience to your desk phone — Optima HD Voice and Noise Proof technology for crystal clear audio quality. Connect a Bluetooth headset for wireless convenience. Wi-Fi allows you to place it where you want — simple. The USB ports support USB headsets for plug and play, hands free audio communications. For additional speed dial and feature keys, connect up to 3 Yealink EXP50 Expansion Modules. Dual Gigabit Ethernet ports allow for lightning fast wired connectivity.