VoIP PBX appliance, 100 users, 30 concurrent calls

Yeastar S100 VoIP PBX appliance, 100 users, 30 concurrent calls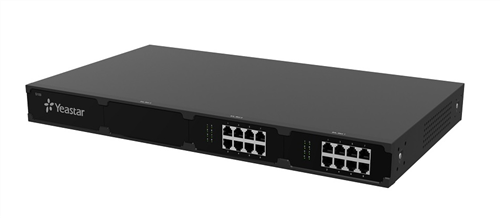 Yeastar S-Series VoIP PBX range
Save time with streamlined installation and maintenance tasks using the advanced auto-configuration, auto-detect and plug and play capabilities.
Scalable Modular Design - Telephony Modules : FXS extensions module, FXO module, PSTN fallback module, BRI module, and GSM/3G module
Expansion Boards (for S100 and S300 models) : Supports 4 modules in one EX08 Expansion Board. Supports 1 E1/T1/PRI port in one EX30 Expansion Board
System Capacity (for S100 and S300 models) : Expand SIP users and concurrent calls when your business grows with DSP Module.
S100 Specification
100 Users (expandable to 200 with DSP Module)
30 Concurrent Calls (expandable to 60 with DSP Module)
Up to 16 FXS/FXO/BRI Ports (with EX08 Expanison Board and FXS/FXO/BRI modules)
Up to 6 GSM/CDMA/3G/4G Channels (with EX08 Expanison Board and GSM/CDMA/3G/4G modules)
Up to 2 E1/T1/PRI Ports (with EX30 Expansion Board and E1/T1/PRI modules)
S-Series Performance and Power
Designed with the small and medium sized enterprises in mind, supporting up to 500 users (hardware model dependant) and built using the very latest technology, the Yeastar S-Series delivers exceptional cost savings,
productivity and efficiency improvements, delivering power, performance, quality and peace of mind.
No licensing costs for a full-featured IP PBX system.
(*Additional specialised features available for a low cost, one time license fee.)
Benefits of an On-premise PBX
Having on premise PBX gives customers:
The control to create, adjust and delete users as desired
New open source features can be added with no/low license fees
Carrier independence
VoIP trunks can be added to save on calling costs
Reduction of overall costs after the initial system is paid for
The all new S-Series is engineered for the communications needs of today and tomorrow, and with the Yeastar unique modular design future proofs your investment choice.
The Easy-to-use Solution
The S-Series features fast installation with comprehensive auto provisioning, advanced plug and play capability, together with an intuitive Metro UI driven by point-and-click configuration, from any location.
Your Choice of Technologies and Features
With a unique modular design, the S-Series will install into the most demanding of environments. You can also take advantage of advanced enterprise grade features with the fullest and most complete software versions.
Telephone System without Risk
S-Series is built with the future in mind, utilizing the latest technology advances, from Freescale industrial grade Quad Core processors, TI DSP voice processors, and long-life power units and lightning protection.
Play Safe and Expect Reliability
With advanced failover, security, monitoring and reporting capabilities as standard, combined with an internal firewall and with support for TLS and SRTP encryption, there has never been such a robust system.
Works with SIP/IAX2, PSTN lines, ISDN BRI, E1/T1/PRI, and GSM/3G
Built-in call recording capability
Powerful Apps (add-ons) include Auto Provision, LDAP, Conference Panel, VPN Server, and more coming soon
Free lifetime software/firmware upgrade and above all, it's super easy
Connect multiple sites and remote users instantly
No hidden charges and extra licensing fees
Low power consumption (1.8-59.1 watt)
Software Features
Automated Attendant (IVR)
Attended Transfer
AutoCLIP
Blind Transfer
Blacklist/Whitelist
Call Back
Call Detail Records (CDR)
Call Forwarding
Call Monitor
Call Parking
Call Pickup
Call Recording
Call Routing
Call Waiting
Caller ID
Conference
Custom Prompt
Dial by Name
DISA
Distinctive Ringtone
DNIS
Do Not Disturb (DND)
Event Center
Email to SMS/SMS to Email
Fax to Email
Follow Me
Paging/Intercom
LDAP
Mobility Extension
Multi-language System Prompt
Multi-language Web GUI
Music on Hold
One Touch Recording
Queue
PIN List
Phone Provisioning
Real-time Status Monitor
Ring Group
SIP Forking
SLA
Speed Dial
Time Condition
User Portal
User Permission
Video Calls
Voicemail
Voicemail to Email
Voicemail Forwarding
Optional Expansion Boards
EX08 board supports up to 4 modules (8 ports).
Optional Modules
* O2 Module
* S2 Module
* SO Module
* B2 Module
* GSM Module
* 3G Module
EX30 board supports 1 E1/T1 port.
D30 is a DSP module, used to expand the capacity of PBX. With per D30 module added, the extensions increase by 100 and concurrent calls increase by 30. So with two DSP modules installed, you can acheive 500 users and 120 calls in total.