IP Phone, Dual GigE, Backlit Colour LCD, PoE

Yealink SIP-T46U IP Phone, Dual GigE, Backlit Colour LCD, PoE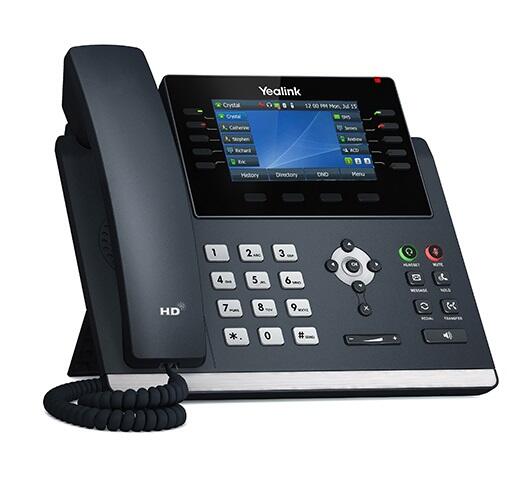 Yealink T46U is midrange desk phone for office and knowledge workers who need a familiar device with top-class audio.
The T46U has a large, full color display with 10 line keys and 4 soft keys, plus dedicated call-handling buttons. The phone features Yealink Optima HD audio quality, giving you rich, natural sound from the hearing aid compatible handset and full-duplex speakerphone.
Yealink T46U is part of the Yealink T4U Series of IP Phones with unified firmware across all models. Having unified firmware simplifies deployment, management, and updates, keeping your phone fleet secure and up-to-date. T46U is a SIP phone with support for 16 SIP accounts. It is broadly interoperable with standards-based VoIP phone systems and services. T46U has dual Gigabit Ethernet ports and supports PoE.
4.3" 480 x 272-pixel color display with backlight
Opus codec support
Dual USB ports
Dual firmware images
Up to 16 SIP accounts
T43U/T46U/T48U Auto-P template unified
T43U/T46U/T48U firmware unified
Dual-port Gigabit Ethernet
PoE support (use either a PoE switch or a PoE injector. Sold separately)
USB headset and EHS support
Wi-Fi via WF40/WF50
Bluetooth via BT40/BT41
USB recording
Supports color-screen expansion modules
Stand with two adjustable angles
Wall mountable
Note. This phone can be powered via an optional 5V power adapter if there is no access to PoE power.
Replaces SIP-T46S