10-Port Gigabit Ethernet PoE/PoE+ Smart Switch, 8 PoE Ports, 2 SFP

DrayTek P1092 10-Port Gigabit Ethernet PoE/PoE+ Smart Switch, 8 PoE Ports, 2 SFP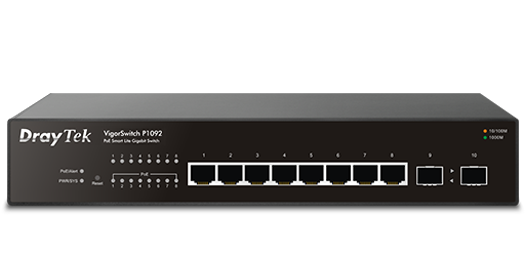 The DrayTek VigorSwitch P1092 is a Smart-Lite managed Gigabit PoE switch. It has 8x Gigabit Ethernet ports compliant with PoE and PoE+ ports and a power budget of 110 watts. It also equipped with 2x Gigabit SFP slots and basic management features, including 802.1q tag-based VLAN and QoS.
8 PoE Ports : PoE/PoE+ Gigabit Ethernet, RJ-45
110 watts of PoE Power Budget
2x SFP 1000Mbps Fiber Slot
2x LACP : Up to 2 Link Aggregation Groups
PoE (Power over Ethernet)
Deliver power and data over one ethernet cable to reduce the cost of electrical infrastructure.
QoS (Quality of Service)
Improve the performance of critical traffic by prioritizing the traffic with CoS, DSCP, and IP Precedence tag.
Central Switch Management
Set up VLAN easily from the router and get a centralized hierarchy view of the switches. Learn more
Energy-Efficient Ethernet
Compliant with IEEE 802.3az to reduce power consumption.
VLAN
Max.Number of VLAN 10
VLAN Type 802.1q Tag-based, Port-based
QoS
Number of QoS Queues 4
Rate Limit Port-Based Ingress and Egress
Queue Scheduling SPQ, WFQ
CoS (Class of Service) 802.1p CoS
Traffic Control
Storm Control Broadcast, Multicast, Unicast
Loop Prevention
Link Aggregation
Max. Number of Group 2
Member Port GE7 & GE8, SFP1 & SFP2
Type LACP
Multicast
IGMP Snooping v2
Max. Number of Multicast Group 128
Management
Web Interface HTTP
Diagnostics Tools Port Mirroring
Config File Export/Import
Managed by Vigor Router SWM
Physical
19-inch Rack Mountable Mouting Kit Included
Max. Power Consumption 141.3 watts
Dimension 265mm x 184mm x 44mm
Weight 1.68 kg (3.7 lb)
Operating Temperature 0 to 40°C