802.11ac Wave 2 Dual-Band PoE Outdoor Access Point

DrayTek DAP920R 802.11ac Wave 2 Dual-Band PoE Outdoor Access Point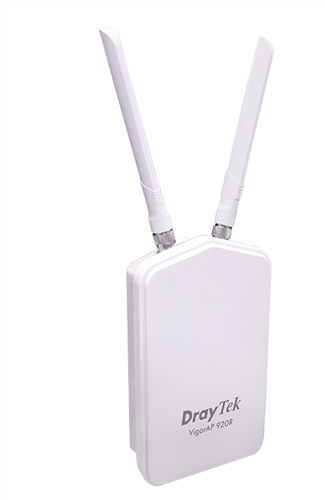 Outdoor extreme power 802.11ac wireless AP with high TX power (up to 25dBm), Gigabit LAN
The DrayTek VigorAP 920R Series outdoor access point is designed to provide high-performance wireless connections in rugged environments.
Featuring an IP67 certified enclosure and industrial-grade components, the VigorAP 920R Series is able to withstand heat, wind, rain, and snow. Furthermore, its 802.11ac Wave 2 compliance ensures a fast and reliable connection even in a high-density network.
IP67 Rated Dust & Water Resistant
Concurrent Dual-band 802.11ac Wave 2 with 2×2 MU-MIMO
Delivers data rates of up to 867 Mbps in the 5GHz band and 400 Mbps in the 2.4GHz band
1 Gigabit Ethernet LAN port with PoE-PD support
4 SSIDs with unique VLAN setting, Access Control, and Bandwidth Limit policies
AirTime Fairness and Band Steering for better Wi-Fi user experience
Built-in RADIUS server for 802.1x authentication
Improve roaming experience with Fast Roaming & AP-assisted Roaming
Provide multiple operating modes – AP, Bridge, WDS, and Universal Repeater
Supports both stand-alone and controller-based setup
MU-MIMO 802.11ac Wave 2
The VigorAP 920R Series provides concurrent dual band, allows up to 128 clients on each band, 256 clients totally. It features the latest Wi-Fi technology, 802.11ac Wave 2 in the 5GHz band and 802.11n in the 2.4G band. The support of Multi-User MIMO (MU-MIMO) allows it to deliver high-performance wireless connection even in a crowded network.
Hardware
- Interface
o 1 x 10/100/1000M Base-T PoE-capable RJ-45 Port (PoE-PD)
o Factory Reset Button
- Built-in Sensor
o Temperature sensor
o Humidity sensor
- Power Saving
o IEEE 802.3az Energy Efficient Ethernet compliant
- Temperature
o Operating: -40°C ~ 70°C
o Storage: -40°C ~ 85°C
- Humidity
o Operating: 5% ~ 95%(non-condensing)
- Housing
o IP67 Rated
- Dimension (mm)
o 160(W) x 255(H) x 80(D)
Wireless
- Standards
o 802.11ac Wave 2
o 802.11n
o 802.11a
o 802.11g
o 802.11b
- MIMO
o 2 x 2
- WLAN
o MU-MIMO (2 clients)
o Up to 128 clients per radio
o DHCP Server
o DHCP Relay Agent
o MAC Clone
- SSID
o Up to 4 SSID per radio
o SSID-based 802.1Q VLAN
- Security
o WEP, WEP-802.1x, WPA-PSK, WPA-802.1x, WPA2-PSK, WPA2-802.1x
o Hidden SSID
o Client Isolation
o Access Control per SSID
o WPS
- 802.1x Authentication
o Internal RADIUS Server: PEAP
o RADIUS Proxy: PEAP, EAP-TLS
- Performance Optimization
o Bandwidth Limit Per Station
o Auto-Adjustment Bandwidth Limit when spare bandwidth available
o AirTime Fairness
o WMM
- Load Balancing
o Client Limit per radio
o Traffic Limit per radio*
o Force Overload Disassociation by RSSI Threshold, Idle Time*
(*:controller required)
- Roaming
o CFast Roaming (WPA2/802.1x)
o AP-Assisted Roaming (Disassociation by Basic Rate threshold, RSSI threshold, RSSI threshold with stronger signal guaranteed)
- Web Portal
o Welcome Message
o URL Redirection
o Button Click Authentication
- Mobile Device Management
o Access Control by device type
o Policy per SSID
o Client OS Statistics
- Operating Modes
o Access Point
o Universal Repeater
o AP Bridge WDS
o AP Bridge Point-to-Point (2.4 GHz only)
o AP Bridge Point-to-Multipoint (2.4 GHz only)
o Station Infrastructure (2.4 GHz only)
Management
- Configuration & Monitoring
o Web Interface: HTTP, HTTPS
o CLI (Telnet)
o SNMP v2, v2c, v3
o TR-069 via VigorACS
o Vigor Router AP Management
o Configuration File Export & Import
- F/W upgrade
o HTTP, TR-069 via VigorACS
- Diagnostic Tools
o Syslog
o Speed Test
o AP Discovery
o WLAN Statistics
o Station Statistics
o Interference Monitor
VigorAP920R
Hardware
 Interface
o 1 x 10/100/1000M Base-T PoE-capable RJ-45 Port (PoE-PD)
o Factory Reset Button
 Built-in Sensor
o Temperature sensor
o Humidity sensor
 Power Saving
o IEEE 802.3az Energy Efficient Ethernet compliant
 Temperature
o Operating: -40°C ~ 70°C
o Storage: -40°C ~ 85°C
 Humidity
o Operating: 5% ~ 95%(non-condensing)
 Housing
o IP67 Rated
 Dimension (mm)
o 160(W) x 255(H) x 80(D)
Wireless
 Standards
o 802.11ac Wave 2
o 802.11n
o 802.11a
o 802.11g
o 802.11b
 MIMO
o 2 x 2
 WLAN
o MU-MIMO (2 clients)
o Up to 128 clients per radio
o DHCP Server
o DHCP Relay Agent
o MAC Clone
 SSID
o Up to 4 SSID per radio
o SSID-based 802.1Q VLAN
 Security
o WEP, WEP-802.1x, WPA-PSK, WPA-802.1x, WPA2-PSK, WPA2-802.1x
o Hidden SSID
o Client Isolation
o Access Control per SSID
o WPS
 802.1x Authentication
o Internal RADIUS Server: PEAP
o RADIUS Proxy: PEAP, EAP-TLS
 Performance Optimization
o Bandwidth Limit Per Station
o Auto-Adjustment Bandwidth Limit when spare bandwidth available
o AirTime Fairness
o WMM
 Load Balancing
o Client Limit per radio
o Traffic Limit per radio*
o Force Overload Disassociation by RSSI Threshold, Idle Time*
(*:controller required)
 Roaming
o CFast Roaming (WPA2/802.1x)
o AP-Assisted Roaming (Disassociation by Basic Rate threshold, RSSI threshold, RSSI threshold with stronger signal guaranteed)
 Web Portal
o Welcome Message
o URL Redirection
o Button Click Authentication
 Mobile Device Management
o Access Control by device type
o Policy per SSID
o Client OS Statistics
 Operating Modes
o Access Point
o Universal Repeater
o AP Bridge WDS
o AP Bridge Point-to-Point (2.4 GHz only)
o AP Bridge Point-to-Multipoint (2.4 GHz only)
o Station Infrastructure (2.4 GHz only)
Management
 Configuration & Monitoring
o Web Interface: HTTP, HTTPS
o CLI (Telnet)
o SNMP v2, v2c, v3
o TR-069 via VigorACS
o Vigor Router AP Management
o Configuration File Export & Import
 F/W upgrade
o HTTP, TR-069 via VigorACS
 Diagnostic Tools
o Syslog
o Speed Test
o AP Discovery
o WLAN Statistics
o Station Statistics
o Interference Monitor