802.11ac Wave 2 Dual-Band PoE Outdoor Access Point

DrayTek DAP920R 802.11ac Wave 2 Dual-Band PoE Outdoor Access Point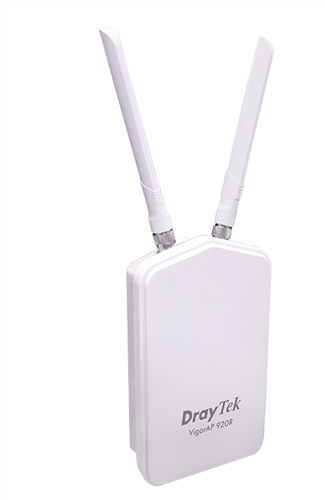 Outdoor extreme power 802.11ac wireless AP with high TX power (up to 25dBm), Gigabit LAN
IP67 Rated Dust & Water Resistant
Concurrent Dual-band 802.11ac Wave 2 with 2×2 MU-MIMO
Delivers data rate of up to 867 Mbps in the 5GHz band and 400 Mbps in the 2.4GHz band
1 Gigabit Ethernet LAN port with PoE-PD support
4 SSIDs with unique VLAN setting, Access Control, and Bandwidth Limit policies
Features AirTime Fairness and Band Steering for better Wi-Fi user experience
Built-in RADIUS server for 802.1x authentication
Improve roaming experience by Fast Roaming & AP-assisted Roaming
Provide multiple operating modes – AP, Bridge, WDS, and Universal Repeater
Support both stand-alone and controller-based setup
The DrayTek VigorAP 920R Series outdoor access point is designed to provide high-performance wireless connections in e rugged environments.
Featuring an IP67 certified enclosure and industrial-grade components, the VigorAP 920R Series is able to withstand heat, wind, rain, and snow. Furthermore, its 802.11ac Wave 2 compliance ensures a fast and reliable connection even in a high-density network.
MU-MIMO 802.11ac Wave 2
The VigorAP 920R Series provides concurrent dual band, allows up to 128 clients on each band, 256 clients totally. It features the latest Wi-Fi technology, 802.11ac Wave 2 in the 5GHz band and 802.11n in the 2.4G band. The support of Multi-User MIMO (MU-MIMO) allows it to deliver high-performance wireless connection even in a crowded network.
Hardware
? Interface
o 1 x 10/100/1000M Base-T PoE-capable RJ-45 Port (PoE-PD)
o Factory Reset Button
? Built-in Sensor
o Temperature sensor
o Humidity sensor
? Power Saving
o IEEE 802.3az Energy Efficient Ethernet compliant
? Temperature
o Operating: -40°C ~ 70°C
o Storage: -40°C ~ 85°C
? Humidity
o Operating: 5% ~ 95%(non-condensing)
? Housing
o IP67 Rated
? Dimension (mm)
o 160(W) x 255(H) x 80(D)
Wireless
? Standards
o 802.11ac Wave 2
o 802.11n
o 802.11a
o 802.11g
o 802.11b
? MIMO
o 2 x 2
? WLAN
o MU-MIMO (2 clients)
o Up to 128 clients per radio
o DHCP Server
o DHCP Relay Agent
o MAC Clone
? SSID
o Up to 4 SSID per radio
o SSID-based 802.1Q VLAN
? Security
o WEP, WEP-802.1x, WPA-PSK, WPA-802.1x, WPA2-PSK, WPA2-802.1x
o Hidden SSID
o Client Isolation
o Access Control per SSID
o WPS
? 802.1x Authentication
o Internal RADIUS Server: PEAP
o RADIUS Proxy: PEAP, EAP-TLS
? Performance Optimization
o Bandwidth Limit Per Station
o Auto-Adjustment Bandwidth Limit when spare bandwidth available
o AirTime Fairness
o WMM
? Load Balancing
o Client Limit per radio
o Traffic Limit per radio*
o Force Overload Disassociation by RSSI Threshold, Idle Time*
(*:controller required)
? Roaming
o CFast Roaming (WPA2/802.1x)
o AP-Assisted Roaming (Disassociation by Basic Rate threshold, RSSI threshold, RSSI threshold with stronger signal guaranteed)
? Web Portal
o Welcome Message
o URL Redirection
o Button Click Authentication
? Mobile Device Management
o Access Control by device type
o Policy per SSID
o Client OS Statistics
? Operating Modes
o Access Point
o Universal Repeater
o AP Bridge WDS
o AP Bridge Point-to-Point (2.4 GHz only)
o AP Bridge Point-to-Multipoint (2.4 GHz only)
o Station Infrastructure (2.4 GHz only)
Management
? Configuration & Monitoring
o Web Interface: HTTP, HTTPS
o CLI (Telnet)
o SNMP v2, v2c, v3
o TR-069 via VigorACS
o Vigor Router AP Management
o Configuration File Export & Import
? F/W upgrade
o HTTP, TR-069 via VigorACS
? Diagnostic Tools
o Syslog
o Speed Test
o AP Discovery
o WLAN Statistics
o Station Statistics
o Interference Monitor
Hardware
 Interface
o 1 x 10/100/1000M Base-T PoE-capable RJ-45 Port (PoE-PD)
o Factory Reset Button
 Built-in Sensor
o Temperature sensor
o Humidity sensor
 Power Saving
o IEEE 802.3az Energy Efficient Ethernet compliant
 Temperature
o Operating: -40°C ~ 70°C
o Storage: -40°C ~ 85°C
 Humidity
o Operating: 5% ~ 95%(non-condensing)
 Housing
o IP67 Rated
 Dimension (mm)
o 160(W) x 255(H) x 80(D)
Wireless
 Standards
o 802.11ac Wave 2
o 802.11n
o 802.11a
o 802.11g
o 802.11b
 MIMO
o 2 x 2
 WLAN
o MU-MIMO (2 clients)
o Up to 128 clients per radio
o DHCP Server
o DHCP Relay Agent
o MAC Clone
 SSID
o Up to 4 SSID per radio
o SSID-based 802.1Q VLAN
 Security
o WEP, WEP-802.1x, WPA-PSK, WPA-802.1x, WPA2-PSK, WPA2-802.1x
o Hidden SSID
o Client Isolation
o Access Control per SSID
o WPS
 802.1x Authentication
o Internal RADIUS Server: PEAP
o RADIUS Proxy: PEAP, EAP-TLS
 Performance Optimization
o Bandwidth Limit Per Station
o Auto-Adjustment Bandwidth Limit when spare bandwidth available
o AirTime Fairness
o WMM
 Load Balancing
o Client Limit per radio
o Traffic Limit per radio*
o Force Overload Disassociation by RSSI Threshold, Idle Time*
(*:controller required)
 Roaming
o CFast Roaming (WPA2/802.1x)
o AP-Assisted Roaming (Disassociation by Basic Rate threshold, RSSI threshold, RSSI threshold with stronger signal guaranteed)
 Web Portal
o Welcome Message
o URL Redirection
o Button Click Authentication
 Mobile Device Management
o Access Control by device type
o Policy per SSID
o Client OS Statistics
 Operating Modes
o Access Point
o Universal Repeater
o AP Bridge WDS
o AP Bridge Point-to-Point (2.4 GHz only)
o AP Bridge Point-to-Multipoint (2.4 GHz only)
o Station Infrastructure (2.4 GHz only)
Management
 Configuration & Monitoring
o Web Interface: HTTP, HTTPS
o CLI (Telnet)
o SNMP v2, v2c, v3
o TR-069 via VigorACS
o Vigor Router AP Management
o Configuration File Export & Import
 F/W upgrade
o HTTP, TR-069 via VigorACS
 Diagnostic Tools
o Syslog
o Speed Test
o AP Discovery
o WLAN Statistics
o Station Statistics
o Interference Monitor