Gigabit 10/100/1000BASE-T to SFP Media Converter

LevelOne GVT-2000 Gigabit 10/100/1000BASE-T to SFP Media Converter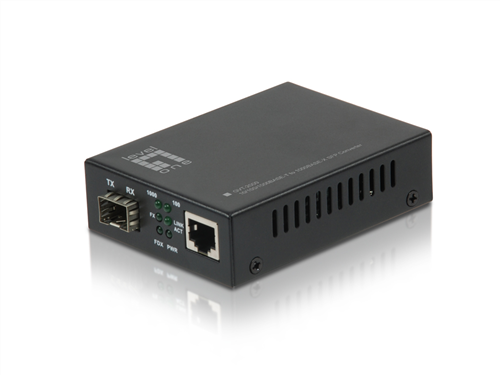 The GVT-2000 media converter is able to convert network signals between copper and fiber-optic based networks. This converter provides an SFP slot for 1000Base-X Gigabit optic module and am auto-sensing 10/100/1000Base-T RJ-45 port.

This device features built-in Dip switches for enabling Smart LFP (Link Fault Pass-through), allowing the converter to monitor both the fiber and copper ports for signal loss, as well as cut through and smart pass through mode.

The GVT-2000 is able to operate in temperatures from -10° up to 55°. It can be used as a standalone unit or as a slide-in module to the CHV-2000 19" converter rack, which can accommodate up to 14 units for use in a central wiring closet.
Transfers data from 10/100/1000Base-T copper to fiber interfaces
SFP slot supports pluggable Gigabit optic modules that enable you to choose from a variety of transceivers
9K jumbo frames to increase data transfer rates
Built-in LFP (Link Fault Pass-through) (LLCF/LLR) Technology
IEEE 802.3x Flow Control protects against lost packets for reliable data transmission
Dip switches for customized configuration
Supports low-time lag transmission
Supports the transmission of extra-long packets up to 1.6KB
-10°C ~ 55°C operating temperature range