Bullet M5 High Power AP with 5GHz 8dBi antenna and POE adapter

Ubiquiti BULLET-8DB-5G Bullet M5 High Power AP with 5GHz 8dBi antenna and POE adapter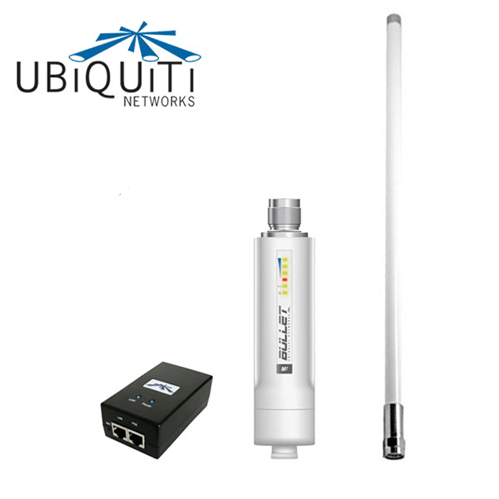 Bullet M5 High Power Access Point with PoE Injector and high gain omni-directional outdoor antenna
Outdoor wireless access point kit.
This kit is made up of:
Ubiquiti Bullet M5 HP 802.11a/n 320mW Outdoor AP
5.8 GHz 8dbi Omni directional Antenna,
PoE adapter.
This is a complete kit allowing operators to just plug and go.
Ubiquiti Networks introduces AirOS V, the latest evolution in Ubiquiti's AirOS interface. AirOS V maximizes the long range wireless performance of Ubiquiti M Series products.
The Bullet M features a signal strength LED meter for antenna alignment, a low-loss integrated N-type RF connector, and a robust weatherproof design.