16-Bay Rackmount NAS, RX-421ND quad-core 2.1 GHz CPU, 8GB RAM

QNAP TS-1673U-8G 16-Bay Rackmount NAS, RX-421ND quad-core 2.1 GHz CPU, 8GB RAM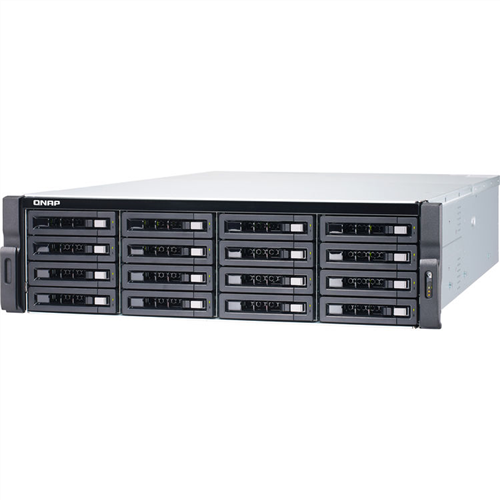 Rack Kit included
Built-in 10Gbps SFP+ slots
M.2 SATA 6Gb/s SSD slots
Powered by a high-performance AMD R-Series quad-core processor with 8GB DDR4 RAM, the TS-1673U-RP features dual 10GbE SFP+ ports and provides two M.2 SATA 6Gb/s SSD slots that allows the greatest flexibility in tiered storage configuration and enables cache acceleration. This powerful hardware can also double the encrypted file transfer performance with AES-NI encryption acceleration.
The TS-1673U-RP is designed for small and medium-sized businesses looking for private cloud, cross-platform file sharing and collaboration, efficient backup/restoration, storage for virtualization, and to future-proof their IT infrastructure for 10GbE networks with maximized ROI.
NAS and iSCSI-SAN unified storage solution
Built-in 10GbE SFP+ ports, highly-efficient storage solution for virtualization and on-the-fly media editing & sharing
Hot-swappable redundant power supplies ensures maximum system uptime
Supports virtualization, containerized apps, centralized storage, backup, sharing, and disaster recovery
Secure access with VPN Server & VPN Client
Qfiling enables automatic file organization, Qsirch provides full-text file searching, and QmailAgent simplifies managing multiple email accounts
The new QVR Pro allows dedicated storage space for surveillance data in the NAS, and leverages the advantages of storage manageability from QTS
Expandable storage capacity by using QNAP expansion enclosures or VJBOD (Virtual JBOD)
2.1 GHz AMD RX-421ND Quad-Core CPU with AES-NI Encryption Acceleration
The TS-1673U is equipped with a 2.1 GHz AMD RX-421ND Quad-Core processor (turbo core up to 3.4 GHz), dual-channel 16GB DDR4 RAM, four 1GbE ports, and a pre-installed dual-port 10GbE network card. With a dual 10GbE configuration, the TS-1673U is capable of delivering up to 1531 MB/s throughput for fast multi-tasking with low power consumption, while the accelerated encryption engine with AES-NI enables encryption performance up to 1305 MB/s with AES 256-bit full NAS volume encryption to boost system performance, security, and help ensure the confidentiality of sensitive business data stored in the NAS.
10GbE Connectivity
The TS-1673U supports 10GbE high-speed networks with an included dual-port 10GbE SFP+ PCIe network adapter, supporting fast data throughput for businesses that demand higher bandwidth for virtualization and fast backup and restoration for growing amounts of data. It also boosts the productivity of media workflows by enabling on-the-fly high-resolution video editing without needing to transfer videos between the TS-1673U and workstations.
Business Continuity
The business-ready TS-1673U is designed to provide 24/7 operations and services. The support for comprehensive RAID configurations and hot-swapping allow for replacing hard drives without service interruption. QNAP's advanced RAID recovery technology also helps if any healthy drives are accidentally removed from a degraded RAID volume. The system can be recovered by reinserting the wrongly-removed hard drives so the data can still be accessible. The TS-1673U delivers high reliability and efficiency with quad LAN support for multiple port trunking modes including failover support.
M.2 SATA III 6 Gb/s SSD & 2.5" SSD Cache
The TS-1673U supports SSD caching to increase IOPS performance, and supports higher transfer speeds and reliability with two optional M.2 2280 SATA III 6 Gb/s SSDs. Using an SSD cache boosts overall system performance and is well-suited for improving the overall workflow of random IOPS demanding applications such as virtualization. QNAP's Qtier Technology empowers the TS-1673U with Auto Tiering that further helps continuously optimize storage efficiency across M.2 SSDs, 2.5" SSDs, and high-capacity SATA drives.
QTS Operating System
With modularized multiple applications and functions, QTS enhances management efficiency, personal productivity, multimedia, and much more. Intelligent agent services have also been added to simplify system operations and management. The user-friendly QTS features an intelligent desktop that allows you to find desired functions quickly, monitor important system information on a real-time basis, open multiple application windows to run multiple tasks concurrently with greater working efficiency, and provides a built-in App Center with install-on-demand apps to extend NAS functionality.
Storage for Comprehensive Virtualisation Applications
The TS-1673U is a comprehensive iSCSI/IP-SAN storage solution, and supports VMware, Citrix, Microsoft Hyper-V, and Windows Server 2012 R2, benefiting flexible deployment and management in virtualization environments. The TS-1673U supports VMware VAAI and Microsoft ODX to increase performance by offloading server loading for ESXi server and Hyper-V respectively, and supports QNAP vSphere Client plug-in and QNAP SMI-S provider with enhanced operational efficiency and management in virtualization applications.
Integrated Virtualisation and Container Solutions
Virtualization Station allows you to host virtual machines (VM) on the TS-1673U and access them via a web browser or Virtual Network Computing (VNC), while Container Station integrates LXC and Docker lightweight virtualization technologies for operating multiple isolated Linux systems on the TS-1673U, as well as downloading apps from the built-in Docker Hub Registry. Container Station also supports the QIoT Containers platform that helps to quickly structure your IoT environment and deployment on your private IoT cloud. No longer constrained by physical network performance, the Network & Virtual Switch increases data transfers between VMs, containers, and NAS through the internal interface.
Cross-Platform File Sharing and Sync
The TS-1673U centrally stores data, logs, and various files, and supports SMB/CIFS, AFP, and NFS protocols for file sharing across Windows, Mac, Linux/UNIX networks. Coupled with Qsync - a utility that turns a QNAP NAS into a safe, high-capacity data center for file synchronization - files uploaded to the TS-1673U will be made available for all linked devices, such as computers, laptops, or mobile devices. You can sync shared folders and team folders for group file sharing, thus enhancing the flexibility of team projects and collaboration.
Backup & Disaster Recovery Solutions
The TS-1673U offers flexible backup solutions for Windows and Mac users, Volume/LUN snapshots (block-based LUN and file-based LUN), Folder snapshot, Snapshot Replica, and Clone. It also supports Hybrid Backup Sync that consolidates backup, restoration, and synchronization functions (using RTRR, rsync, FTP, and CIFS/SMB) for transferring data to local, remote, and cloud storage spaces as a comprehensive data storage and disaster recovery plan. Up to 256 snapshots per volume or LUN, and a maximum 1024 snapshots per NAS. It is recommended to use block-based LUN snapshots.
Security to Protect Your Data
In open network environments, business data may be exposed in a potential hack. The TS-1673U provides numerous security options, such as antivirus, encrypted access, IP blocking, 2-step verification, and more. IT administrators can also control the access rights of each user to different folders, preventing unauthorized access to important files. The TS-1673U supports AES 256-bit encryption, preventing sensitive business data from unauthorized access and breach even if the hard drives or the entire system were stolen. Windows AD server, LDAP server, and built-in LDAP service are also supported.
VPN & Proxy Server
The QVPN app combines VPN Server and VPN Client functionality. Through QVPN, the TS-1673U can be used as a VPN server with L2TP/ IPsec, OpenVPN, and PPTP support, allowing you to securely access data shared within the private local network. The TS-1673U can also be used as a VPN Client to connect to other VPN servers or virtual private network through PPTP and OpenVPN for secure data transmission. VPN Client also allows your NAS to connect to multiple servers at the same time. You can connect your devices to your NAS and the VPN server at home to access data on the LAN; via VPN Client on your NAS you can connect to international VPN servers for accessing regionally-restricted services such as Netflix and Hulu in HD Station.
Improved Communication Workflows
It can be hard to manage emails and contact information that are scattered across multiple computers, devices, and accounts - not to mention if important emails or contact information are lost or become inaccessible due to account closure or device malfunction/loss. QNAP QmailAgent and Qcontactz helps you centrally store and manage emails and contact information, making them accessible to your devices, and with the Qsirch search engine, you can find specific contacts and emails.
Surveillance Solution Providing 24/7 Security
Surveillance Station is a professional network surveillance Video Management System (VMS) that offers a user-friendly management interface, over 3000 compatible IP camera models, and expandable IP camera channel licenses. It supports real-time monitoring, video & audio recording, and playback with a wide range of customizable settings. You can use the iOS or Android Vmobile app to manage the monitored channels to safeguard your office environment, or install the Vcam mobile app to turn your device into a network camera to instantly record to your TS-1673U. The TS-1673U offers 4 free IP camera channels and you can expand up to 72 channels by purchasing additional licenses.
QVR Pro Surveillance Solution
The TS-1673U supports QVR Pro (Beta) that integrates QNAP's professional QVR system into the QTS operating system. You can arrange a dedicated, independent storage space for surveillance data on the NAS and leverage the advantages of scalability and storage manageability from QTS. QVR Pro features a flexible monitoring interface that allows adjusting the proportion and monitor view of IP cameras, supports an upgraded timeline feature that provides instant video search and quick view identification in live monitoring mode, and allows for monitoring views and playing back images without switching between windows. Additional functions like batch adding and editing cameras and searching for cameras across different LANs further save the cost and time in deploying and maintaining a complete surveillance system. With the QUSBCam2 App, you can use a USB camera as an ONVIF network camera. Simply connect it to your TS-1673U, and you can view real-time images without installing any software. Through QVR Pro, you can even store recordings for playback, allowing you to build a surveillance system with a minimal budget.
Economical & Flexible Storage Expansion
Besides attaching QNAP expansion enclosures, the TS-1673U's storage capacity can also be increased by using VJBOD. With VJBOD, the storage capacity of other QNAP NAS can be used as virtual disks that can be mounted as local disks on the TS-1673U for shares, applications, or even creating another LUN. You can use the QTS Storage Manager to easily handle NAS capacity expansion and storage expansion enclosure management.
The TS-1673U can be paired with up to two UX-800U-RP expansion enclosures that support up to 32 drives or up to two UX-1200U-RP expansion enclosures that support up to 40 drives. If additional storage is required, up to eight REXP-1220U-RP units support up to 112 drives and up to eight REXP-1620U-RP units support up to 144 drives. Using the REXP-1220U-RP or REXP-1620U-RP requires that the 10GbE card is removed and a 12 Gb/s SAS expansion card (SAS-12G2E) be installed.
• CPU: AMD R-Series RX-421ND quad-core 2.1 GHz processor, turbo core up to 3.4 GHz
• Hardware Encryption Engine: Yes, AES-NI
• System Memory: 8GB DDR4 (2 x 4GB)
• Maximum Memory: 64GB (4 x 16GB)
• Memory Slot:
- 4 x UDIMM DDR4
- Note: For dual- or quad-DIMM configurations, you must use a pair of identical DDR4 modules.
• Flash Memory: 512MB DOM
• Drive: 16 x 3.5"/2.5" SATA 6Gb/s HDDs/SSDs
• M.2 SSD Slot: 2 x M.2 2280 SATA 6Gb/s SSDs
• 10Gigabit LAN Port: 2 x 10GbE SFP+ port via a preinstalled PCIe network card
• Gigabit LAN Port: 4 x Gigabit RJ45 LAN ports
• PCIe Slot: 1 x PCIe Gen 3 (x4), pre-installed with a dual-port 10GbE SFP+ LAN card
• USB Port: 2 x USB 3.0 port, 4 x USB 2.0 port
• LED Indicator: Status/Power,LAN,USB, Drive 1 - 16
• Button: Power/Status, Reset
• Maintenance Port: 1 x 3.5mm console port
• Form Factor: 3U Rackmount
• Dimension (H x W X D): 130 x 481 x 536 mm/5.12 x 18.94 x 21.10 inch
• Net Weight: 14.22 kg (31.35 lbs.)
• Operating temperature & Relative Humidity: 0 ~ 40˚C ( 32˚F ~ 104˚F ), 5 ~ 95% RH non-condensing, wet bulb: 27˚C
• Power Suply: 350W, 100-240V AC, 50/60 Hz
• Fan: 4 x 92mm, 12V DC