Free Management Software for DrayTek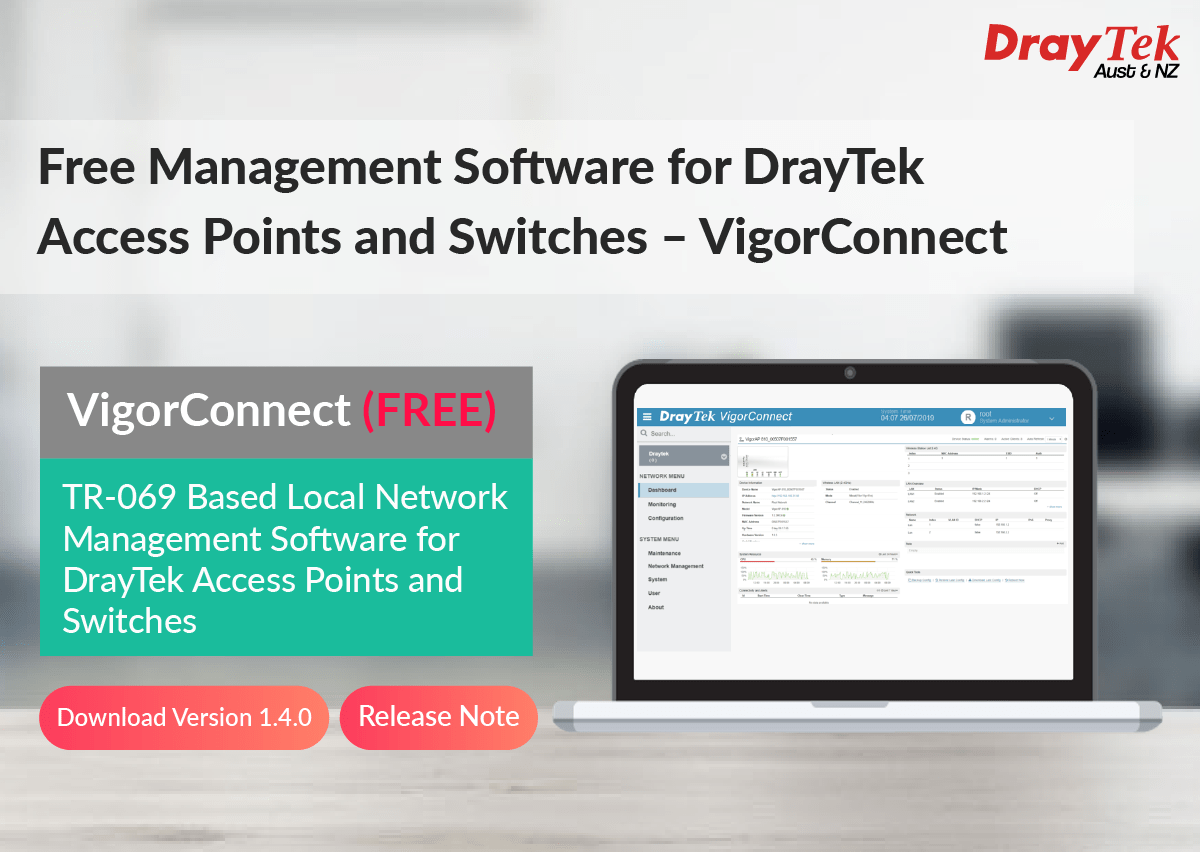 Overview
VigorConnect is a TR-069 based management system to manage up to 100 DrayTek APs/switches on the local network. It allows network administrators to monitor, manage and configure DrayTek Access Points and VigorSwitches installed on the local network.

This management tool is suitable for businesses with multiple Viogor Access Points and VigorSwitches located within a building on the same LAN. It is free and is suitable for small networks not requiring the advanced functionality of a central management system such as VigorACS 2.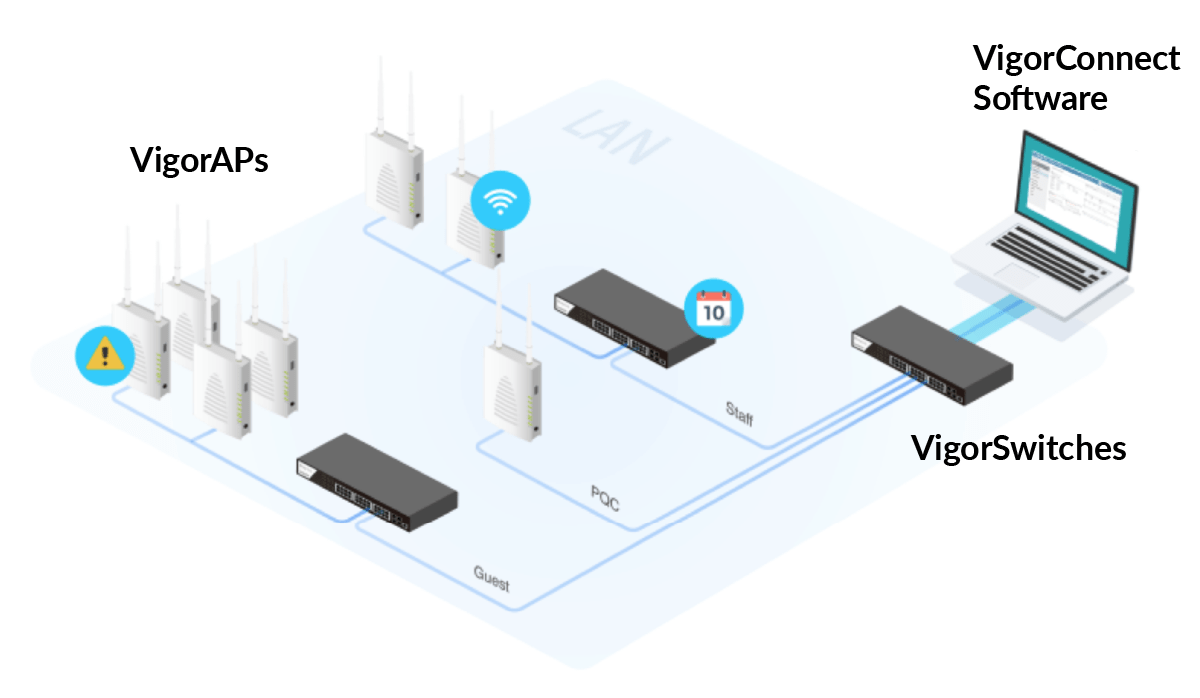 Key Features
Discovery
Automatically discover up to 100 VigorAPs and VigorSwitches in the network.
---
Provisioning
Setup for wireless in minutes by pushing configuration data to one or more VigorAPs or VigorSwitches on the network; setup the VLAN or PoE for selected VigorSwitches.
---
Monitoring
Get notified when an VigorAP or VigorSwitch loses connection; check if there's any rogue AP/Switch in the network.
---
Reporting
Get network data on the Vigor APs and VigorSwitches, Clients, CPU usage, etc. over specified periods.
---
Scheduled Maintenance
Schedule firmware upgrades or backups / restorations for VigorAPs and VigorSwitches at specific time.
---
AP Management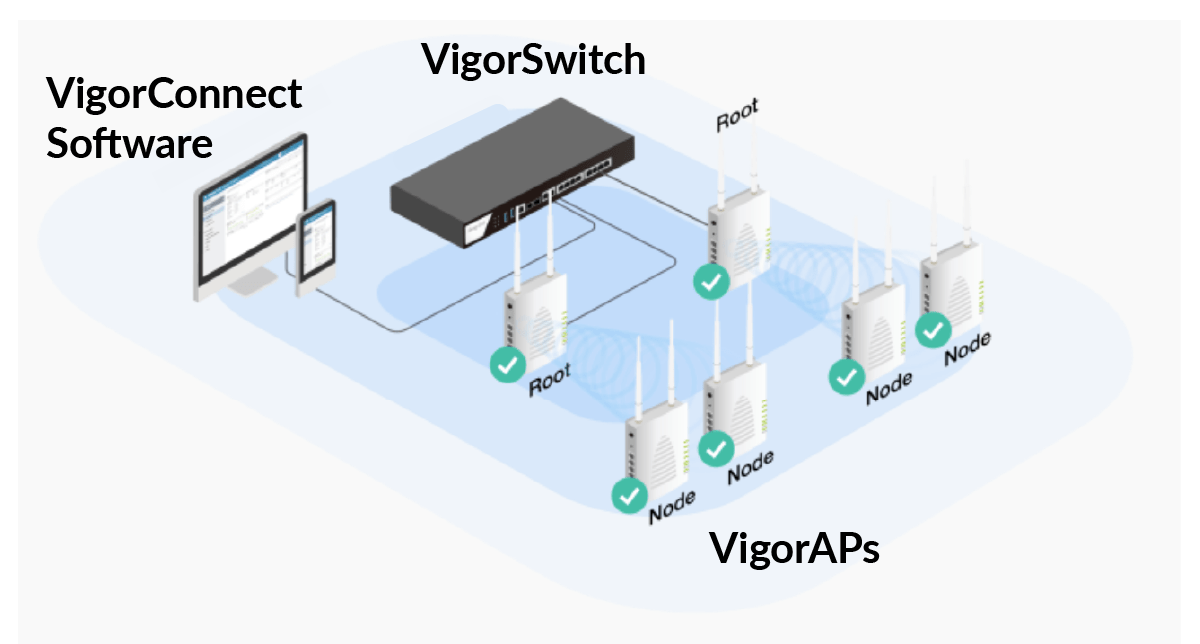 Wi-Fi Mesh Management
Easy Installation

No need to manually configure each Vigor Access Point in your network. Set up several Mesh groups from your office and eliminate Wi-Fi dead spots in your network in minutes.

Central Management

Grouping several Mesh groups allows the network admin to monitor all the Mesh Roots/Nodes, and clients from a single plane. In addition, every Mesh Root/Node has its own dashboard, which displays device insights about alert, client, and CPU usage over a specified period.

Synced Settings

The Mesh group shares the same WLAN configuration. You may easily create several Mesh groups with same configuration, and automatically build a roaming environment.
---
Wireless Wizard
A 4-step wizard helps you finish all the configurations from registering the Vigor Access Point to VigorConnect through setting up the wireless.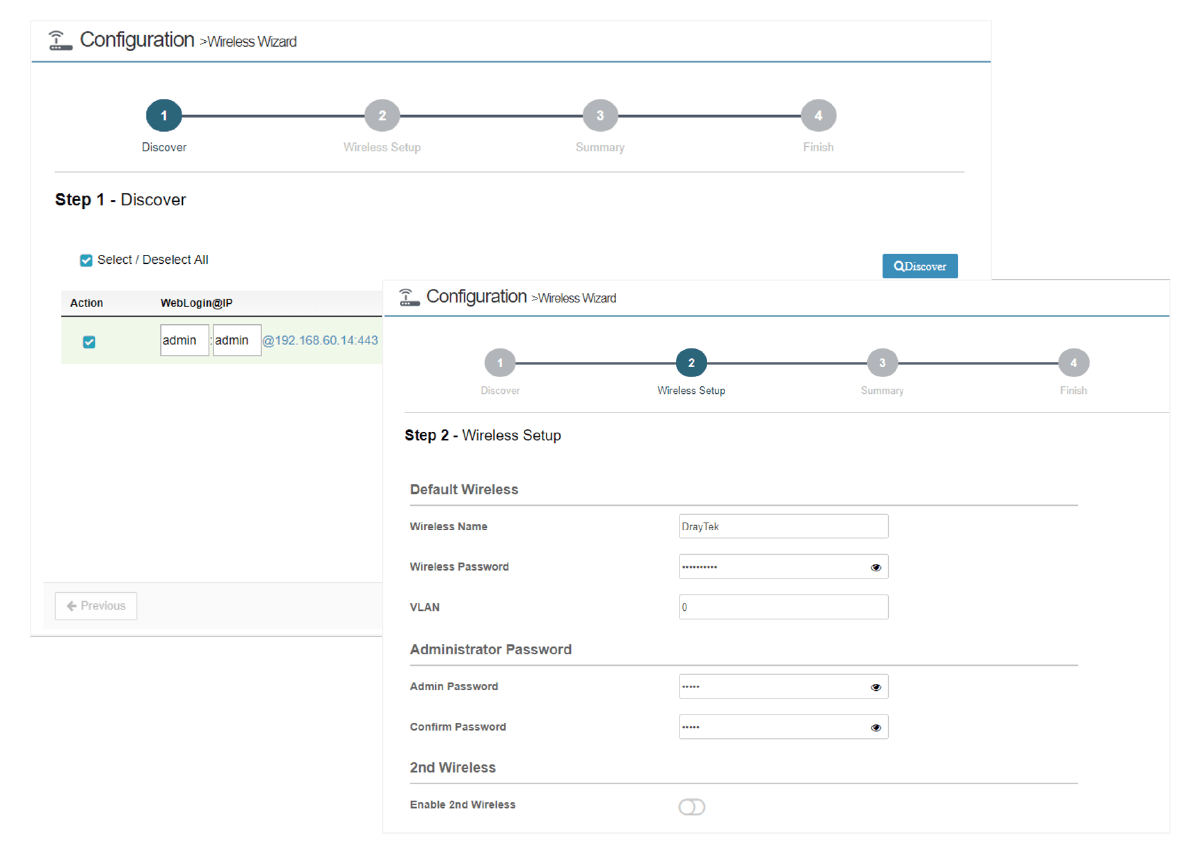 ---
AP Profile
AP Profile includes all the settings for each Vigor Access Point. It is recommended to group the APs with same characteristics together, and set up a profile, then provision to a network of APs.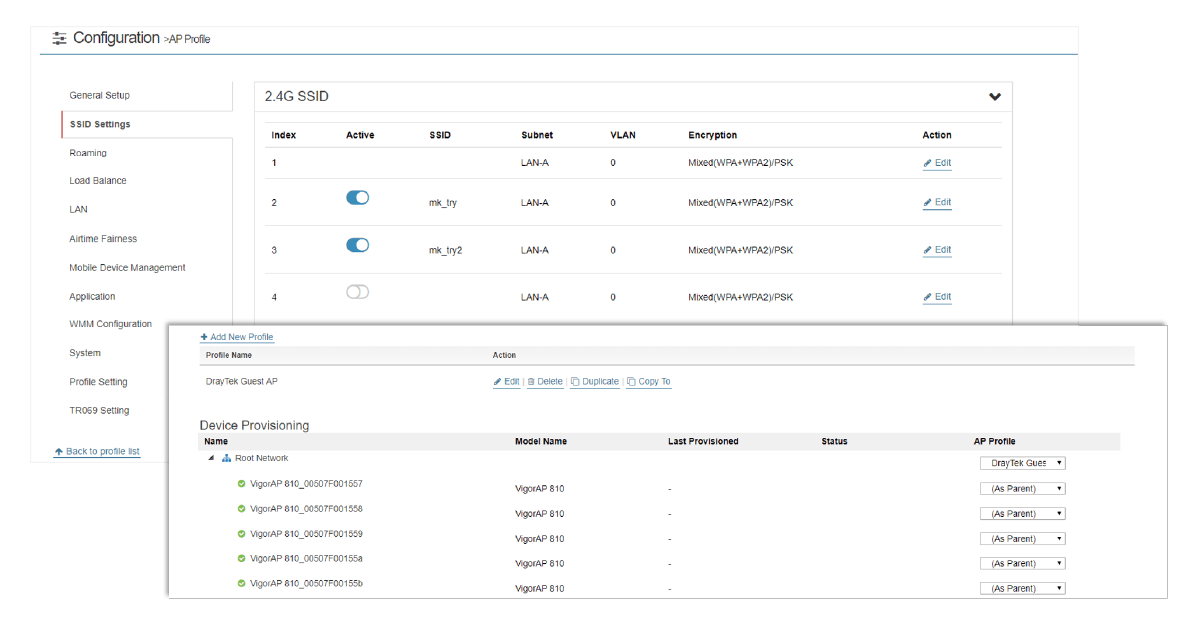 ---
Floor Plan
Built-in Floor Plan assists in placement of Vigor Access Points to achieve optimal Wi-Fi coverage.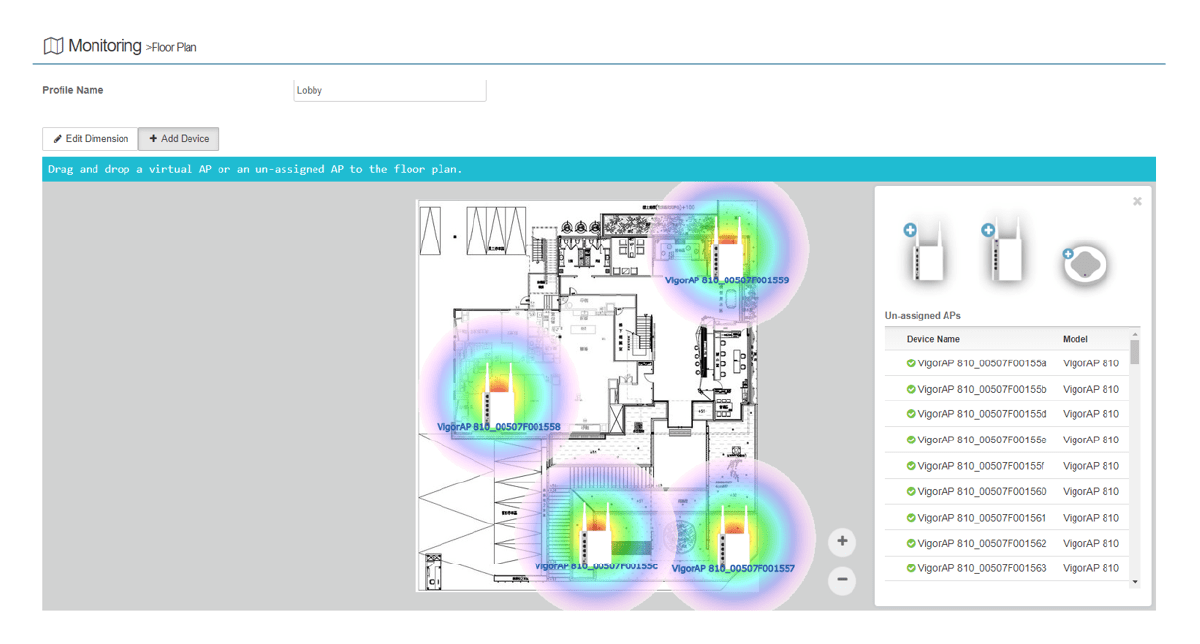 ---
Rogue AP Detection
Detect unknown Vigor Access Points in your network.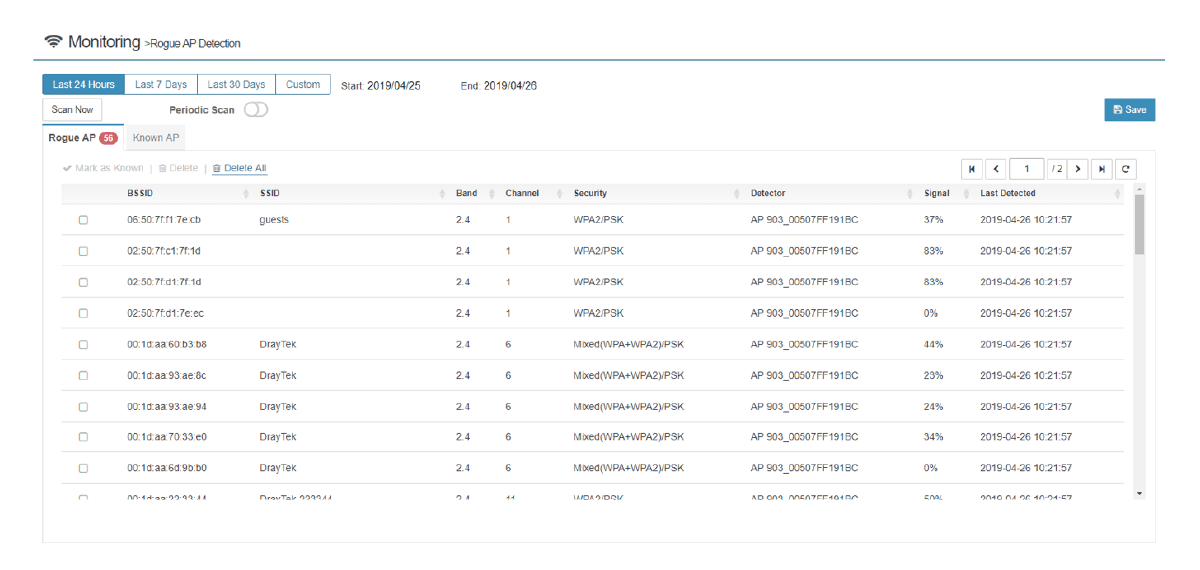 ---
Switch Management
Getting Confused with VLAN Setup?
While maintaining the same VLAN settings in the VigorSwitch Web user interface, VigorConnect provides a graphical view to simplify setting up of VLANs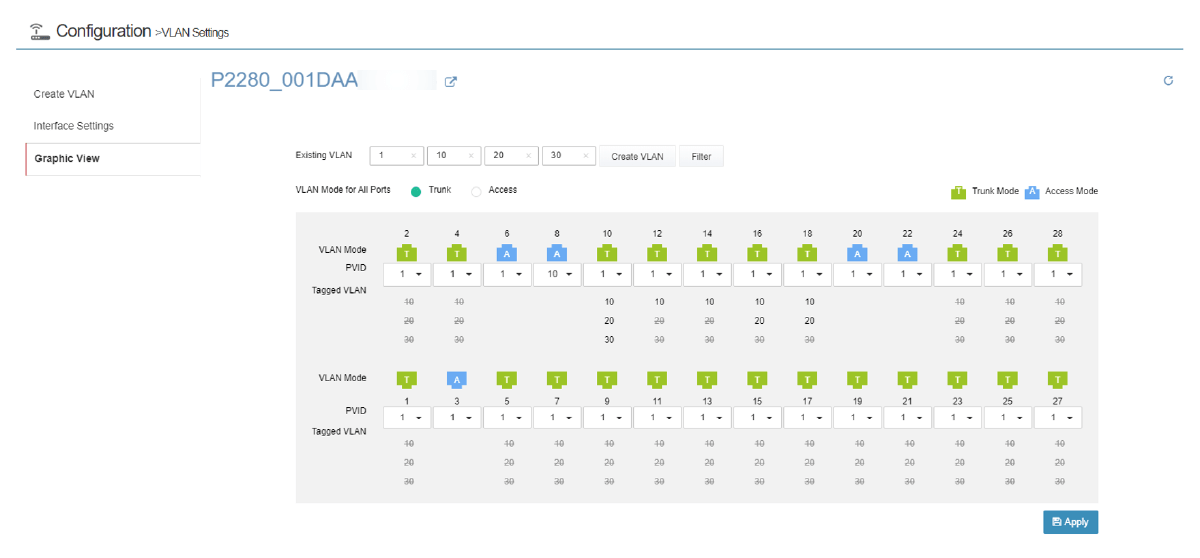 ---
PoE Scheduling
Remotely Power on/off PoE devices attached to several VigorSwitchs' with PoE scheduling.

---
Dashboard View
Dashboard View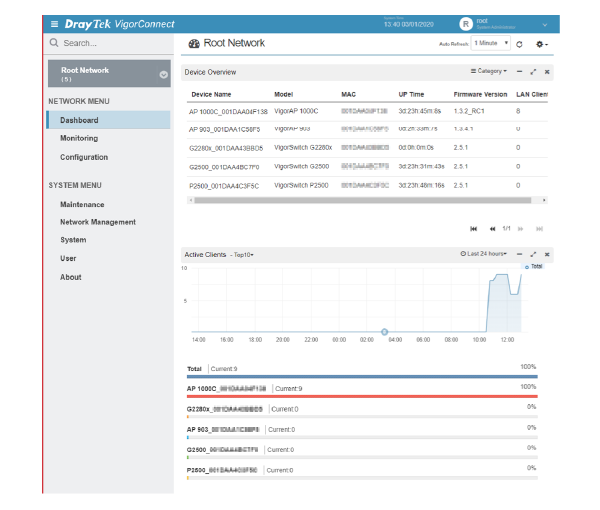 Dashboard view provides a summary of managed devices including device name and model, uptime, firmware version and number of active connections in managed VigorAPs and VigorSwitches which are shown on the graph.
---
Access Point Dashboard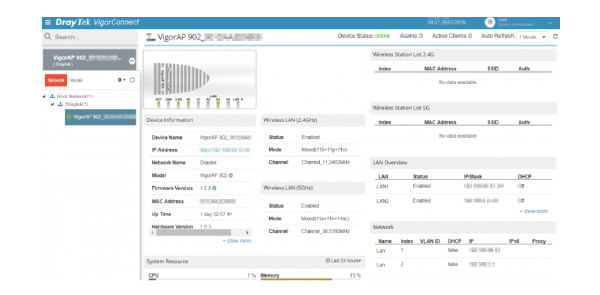 Dashboard view provides a comprehensive details of device status, such as AP online/offline status, SSIDs, channels and clients.
---
VigorSwitch Dashboard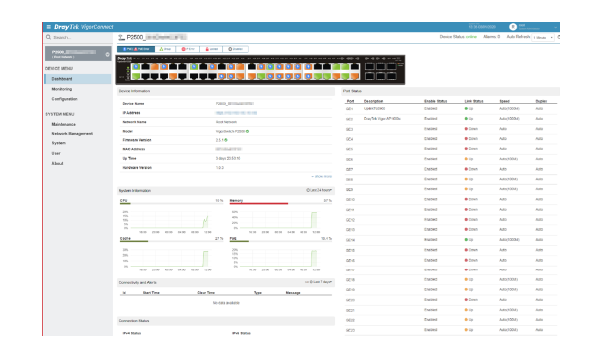 The dashboard for VigorSwitch devices displays comprehensive details of its status including a graphical display of the VigorSwitch front panel showing port usage status. Other details displayed are firmware version, system uptime, CPU load, Memory usage and cache, connection status and alerts. PoE power load is also displayed the PoE VigorSwitch devices.
---
Setup Guide