Join us for a practical hands-on DrayTek router workshop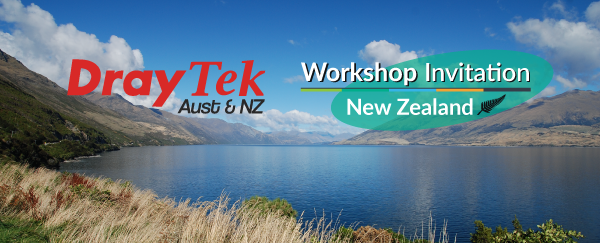 You are invited to register your interest in attending this beneficial workshop. This workshop is an excellent opportunity for DrayTek resellers or anyone who is interested in becoming a DrayTek reseller to find out more about DrayTek products and configuration options available. The course includes theory on various configuration options available followed by practical hands on sessions with DrayTek devices to give you first-hand experience to test each scenario discussed.

All equipment and training material will be provided for the workshop. Light refreshments and lunch will also be provided.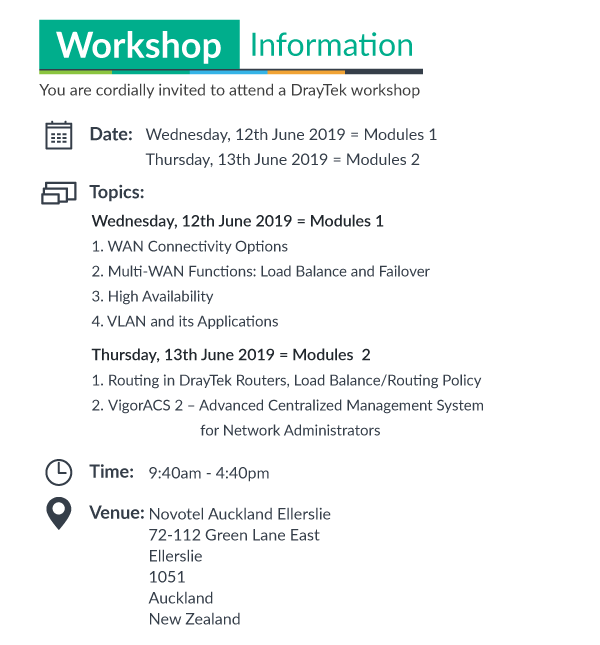 https://docs.google.com/forms/d/e/1FAIpQLScO06hLRC7DV5EYHXe_8L4oFJCYBv8Azcbu1JqtSIB6d0qQJw/viewform?usp=sf_link
---
Objective:
Course Modules 1
To present participants with the principles and configuration procedures for DrayTek Multi-WAN routers. The course starts with basic WAN configuration practices for DSL, Ethernet WAN, LTE and Wi-Fi WAN, and extends to associated functions for multi-WANs including Load Balance, Failover and High Availability.

The third part of the course covers VLAN functions to allow SME customers to set up internal networks to suit business applications.
---
Course Modules 2

Session 1: Routing in DrayTek Routers

Learn to configure and use the routing capability in DrayTek routers. The course will start with an introduction to IP basics which looks at IP addressing and routing protocol options used in DrayTek routers. Static and Dynamic route modes will be discussed followed by practical hands on sessions for each of these routing modes.

In addition, Load Balance/Routing Policy which is an extension of the routing capability in DrayTek routers, including a practical hand on session will be covered.

Session 2: VigorACS 2 – Features and Benefits

VigorACS 2 is a powerful Centralised Management platform used to remotely manage and configure DrayTek Vigor devices such as routers, access points and switches. In this course you will learn the features and benefits of VigorACS 2 and configuration options available. In the hands-on session you will create a network using DrayTek devices, and manage the network using VigorACS 2 for various tasks including network devices registration, scheduled firmware upgrade, network status reporting, etc. One of the exercises shows how quick and easy it is to set up IPSec VPN tunnels between routers using VigorACS 2.
Intended Participants:
DrayTek resellers or anyone interested in becoming a reseller of DrayTek products.
Registration fee:
$400 for Two Days Course (Modules 1 and 2)
$250 for One Day Course (Modules 1 or 2)

After confirmation of your registration, you will be invoiced for $400/250 registration fee. You will receive a $400/250 credit note for your next purchase order for DrayTek devices.
Certificate of Participation:
| | |
| --- | --- |
| You will be presented a Certificate of Participation including the course topics. This paper will attest that you are proficient in the module contents and help to promote your services to your potential customers. | |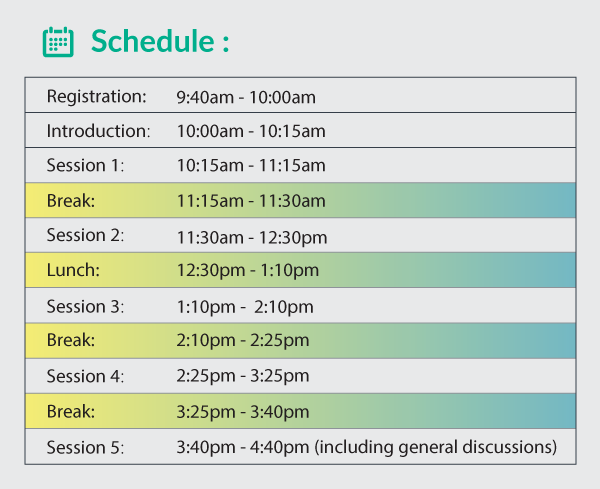 Roy Panetta, Technical Manager, i-LAN Technology Pty Ltd t/a DrayTek Aust & NZ
Herve Liu, Network Engineer, i-LAN Technology Pty Ltd t/a DrayTek Aust & NZ
Paul Ang, Network Engineer, i-LAN Technology Pty Ltd t/a DrayTek Aust & NZ

Or via the registration page -
https://docs.google.com/forms/d/e/1FAIpQLScO06hLRC7DV5EYHXe_8L4oFJCYBv8Azcbu1JqtSIB6d0qQJw/viewform?usp=sf_link