ProSafe 8-Port Gigabit Ethernet Switch, Desktop Sized, Metal Case

NETGEAR GS108AU ProSafe 8-Port Gigabit Ethernet Switch, Desktop Sized, Metal Case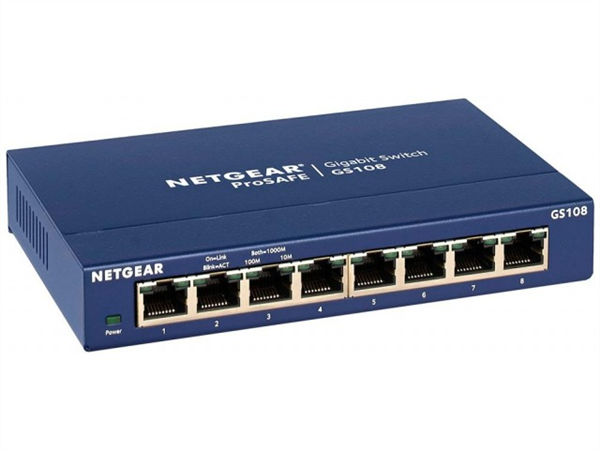 Instant Connectivity with Reliable Performance
The NETGEAR ProSAFE Gigabit Unmanaged Switch series helps businesses cost-effectively expand their network to Gigabit speeds and higher port counts. The GS105 and GS108 Gigabit Ethernet switches come with 5 and 8 Gigabit copper ports in a desktop metal case and is wall-mountable. These switches are energy efficient, built to last, and rigorously tested to provide the reliability businesses need. 802.1p traffic prioritization and jumbo frame support allow for seamless integration with more sophisticated networks.
ProSafe 8-port Gigabit Desktop Switches connect your network with the dual advantages of performance and convenience
Fast, auto-switching Ethernet connection integrates 10, 100, and 1000 Mbps devices into your network
LEDs make it easy to monitor link, speed, and activity
AutoUplink technology automatically adjusts for two common types of cables
Compact metal case for desktop or wall mounting
Plug and Play
The standards-based ProSAFE Gigabit switches senses and adjusts for network speed and cabling type automatically. Easily integrates into your existing Ethernet network - no matter if it is running at 10/100Mbps or Gigabit speed
Simple set up with no software or configuration needed
Front panel LEDs keep you informed of power status, link speed and link activities
Traffic Prioritization
Prioritize mission-critical applications such as voice and video Support IEEE 802.1 p and DSCP-based QoS for delivering data based on priority and type
High Quality and Reliable Performance
Superior network performance at non-blocking rate delivers true Gigabit speed with no compromise
Durable metal case and long product life (shown by MTBF numbers)
Energy Efficient
Both GS105 and GS108 support the latest Energy Efficient Ethernet (IEEE 802.3az) standard, which reduces energy consumption when there is light traffic on an active ports or when there is no link or no activity detected. It can further save energy when a short cable (<100m) is used. Energy savings lead directly to cost savings in operation.
Dimensions
158x102x27 mm (6.22x4x1.06 inch)
Weight
0.500 kg (1.1 lbs)
External Power Adapter
12V DC, 0.5A (6W)