ProSafe 5-port Gigabit Switch, Unmanaged, Desktop Sized

NETGEAR GS105AU ProSafe 5-port Gigabit Switch, Unmanaged, Desktop Sized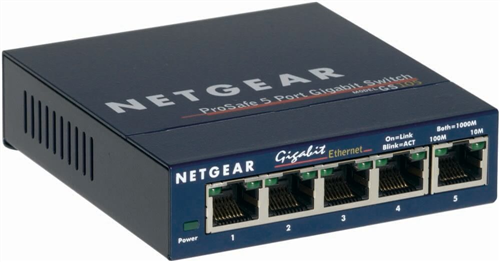 ProSafe 5-port 10/100/1000Mbps Gigabit Ethernet Switch.
The NETGEAR ProSAFE Gigabit Switch series helps businesses cost-effectively expand their network to Gigabit speeds and higher port counts.
The GS105 and GS108 Gigabit Ethernet switches come with 5 and 8 Gigabit copper ports in a desktop metal case and is wall-mountable. These switches are energy efficient, built to last, and rigorously tested to provide the reliability businesses need. 802.1p traffic prioritization and jumbo frame support allow for seamless integration with more sophisticated networks.
The standards-based ProSAFE Gigabit switches senses and adjusts for network speed and cabling type automatically.
Easily integrates into your existing Ethernet network - no matter if it is running at 10Mbps, 100Mbps or Gigabit speeds.
• Simple set up with no software or configuration needed
• Front panel LEDs keep you informed of power status, link speed and link activities
Dimensions : 94 x 100 x 27 mm
Weight : 0.26 kg
Standards
IEEE 802.1p Class of Service
IEEE 802.3x full-duplex flow control
IEEE 802.3AZ (Energy Efficient Ethernet)