8-Port 10/100/1000 Mbps (Gigabit) Managed Switch with 2 Gigabit SFP slots

Edgecore ECS2100-10T 8-Port 10/100/1000 Mbps (Gigabit) Managed Switch with 2 Gigabit SFP slots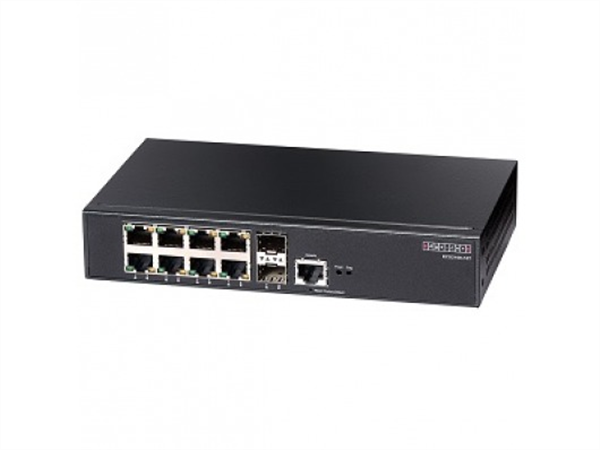 8-Port 10/100/1000 Mbps (Gigabit) Managed Switch with 2 Gigabit SFP slots.
10x Networking Ports in Total, 8x Gigabit RJ45 Ethernet, 2x SFP, Managed, Layer 2
The ECS2100 Series is a range of web-smart switches designed for the SMB market. The switches can be deployed in different target network topologies, from small to large.
Features:
· Dashboard (CPU & Memory port utilization) and (Event & LLDP information )
· Multiple management (Console , Web, SNMP ,CLI)
· Dual firmware /configure memory size.
· IEEE 802.3az EEE & IPv4/IPv6 management
· IEEE 802.3af/at & PoE Timer
· Web-smart with L2 managed switch ability (static routing & console port)
· Comprehensive QoS and Enhance security
Specifications
· Ports: 8
· Switch Type: Fixed Port
· Routing/Switching: Layer 2
· Features: Fanless, IPv6 Management
· Predominant Port Type: Gigabit Copper, Gigabit Fiber
· Comes with rackmount kit
ECS2100 series management features
Switching
Flow control
Broadcast/ Multicast/ Unknown unicast control
Auto MDI/MDIX
Spanning Tree Protocol
IEEE 802.1D /.1w/.1s
STP fast forwarding/Auto Edge
BPDU Guard/BPDU filtering
Root Guard
BPDU transparent
Loopback detection
VLAN
4K VLAN
Port-based VLAN
802.1Q VLAN
802.1v Protocol based VLAN
MAC-based VLAN
Traffic Segmentation
Voice VLAN
Auto VLAN Assignment
Port Trunk
Static trunk
IEEE 802.3ad LACP
QoS
8 Hardware queues
802.1p CoS
CoS based on IP precedence, DSCP, TCP/UDP Port, ACL
WRR/Strict or Hybrid
DiffServ
Ingress traffic policing
Marking/remarking
Auto QoS profile assignment
Rate limiting
Multicast control
IGMP snooping v1/v2/v3
IGMP Querier
IGMP snooping filtering/throttling
IGMP snooping proxy
Immediate leave
MLD snooping v1/v2
Security
MAC filtering
Port security (dynamic & static)
Port security intrusion action
802.1x Port-based authentication
802.1x MAC-based authentication
Guest VLAN
MAC filtering
MAC authentication
DHCP snooping/snooping 82
IP Source Guard
Dynamic ARP Inspection
Access Control List
Denial of Service Protection
AAA (Authentication, Authorization, Accounting)
SSH v1/v2
SSL/HTTPS
Management access filter (WEB/SNMP/Telnet)
Static Routing *
mDNS *
QinQ *
G.8032 *
IP Clustering *
* (v1.2.2.0 + support )
Management
Cisco like CLI
Telnet/WEB/SNMP v1/v2/v3
RMON(1,2,3,9)
FTP/TFTP/HTTP download
DHCP dynamic provision (option 66&67)
DHCP client/option 82 relay
Time zone for SNTP
DNS client/proxy
Delay reload
Event/error log, system log
Auto upgrade
Port monitor
LLDP (802.1ab)
Cable diagnostic
IPv6
IPv4/IPv6 Dual Protocol Stack
IPv6 Address types: Unicast
IPv6 Neighbor Discovery
SNMP over IPv6
HTTP over IPv6
Remote IPv6 ping
IPv6 Management
IPv6 ACL
IPv6 QoS