24-Bay NAS, Xeon E3-1200 v3 family, 4GB ECC RAM

QNAP TS-EC2480U-E3-4GE-R2 24-Bay NAS, Xeon E3-1200 v3 family, 4GB ECC RAM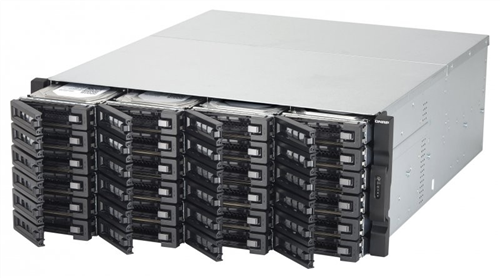 24-Bay TurboNAS, Xeon E3-1200 v3 family, 4GB ECC RAM(max. 32GB RAM), 4-LAN, built-in 2 10Gb SFP+, 40G network-ready, iSCSI, RAID 0,1, 5, 6, 10, 5+spare, 6+spare, 10+spare, global hot spare, max 8-LAN, PCIe expansion slot x2, redundant power supply.
SnapperNet supplies all QNAP rack-mount NAS appliances with Rail Kit Included.
Purchase NAS and hard disk drives together and we'll fit them before we deliver to you.
The QNAP TS-EC2480U R2, featuring the easy-to-use QTS operating system, provides a reliable and scalable NAS solution to fulfill data backup, file synchronization and remote access. The TS-EC2480U R2 is 10GbE-ready, delivers exceptional performance, and supports cross-platform file sharing, comprehensive backup solutions, iSCSI and virtualization applications, and many practical business functions, making it the ideal choice for SMBs to secure important business data. It also includes abundant multimedia applications backed by its powerful hardware specifications.
Built-in 10GbE, highly-efficient storage solution for HD video editing and sharing
3,700+ MB/s throughput and 410,000+ IOPS
Two internal cache ports and up to 4 SSDs for caching
Scalable design, up to 912TB raw capacity
Virtualization-ready, centralized data storage, backup, sharing and disaster recovery