IP Phone, Colour Touch Screen, Dual GigE, Bluetooth, WiFi, USB 2.0

Yealink SIP-T58A IP Phone, Colour Touch Screen, Dual GigE, Bluetooth, WiFi, USB 2.0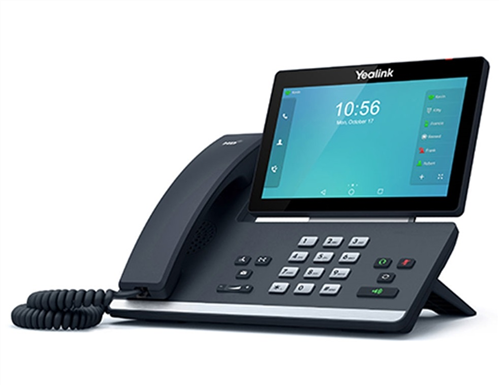 HD Android Phone, 7" 1024 x 600 colour touch screen, HD voice, Dual Gig Ports, Built in Bluetooth and WiFi, USB 2.0 Port.
The Yealink SIP-T58A is a simple-to-use smart media phone that provides an enriched HD audio and video calling experience for business professionals.
Note. The SIP-T58A does not include a camera. The CAM50 is ordered separately.
This all-new smart media phone enables productivity-enhancing visual communication with the ease of a standard phone. Based on Android 5.1.1 operating system, the SIP-T58A features a seven-inch adjustable multi-point touch screen, an optional removable two-megapixel HD camera (CAM50), integrated Wi-Fi and Bluetooth4.0+ EDR, and it is coupled with a built-in web browser, calendar, recorder and more, which also support the installation of third-party applications for business customization. The Yealink SIP-T5 Smart Media Phone Series strikes an exquisite balance between simplicity and sophistication, offering an all-in-one communications solution for today's busy executives, managers and teleworkers.
• 7 inch (1024 x 600) capacitive adjustable touch screen
• 720p30 HD video
• Runs Android 5.1.1
• Built-in Bluetooth 4.0+ for headsets and pairing mobile devices
• Built-in Wi-Fi (802.11b/g/n)
• USB 2.0 port (2.0 compliant) for USB headset, media and storage applications
• Opus Codec support
• Up to 16 VoIP accounts
• Up to 3-party video conferencing
• Up to 5-party video/audio mixed conferencing
• Wall mountable
• Color-screen Expansion Module support
Video Features (Requires CAM50)
• 720p@30fps HD video call
• Video codec: H.264 High Profile, H.264, VP8
• Yealink CAM50 camera: 2 mega-pixel, plug and play,adjustable, with privacy shutter and LED indicator
• Vertical tilt angle adjustable: 50°
• Field of view (FOV): 70.2°
• Self view (local video preview)
Audio Features
• HD voice: HD handset, HD speaker
• Codecs: Opus, G.722, G.711(A/µ), G.723.1, G.729AB, G.726, iLBC
• DTMF: In-band, Out-of-band(RFC 2833) and SIP INFO
• Full-duplex hands-free speakerphone with AEC
• VAD, CNG, AEC, PLC, AJB, AGC
Display and Indicator
• 7" 1024 x 600 capacitive adjustable touch screen
• Vertical tilt angle adjustable: 48°
• 5 points multi-touch surface
• Screensaver and Wallpaper
• LED for call and message waiting indication
• Intuitive user interface with icons and soft keys
• Multilingual user interface
• Caller ID with name, number and photo
Android bundled Applications
• FileManager/Email/Calendar/Camera/Gallery/Recorder/Calculator/Browser/Message
• Third party Android application support
Interface
• Dual-port Gigabit Ethernet
• Built-in Wi-Fi (2.4GHz, 802.11b/g/n)
• Built-in Bluetooth 4.0+ EDR for Bluetooth headsets - Pairing mobile devices
• 1 x USB 2.0 port (on the top of the phone) for: - Yealink CAM50 camera
• 1 x USB 2.0 port (on the rear of the phone) for: - USB flash drive - Wired/wireless USB headset - Color-screen expansion modules
• 1 x Security lock port
• 1xRJ9 (4P4C) handset port
• 1xRJ9 (4P4C) headset port
• Supports up to 3 color-screen expansion modules
Other Physical Features
• Wall mountable (optional)
• External universal AC adapter (optional): AC 100~240V input and DC 5V/2A output
• Power consumption (PSU): 1.9W-5.7W
• Power consumption (PoE): 2.6W-7.4W
• Dimension (W*D*H*T):259.4mm*220mm*239mm*42.6mm
• Operating humidity: 10~95%
• Operating temperature: -10~40°C