High Power 4 Port Midspan PoE Injector

Tycon Power TP-MS4X4 High Power 4 Port Midspan PoE Injector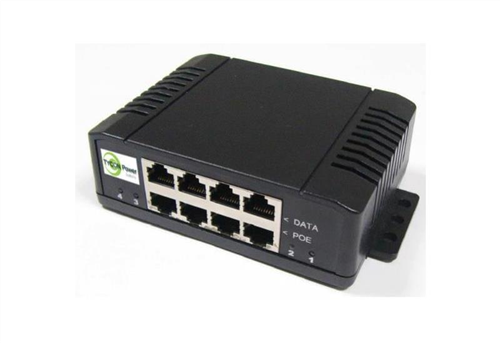 This mid-span POE power source is used for supplying POE and data to multiple devices from a central location such as an operations room or equipment cabinet. The POE devices feature a separate data-in port coupled with a data out/POE port. The POE function is considered Passive POE and supports Gigabit Ethernet. The Mid span features Universal Voltage (UniVolt) POE outputs where the POE voltage equals the input voltage. All ports can have the same POE voltage or you can assign different voltages to different ports. This is useful for powering different devices with different POE voltage requirements. The Mid span also allows some or all POE ports to be reverse voltage POE which is required by some Passive POE devices.
POE DC Voltage (11V-57V) is supplied on pins 4,5 (V+) and 7,8 (V-)
Maximum power output per port is 1A
Individual outputs are over current, over/under voltage and short circuit protected
DIN Rail mountable with the include DIN Rail brackets
Great for use with Ubiquiti and MikroTik RouterBOARD long range wireless access points.
AKA TP-MS-4X4
DC Input Voltage : 11VDC to 57VDC (Negative common)
DC Input Connector : Removable Screw Type Compression Wire Terminal (12 AWG Max)
PoE Method : Passive POE
Data in & Data/POE Output Connector : RJ45 (Shielded)
Self Consumption Power : <5W
Interfaces : 4 data-in; 4 data/POE out
Maximum POE Power : Up to 1A Per Port
Dimensions (LxWxH) : 90mm x 118mm x 40mm