6 Bay SATA 6Gb/s NAS, Intel Celeron 1.6 GHz Quad Core CPU, 4GB DDR3L RAM, 4 x Gigabit Ethernet, Tower Chassis

QNAP TS-653A-4G 6 Bay SATA 6Gb/s NAS, Intel Celeron 1.6 GHz Quad Core CPU, 4GB DDR3L RAM, 4 x Gigabit Ethernet, Tower Chassis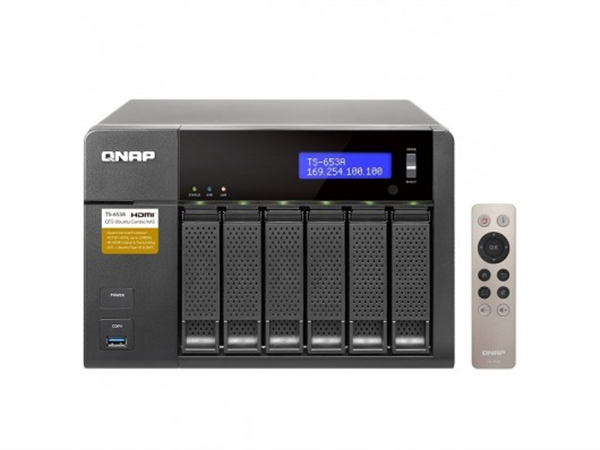 Purchase NAS and hard disk drives together and we'll fit them before we deliver to you.
6-Bay NAS, Intel Celeron Braswell N3150 quad-core 1.6GHz (up to 2.08GHz), 4GB DDR3L SODIMM RAM (max 8GB), SATA 6Gb/s, 4xGbE, AES-NI hardware encryption, hardware transcoding up to 4K H.264, 4K HDMI with Kodi player, 2xHDMI, Virtualization Station, Surveillance Station, max 1 UX expansion unit, 2x 6.3mmMIC In, 1x Line out
QTS-Linux Combo NAS: a well-rounded private cloud solution centralizing storage and IoT applications
In response to the coming era of Internet of Things (IoT), the TS-653A innovatively supports the open-source Linux platform as a gateway for IoT solutions to other smart devices. The TS-653A allows users to directly utilize various feature-rich Liunx apps, enjoying a private cloud combining storage and IoT applications, and professional developers can develop and run IoT applications directly on the TS-653A. The secure, reliable TS-653A is packed with business-critical features such as Volume/LUN Snapshot – allowing files/folders to revert to a previous state in case of any corruption or file-loss. The TS-653A is powered by the latest quad-core Intel Celeron processor which allows users to enjoy 4K (H.264) video playback and 1080p/4K video real-time transcoding directly from the TS-653A to an HD/4K display.
• Supports the Linux OS with direct output via HDMI
• Dual HDMI output for switching between duplicated and extended desktop options
• AES-NI hardware-accelerated encryption for efficient cryptographic performance up to 416 MB/s
• Supports 4K hardware decoding and transcodes 4K H.264 videos on-the-fly or offline
• Quickly find files using a real-time, natural search with Qsirch 2.1
• NAS and iSCSI-SAN unified storage solution for virtualization
• Supports VMware, Citrix, Microsoft Hyper-V and advanced virtualization features
• A hybrid approach to virtualization in one NAS: Virtualization Station & Container Station
• Build a personal karaoke system with high-quality audio output with the new OceanKTV app
CPU: 14 nm Intel Celeron N3150 1.6GHz quad-core processor (burst up to 2.08GHz)
Floating Point Unit: Yes
Hardware Encryption: Yes (AES-NI)
GPU: 8th generation Intel HD Graphics
System memory: 4GB (2 x 2GB)
Memory Expandable Up To: 8 GB
Total Memory Slots:
• 2, SODIMM DDR3L-1600
• Note: *For dual-DIMM configurations, you must use a pair of identical DDR3L modules.
Flash Memory: 512MB
Maximum Number of Hard Drive: 6
Hard Disk Drive: Hot-swappable 3.5" or 2.5" SATA 6Gb/s, SATA 3Gb/s hard drive or SSD
LAN Port: 4 x Gigabit RJ-45 Ethernet port
USB:
• 4 x USB 3.0 port (Front:1, Rear:3)
• Support USB printer, pen drive, and USB UPS etc.
Video Output: 2 x HDMI, up to 4K 2160P Ultra HD support
Audio Input: 2 x 6.3mm microphone jacks (dynamic microphones only)
Audio Output: Line Out Jack (for amplifier or headphone amplifier)
LED Indicators: Status, USB, HDD 1-6
LCD Panel: Mono-LCD display with backlight
Buttons: System: Power button, USB one-touch-backup button, Reset button
IR Receiver: Yes, Support QNAP RM-IR002 Remote Control and RM-IR003 Remote Control
Other Interface: Kensington security slot, console port (system maintenance)
Alarm Buzzer: System warning
Form Factor: Tower
Dimensions:
• 175(H) x 257(W) x 235(D) mm
• 6.89(H) x 10.12(W) x 9.25(D) inch
Weight:
• Net: 5.2 kg (11.46 lbs)
• Gross: 6.5 kg (14.33 lbs)
Power Consumption (W):
• System sleep mode: 1.7W
• HDD standby 32.02W
• In operation: 51.16W
Temperature: 0-40°C
Relative Humidity: 5~95% RH non-condensing, wet bulb: 27°C
Power Supply: ATX 240W, 110-240V AC, 50-60Hz, 5A
Fan: 2 x 9cm quiet cooling fan (12V DC)