UFB Secure Gateway Router, QoS, VPN, 4xGigE LAN, 1xGigE WAN, 802.11ax

DrayTek DV2135AX UFB Secure Gateway Router, QoS, VPN, 4xGigE LAN, 1xGigE WAN, 802.11ax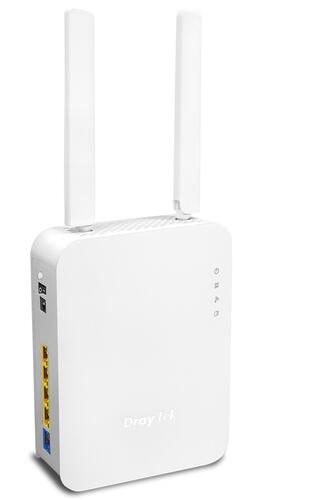 1 x Gigabit WAN port with 2 x USB ports for 3.5G / 4G Mobile Failover
4 x Gigabit LAN ports with 50,000 NAT sessions and IPv6
NAT throughput over 600Mbps
IPsec VPN throughput at 150 Mbps (AES 256 bits)
Object-based SPI Firewall, Content Security Management (CSM) and QoS
IPv6 & IPv4
802.11ax (AX3000) Wi-Fi up to 574Mbps + 2402Mbps speed
2 x VPN tunnels including OpenVPN/ SSL-VPN tunnels
2 x USB ports for 3G/4G Backup, FTP server, network printer or thermometer
Supports Central AP Management for deployment of 2 Vigor Access Points Learn More
Supports VigorACS 2 and VigorACS 3 Central Management Software for remote management
Hardware NAT Routers for Professionals
The Vigor2135 Series are broadband Firewall and VPN routers. The built-in hardware accelerator delivers up to 940 Mbps performance without sacrificing bandwidth control features. Business-grade features including web content filtering, Route Policy, App-based QoS and lots more, make these perfect for professional smart homes/SOHO users who would like to take full control of their own network. The series includes models with built-in 802.11ac Wave 2 Wi-Fi, 802.11ax Wi-Fi (ax model), and VoIP gateway.
VPN (Virtual Private Network)
Build a secure and private tunnel from the LAN of Vigor2135 Series to the remote offices and teleworkers over the Internet. Learn more
DrayDDNS
Free DDNS service to access the router using a fixed hostname of your choice. Learn more
SSL VPN
The VPN works through firewalls providing secure remote access to any network environment. Learn more
Firewall & Content Filter
Filter web pages by URL keywords or web category to block access to insecure or inappropriate content.
VPN Matcher
Helps routers behind NAT to find each other and establish a LAN-to-LAN VPN.
Hotspot Web Portal
Market your business and communicate with the guests while offering hospitality WLAN.
Bandwidth Management
Prevent one device using all the bandwidth by bandwidth limit policy, session limit policy, and QoS settings.
Central AP Management
Use the Vigor2135 Series router as a wireless controller to maintain and monitor the VigorAPs.
VoIP Friendly
Vigor2135 Series can do port forwarding and reserve bandwidth for VoIP traffic automatically, making VoIP setup effortless.
Mesh
Easily link to other VigorAP to expand the wireless network.
Hardware NAT & Routing with Hardware QoS
The built-in hardware accelerator supports up to 4k NAT and routing connections. With acceleration enabled, the Vigor2135's throughput can reach up to 940Mbps, ensuring that network functions such as Firewall and QoS perform well above the standards. Other business critical apps, such as VoIP, can be easily prioritized.
Assisted Wi-Fi Roaming – built-in in selected Wi-Fi Vigor Routers and all Vigor Access Points
Extend Transmission Range
When a Wi-Fi client moves out of its effective transmission range which is defined by the Basic Rate and/or Received Signal Strength threshold, the AP forces the Wi-Fi client to pick up a nearby access point with stronger signals thereby extending the range.
Improve Data Rates
When the "Minimum RSSI with Adjacent AP" option is set, APs or routers on the same local subnet will exchange client information with each other and switch to the AP or router that has the strongest signal, ensuring that data rates can be as good as possible.
Better User Experience
Instead of ineffective transmission with low basic rates or RSSI, the better links provide better user experience while saving the airtime.
No Controller Required
Assisted Roaming is a built-in feature in all Vigor Access Points and a number of Wi-Fi routers; it saves the need for an ad-hoc wireless controller and is an ideal solution for simple network deployments.

Hotspot Web Portal
Market your business while offering free WLAN
Wi-Fi Marketing
Redirect hotspot guests to the company homepage, online surveys, or display a promotion message.
Grow Customer Mailing List
Require guests to leave contact info or social media accounts before they can use the Internet services.
Various Authentication Types
A variety of login methods are supported to meet your business needs, including Facebook Login, Google Login, SMS PIN, Voucher PIN, and RADIUS.
3rd-Party Service Compliant
Supports external captive portal authentication so you can keep using the Wi-Fi marketing solution you prefer.
Data Quota Management
Bandwidth management is integrated into the Hotspot features to control the bandwidth and session usage of the Hotspot guests.

LAN Management
An all-in-one management platform for Vigor devices on the LAN side.
Automatic Device Discovery
Connect a Vigor Switch or AP to the LAN side of the Vigor Router, and the router will auto-discover the device to allow it to be managed.
Provisioning
Basic settings may be done on the Vigor Router, and then provisioned to the managed Vigor Switches or APs.
Monitoring
The Vigor Router provides a centralized view of managed devices, so you can monitor and check the status of Vigor Switches or APs connected.
System Maintenance
Perform factory resets, save/restore configuration backups, or trigger reboots remotely from the Vigor Router's interface. There is no need to log in to each device's management page.
In-the-Box
Vigor2135ax Router
Antenna x 2
RJ-45 Cable (Ethernet)
Power Adaptor
Quick Start Guide
Specifications
Interface

WAN Port

1 x Gigabit Ethernet

LAN Port

4 x Gigabit Ethernet

USB Port

2 x USB 2.0 for 3G/4G/LTE USB modem, storage, printer or thermometer

Wi-Fi Antenna

2 x External Dipole, Gain: 4 dBi for 5GHz, 2 dBi for 2.4GHz (ac/Vac model)
2x External Dipole, Gain: 2.5 dBi for 5GHz, 2.7 dBi for 2.4GHz (ax model)

2.4G WLAN

802.11ax 2×2 MIMO, up to 574Mbps Link Rate

5G WLAN

802.11ax 2×2 MU-MIMO, up to 2402Mbps Link Rate (ax model)

Performance

NAT Throughput

600 Mbps

NAT Throughput w/ Hardware Acceleration

940 Mbps

IPsec VPN Performance

150 Mbps (AES 256 bits)

SSL VPN Performance

100 Mbps

Max. Number of NAT Sessions

50,000

Max. Concurrent VPN Tunnels (including OpenVPN/ SSL-VPN)

2
Internet Connection

IPv4

PPPoE, DHCP, Static IP, PPTP/L2TP

IPv6

PPP, DHCPv6, Static IP, TSPC, AICCU, 6rd, 6in4 Static Tunnel

802.1p/q Multi-VLAN Tagging

Multi-VLAN/PVC

3G/4G/LTE WAN with USB modem

WAN Failover

Connection Detection

ARP, Strict ARP, Ping

WAN Data Budget

Dynamic DNS

DrayDDNS

LAN Management

VLAN

802.1q Tag-based, Port-based

Max. Number of VLAN

8

Number of LAN Subnet

4

DHCP Server

Multiple IP Subnet, Custom DHCP Options, Bind-IP-to-MAC

Wired 802.1x Authentication

Port Mirroring

Local DNS Server

Conditional DNS Forwarding

Hotspot Web Portal

Hotspot Authentication

Click-Through, Social Login, SMS PIN, Mail PIN, RADIUS, External Portal Server
Networking

Routing

IPv4 Static Routing, IPv6 Static Routing, Inter-VLAN Routing, RIP v1/v2

Policy-based Routing

Protocol, IP Address, Port, Domain, Country

DNS Security (DNSSEC)

Multicast

IGMP v2/v3, IGMP Proxy, IGMP Snooping & Fast Leave, Bonjour

SMB File Sharing

(Requires external storage)

VPN

LAN-to-LAN

Teleworker-to-LAN

Protocols

PPTP, L2TP, IPsec, L2TP over IPsec, SSL, IKEv2, IKEv2-EAP, IPsec XAuth, OpenVPN

User Authentication

Local, RADIUS, mOTP

IKE Authentication

Pre-Shared Key, X.509

IPsec Authentication

SHA1, SHA256, MD5

Encryption

MPPE, DES, 3DES, AES128, AES192, AES256

Single-Armed VPN

NAT-Traversal (NAT-T)

DrayTek VPN Matcher
Firewall & Content Filtering

NAT

Port Redirection, Open Ports, Port Triggering, DMZ Host, UPnP

ALG (Application Layer Gateway)

SIP, RTSP, FTP, H.323

VPN Pass-Through

PPTP, L2TP, IPsec

IP-based Firewall Policy

Content Filtering

Application, URL, DNS Keyword, Web Features, Web Category (subscription required)

DoS Attack Defence

Spoofing Defence

Bandwidth Management

IP-based Bandwidth Limit

IP-based Session Limit

QoS (Quality of Service)

TOS, DSCP, 802.1p, IP Address, Port, Application

VoIP Prioritization

APP Qos
Wireless LAN

Wi-Fi 6

Number of SSID

4 per radio band

Security Mode

OWE, WEP, WPA, WPA2, Mixed(WPA+WPA2), WPA3

Authentication

Pre-Shared Key, 802.1x

OFDMA

WPS

PIN, PBC

WDS Repeater

(5GHz only)

Access Control

Access List, Client Isolation, Hide SSID, Wi-Fi Scheduling

AirTime Fairness

WMM
Management

Local Service

HTTP, HTTPS, Telnet, SSHv2, FTP, TR-069

Config File Export & Import

Config File Compatibility

Vigor2132 Series, Vigor2133 Series

Firmware Upgrade

TFTP, HTTP, TR-069

2-Level Administration Privilege

Access Control

Access List, Brute Force Protection

Notification Alert

SMS, E-mail

Netflow

(v5, v9, IPFIX)

SNMP

v1, v2c, v3

Syslog

Managed by VigorACS

Central AP Management

2 VigorAPs

Physical

Power Supply

DC 12V @ 1.5A-2A

Max. Power Consumption

18 watts (Vac model)

Dimension

194mm x 155mm x 50mm

Weight

440g

Operating Temperature

0 to 45°C

Storage Temperature

-25 to 70°C

Operating Humidity (non-condensing)

10 to 90%
Specifications
Interface

WAN Port

1 x Gigabit Ethernet

LAN Port

4 x Gigabit Ethernet

USB Port

2 x USB 2.0 for 3G/4G/LTE USB modem, storage, printer or thermometer

Wi-Fi Antenna

2 x External Dipole, Gain: 4 dBi for 5GHz, 2 dBi for 2.4GHz (ac/Vac model)
2x External Dipole, Gain: 2.5 dBi for 5GHz, 2.7 dBi for 2.4GHz (ax model)

2.4G WLAN

802.11ax 2×2 MIMO, up to 574Mbps Link Rate

5G WLAN

802.11ax 2×2 MU-MIMO, up to 2402Mbps Link Rate (ax model)

Performance

NAT Throughput

600 Mbps

NAT Throughput w/ Hardware Acceleration

940 Mbps

IPsec VPN Performance

150 Mbps (AES 256 bits)

SSL VPN Performance

100 Mbps

Max. Number of NAT Sessions

50,000

Max. Concurrent VPN Tunnels (including OpenVPN/ SSL-VPN)

2
Internet Connection

IPv4

PPPoE, DHCP, Static IP, PPTP/L2TP

IPv6

PPP, DHCPv6, Static IP, TSPC, AICCU, 6rd, 6in4 Static Tunnel

802.1p/q Multi-VLAN Tagging

Multi-VLAN/PVC

3G/4G/LTE WAN with USB modem

WAN Failover

Connection Detection

ARP, Strict ARP, Ping

WAN Data Budget

Dynamic DNS

DrayDDNS

LAN Management

VLAN

802.1q Tag-based, Port-based

Max. Number of VLAN

8

Number of LAN Subnet

4

DHCP Server

Multiple IP Subnet, Custom DHCP Options, Bind-IP-to-MAC

Wired 802.1x Authentication

Port Mirroring

Local DNS Server

Conditional DNS Forwarding

Hotspot Web Portal

Hotspot Authentication

Click-Through, Social Login, SMS PIN, Mail PIN, RADIUS, External Portal Server
Networking

Routing

IPv4 Static Routing, IPv6 Static Routing, Inter-VLAN Routing, RIP v1/v2

Policy-based Routing

Protocol, IP Address, Port, Domain, Country

DNS Security (DNSSEC)

Multicast

IGMP v2/v3, IGMP Proxy, IGMP Snooping & Fast Leave, Bonjour

SMB File Sharing

(Requires external storage)

VPN

LAN-to-LAN

Teleworker-to-LAN

Protocols

PPTP, L2TP, IPsec, L2TP over IPsec, SSL, IKEv2, IKEv2-EAP, IPsec XAuth, OpenVPN

User Authentication

Local, RADIUS, mOTP

IKE Authentication

Pre-Shared Key, X.509

IPsec Authentication

SHA1, SHA256, MD5

Encryption

MPPE, DES, 3DES, AES128, AES192, AES256

Single-Armed VPN

NAT-Traversal (NAT-T)

DrayTek VPN Matcher
Firewall & Content Filtering

NAT

Port Redirection, Open Ports, Port Triggering, DMZ Host, UPnP

ALG (Application Layer Gateway)

SIP, RTSP, FTP, H.323

VPN Pass-Through

PPTP, L2TP, IPsec

IP-based Firewall Policy

Content Filtering

Application, URL, DNS Keyword, Web Features, Web Category (subscription required)

DoS Attack Defence

Spoofing Defence

Bandwidth Management

IP-based Bandwidth Limit

IP-based Session Limit

QoS (Quality of Service)

TOS, DSCP, 802.1p, IP Address, Port, Application

VoIP Prioritization

APP Qos
Wireless LAN

Wi-Fi 6

Number of SSID

4 per radio band

Security Mode

OWE, WEP, WPA, WPA2, Mixed(WPA+WPA2), WPA3

Authentication

Pre-Shared Key, 802.1x

OFDMA

WPS

PIN, PBC

WDS Repeater

(5GHz only)

Access Control

Access List, Client Isolation, Hide SSID, Wi-Fi Scheduling

AirTime Fairness

WMM
Management

Local Service

HTTP, HTTPS, Telnet, SSHv2, FTP, TR-069

Config File Export & Import

Config File Compatibility

Vigor2132 Series, Vigor2133 Series

Firmware Upgrade

TFTP, HTTP, TR-069

2-Level Administration Privilege

Access Control

Access List, Brute Force Protection

Notification Alert

SMS, E-mail

Netflow

(v5, v9, IPFIX)

SNMP

v1, v2c, v3

Syslog

Managed by VigorACS

Central AP Management

2 VigorAPs

Physical

Power Supply

DC 12V @ 1.5A-2A

Max. Power Consumption

18 watts (Vac model)

Dimension

194mm x 155mm x 50mm

Weight

440g

Operating Temperature

0 to 45°C

Storage Temperature

-25 to 70°C

Operating Humidity (non-condensing)

10 to 90%