Multi-WAN router, VDSL2, 1x GbE WAN/LAN, 5x GbE LAN, VPN, 802.11ax

DrayTek DV2866AX Multi-WAN router, VDSL2, 1x GbE WAN/LAN, 5x GbE LAN, VPN, 802.11ax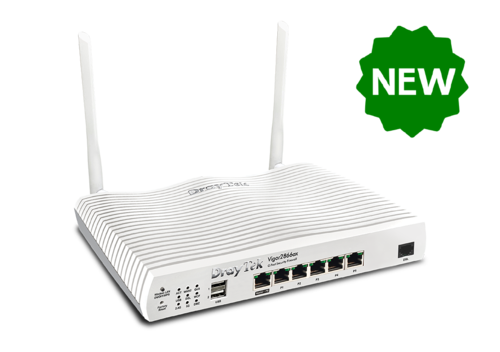 The Vigor2866 series routers support multi-WAN with one xDSL WAN port and one configurable Ethernet WAN port. The built-in xDSL modem is compatible with VDSL2 including profile 35b supervectoring, ADSL2+, and G.fast which can deliver fibre-like speeds up to 1 Gbps. The WANs can be configured in either load-balance or failover modes to maximise Internet bandwidth and up-time.
The Vigor 2866 series features VPN, QoS, route policy, firewall, content filtering, bandwidth management, captive hotspot portal, and a lot more. The Vigor2866ax model also supports 802.11ax (WiFi 6, AX3000) wireless features.
Multi-WAN with 1 x G.fast WAN port which is backward compatible with VDSL2 35b Supervectoring / ADSL2+, 1 x configurable GbE WAN/LAN port, 2 x USB ports and 2 x Wi-Fi WANs for (ac/Vac models)
1 x XDSL port and 1 x configurable GbE WAN/LAN port for Failover, Load Balancing and High Availability mode
2 x USB 2.0 ports for 3G/4G LTE USB modems, FTP server, network printer or thermometer
5 x Gigabit LAN ports with multiple subnets and 60,000 NAT sessions
32 x VPN tunnels (including 16 x Open VPN/ SSL-VPN tunnels) with comprehensive secure protocols
Fast VPN throughput, VPN Load Balancing and backup for site-to-site VPN applications
Hardware Acceleration and Hardware QoS for up to 8k NAT and routing connections, and 940Mbps (Single WAN) or 1.8Gbps (Multi-WAN) Firewall speed
16 x VLANs for secure and efficient workgroup management
IPv6 & IPv4
Up to 1022 IP addresses and 8 IP subnets
High Availability mode
Object-based SPI Firewall and CSM (Content Security Management) for network security
Supports VigorACS 2 and VigorACS 3 Central Management software for remote management
SD WAN capability when used with VigorACS 3
Central VPN Management for up to 8 remote Vigor routers
Central AP Management for up to 20 Vigor Access Points
Central Switch Management for up to 10 VigorSwitches
Integrated IEEE 802.11ax (WiFi 6, AX3000) wireless Access Point; dual band; up to 2402 Mbps throughput (ax model)
Integrated IEEE 802.11ac (AC1300) wireless Access Point; dual band; up to 867 Mbps throughput (ac/Vac models)
Wireless WAN (ac/Vac models only)
Get Internet access wirelessly from a Wi-Fi network, a mobile hotspot, or a personal hotspot set up on smartphones.
Mesh (ac/Vac models only)
Easily link to VigorAPs to expand the wireless network.
Hotspot Web Portal
Market your business and communicate with guests by offering hospitality Wi-Fi.
Hotspot Web Portal
Market your business while offering free Wi-Fi
Wi-Fi Marketing
Redirect hotspot guests to the company homepage, online surveys, or display a promotion message.
Grow Customer Mailing List
Require guests to leave contact info or social media accounts before they can use the Internet services.
Various Authentication Types
A variety of login methods are supported to meet your business needs, including Facebook Login, Google Login, SMS PIN, Voucher PIN, and RADIUS.
3rd-Party Service Compliant
Supports external captive portal authentication so you can keep using the Wi-Fi marketing solution you prefer.
Data Quota Management
Bandwidth management is integrated into the Hotspot features to control the bandwidth and session usage of the Hotspot guests.
Higher Transmission Efficiency with OFDMA
OFDMA has been used in LTE for many years, and is now available in 802.11ax for multi-user mode.
With legacy OFDM, each frame is transmitted across the entire channel width. When the transmission rate is low, this causes more latency and jitters and lower the overall efficiency.
OFDMA splits a single frame into groups of subcarriers, and each subcarrier can be sent simultaneously. With multiple access mode, it allows multiple users to transmit at the same time thus improving efficiency and enhancing user experiences in high density environments.
802.11ax (WiFi 6) BSS Colouring (Vigor2866ax only)
In traditional 802.11 Wi-Fi networks, access points are designed to wait and take turns if other signals of the same frequency are detected from adjacent access points. This sharing of a resource, in this case radio frequencies, is called a basic service set (BSS). 802.11ax adds Colouring to the BSS information being broadcast so that APs can use the same channel at the same time without having to take turns. This increases Wi-Fi efficiency, particularly in high density environments.
An 802.11ax AP using BSS Colouring has the ability to change its BSS Colour if it detects another AP using the same BSS Colour on the same frequency.
Assisted Wi-Fi Roaming – built-in in selected Wi-Fi Vigor Routers and all Vigor Access Points
Extend Transmission Range
When a Wi-Fi client moves out of its effective transmission range which is defined by the Basic Rate and/or Received Signal Strength threshold, the AP forces the Wi-Fi client to pick up a nearby access point with stronger signals thereby extending the range.
Improve Data Rates
When the "Minimum RSSI with Adjacent AP" option is set, APs or routers on the same local subnet will exchange client information with each other and switch to the AP or router that has the strongest signal, ensuring that data rates can be as good as possible.
Better User Experience
Instead of ineffective transmission with low basic rates or RSSI, the better links provide better user experience while saving the airtime.
No Controller Required
Assisted Roaming is a built-in feature in all Vigor Access Points and a number of Wi-Fi routers; it saves the need for an ad-hoc wireless controller and is an ideal solution for simple network deployments.
Router Spec -
Load Balancing
Maximise throughput and reliability by using multiple Internet connections.
xDSL Modem
Integrated xDSL modem supporting G.fast to deliver fiber-like DSL speed.
VPN (Virtual Private Network)
Build a secure and private tunnel from the LAN of the Vigor2866 Series to remote offices and teleworkers over the Internet.
SSL VPN
SSL VPNs work through firewalls providing secure remote access to any network environment.
Bandwidth Management
Prevent one device using all the bandwidth with bandwidth limit policy, session limit policy, and QoS settings.
Firewall & Content Filter
Filter web pages by URL keywords or web category to block access to insecure or inappropriate content.
VoIP Friendly
The Vigor2866 Series can do port forwarding and reserve bandwidth for VoIP traffic automatically, making VoIP setup effortless.
DrayDDNS
Free DDNS service to access the router using a fixed hostname of your choice.
Central AP Management
Use the Vigor2866 router as a wireless controller to maintain and monitor VigorAPs.
Central Switch Management
Set up VLANs easily from the router and get a centralised hierarchy view of the switches.
Hardware Acceleration
Without sacrificing traffic control features such as QoS, Bandwidth Limit, WAN Budget, Traffic Graph and Data Flow Monitor, Hardware Acceleration enhances performance for:
NAT & routing connections
QoS
IPsec VPN
Hardware NAT & Routing
With Hardware Acceleration and Hardware QoS enabled, the router supports up to 8k NAT and routing connections, and firewall performance reaching 940Mbps on single WAN and 1.8Gbps combined performance on multi-WANs.
Hardware QoS
Hardware QoS allows prioritization of applications and services on DrayTek routers, to improve performance of critical applications such as VoIP, conferencing and video streaming, etc. Furthermore, it allows flexible bandwidth allocation to suit business requirements.
Hardware IPsec
While the Vigor2866 series already has improved IPsec performance over the previous Vigor2862 series, with Hardware Acceleration enabled, IPsec performance can now reach 800 Mbps. The first 16 tunnels are automatically accelerated on a first come first serve basis. If any drops out, a new tunnel will be put into the accelerator automatically to top off 16 accelerated tunnels.
APP QoS
Application QoS allows prioritisation of applications and services on DrayTek routers to improve and enhance critical applications such as VoIP, conferencing and video streaming, etc. It also allow flexible bandwidth allocation to suit business requirements.
VoIP First
VoIP is always a top priority! The default VoIP port, UDP 5060 (configurable) has priority out-of-box with QoS.
Improve Experience for Business-Critical Apps
Select your business critical apps, and easily put them into QoS classes.
Flexible Bandwidth Allocation
Bandwidth will be reserved for high-priority classes, and can be used by low-priority classes when available.
Interface

Fixed WAN Port

1 x RJ-11 for G.fast/VDSL2 35b/ADSL2+

LAN/WAN Switchable Port

1 x 10/100/1000Base-TX RJ-45

Fixed LAN Port

5 x 10/100/1000Base-TX RJ-45

USB Port

2 x USB 2.0 for 3G/4G/LTE USB modem, storage, printer or thermometer

Wi-Fi Antenna

2 x External Dipole
Gain: 3.5 dBi for 5GHz, 2.3 dBi for 2.4GHz (ax/ac/Vac models)

2.4G WLAN

802.11n 2×2 MIMO 400Mbps (ac/Vac models)
802.11ax 2×2 MIMO 574Mbps (ax model)

5G WLAN

802.11ac Wave 2 2×2 MU-MIMO 867Mbps (ac/Vac models)
802.11ax 2×2 MU-MIMO 2402Mbps (ax model)

RJ-11 Port for Voice

2 x FXS (Vac model)

Performance

NAT Throughput

800 Mbps

NAT Throughput
with Hardware Acceleration

940 Mbps (Single Ethernet or xDSL WAN)
1.8 Gbps (Ethernet WAN + xDSL WAN)

IPsec VPN Performance

300 Mbps (AES 256 bits)

SSL VPN Performance

150 Mbps

Max. Number of NAT Sessions

60,000

Max. Concurrent VPN Tunnels

32

Max. Concurrent OpenVPN / SSL-VPN

16
VDSL/G.fast/ADSL

VDSL Standards

ITU-T G.993.2 Annex A/B/M/Q
T1.424
ITU-T G.993.5 (Vectoring)

VDSL2 Profile

8a, 8b, 8c, 8d, 12a, 12b, 17a, 35b

G.fast Profile

106Mhz, 212Mhz (AU)

ADSL Standards

ITU-T G.992.1 (G.dmt), ITU-T G.992.3 (G.dmt.bis), ITU-T G.992.5 (ADSL2+) (G.adslplus), T1.413 Issue 2

Other Standards

ITU-T G.994.1 (G.hs), ITU-T G.997.1 (G.ploam), ITU-T G.998.4 (Retransmission)

Band Plan

998, 997

Internet Connection

IPv4

PPPoE, DHCP, Static IP, PPTP/L2TP

IPv6

PPP, DHCPv6, Static IPv6, TSPC, AICCU, 6rd, 6in4 Static Tunnel

802.1p/q Multi-VLAN Tagging

Multi-VLAN/PVC

Wireless WAN

2 (ac/Vac models)

3G/4G/LTE WAN with USB modem

Load Balancing

IP-based, Session-based

WAN Active on Demand

Link Failure, Traffic Threshold

Connection Detection

ARP, Ping

WAN Data Budget

Dynamic DNS

DrayDDNS
LAN Management

VLAN

802.1q Tag-based, Port-based

Max. Number of VLAN

16

Number of LAN Subnet

8

DHCP Server

Multiple IP Subnet, Custom DHCP Options, Bind-IP-to-MAC

LAN IP Alias

Wired 802.1x Authentication

Port Mirroring

Local DNS Server

Conditional DNS Forwarding

Hotspot Web Portal

Hotspot Authentication

Click-Through, Social Login, SMS PIN, Voucher PIN, RADIUS, External Portal Server

Networking

Routing

IPv4 Static Routing, IPv6 Static Routing, Inter-VLAN Routing, RIP, BGP (IPv4)

Policy-based Routing

Protocol, IP Address, Port, Domain, Country

High Availability

DNS Security (DNSSEC)

IGMP

IGMP v2/v3, IGMP Proxy, IGMP Snooping & Fast Leave

Local RADIUS server

SMB File Sharing

(Requires external storage)
VPN

LAN-to-LAN

Teleworker-to-LAN

Protocols

PPTP, L2TP, IPsec, L2TP over IPsec, SSL, GRE, IKEv2, IKEv2-EAP, IPsec-XAuth, OpenVPN(Host to LAN)

User Authentication

Local, RADIUS, LDAP, TACACS+, mOTP

IKE Authentication

Pre-Shared Key, X.509

IPsec Authentication

SHA-1, SHA-256

Encryption

MPPE, DES, 3DES, AES

VPN Redundancy

Load Balancing, Failover

Single-Armed VPN

NAT-Traversal (NAT-T)

DrayTek VPN Matcher

Firewall & Content Filtering

NAT

Port Redirection, Open Ports, Port Triggering, DMZ Host, UPnP

ALG (Application Layer Gateway)

SIP, RTSP, FTP, H.323

VPN Pass-Through

PPTP, L2TP, IPsec

IP-based Firewall Policy

Content Filtering

Application, URL, DNS Keyword, Web Features, Web Category* (* subscription required)

DoS Attack Defence

Spoofing Defense
Bandwidth Management

IP-based Bandwidth Limit

IP-based Session Limit

QoS (Quality of Service)

TOS, DSCP, 802.1p, IP Address, Port, Application

VoIP Prioritisation

Wireless LAN (ax/ac/Vac models)

Number of SSID

4 per radio band

Security

OWE, WEP, WPA, WPA2, Mixed(WPA+WPA2), WPA3

Authentication

Pre-Shared Key, 802.1x

WPS

PIN, PBC

WDS

Repeater (5GHz only)(ac/Vac only)

Access Control

Access List, Client Isolation, Hide SSID, Wi-Fi Scheduling

AirTime Fairness

Band Steering

MU-MIMO (5GHz Only)

WMM
VoIP Gateway (DV2866Vac model only)

Protocol

SIP, RTP/RTCP, ZRTP

SIP Registrars

12

Dial Plan

Phone Book, Digit Map, Call Barring, Regional

Call Features

Call Waiting, Call Transfer, Scheduled DND, Hotline

Voice Codec

G.711 A/u law, G.723.1, G.726, G.729 A/B

Caller ID

FSK_ETSI, FSK_BELLCORE, DTMF

Management

Local Service

HTTP, HTTPS, Telnet, SSH v2, FTP, TR-069

Config File Export & Import

Config File Compatibility

Vigor2862

Firmware Upgrade

TFTP, HTTP, TR-069

2-Level Administration Privilege

Access Control

Access List, Brute Force Protection

Notification Alert

SMS, E-mail

SNMP

v1, v2c, v3

Syslog

Managed by VigorACS

Central VPN Management

8 remote Vigor routers

Central AP Management

20 VigorAPs

Mesh Network

7 VigorAPs (Lac model)

Central Switch Management

10 VigorSwitches
Physical

Power Supply

DC 12V @ 2A

Max. Power Consumption

26.4 watts (Vac model)

Dimension

241mm x 166mm x 46mm

Weight

680g (Vac model)

Operating Temperature

0 to 45°C

Storage Temperature

-25 to 70°C

Operating Humidity (non-condensing)

10 to 90%