Outdoor Power over Ethernet (PoE) Splitter - for powering non PoE Ethernet devices with high power requirements

LevelOne POS-4001 Outdoor Power over Ethernet (PoE) Splitter - for powering non PoE Ethernet devices with high power requirements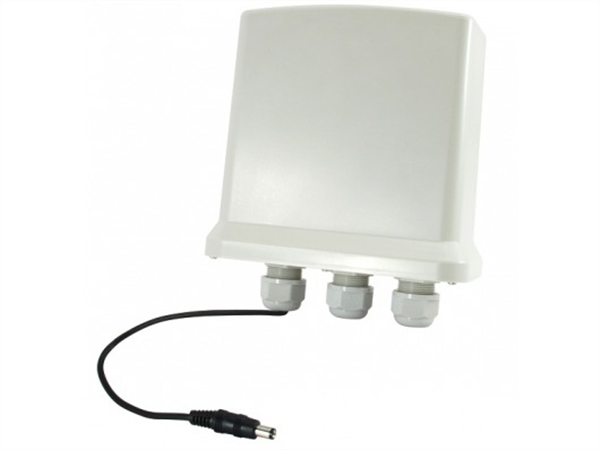 The LevelOne POS-4001 is a 12V outdoor, high power PoE Splitter for use in Power over Ethernet systems.
With Ethernet Input (data + power) port and Output (data only) port, the POS-4001 can split power from existing LAN cable and convert up to 12VDC/2.5A for power hungry applications such as Wireless APs, Security cameras and IP Phones. The internal current limit, short-circuit and overload protection are implemented to provide up to 12VDC/2.5A for use of DC output power.
The POS-4001 can work in pair with a high power PoE Injector, to deliver up to 12VDC/2.5A
The POS-4001 is compliant to IP66 standard for outdoor conditions.
LAN Interface:
*IEEE 802.3x, Auto-Detection for 10/100BaseT and full/half duplex
*Standard Straight-through, or Cross-over CAT 5 cable
*Automatic MDIX function
*RJ-45 Connector x 2
POWER:
*OUTPUT: DC12V/2.5A at full load
Physical Dimension:
*WxDxH: 180 x 165 x 95 (mm)

Operating Environment:
*Humidity: 5% to 90% non-condensing
*Temperature: 0 ~ 50 degree C
12VDC 2.5A High Power PoE Power Splitter
• Split Power Over Ethernet (POE) to remote devices
• DC OUTPUT: 12VDC (default), 9, 6, 5, 3.3VDC(Optional)
• Ethernet 100Mbps Wire Speed
• Simple to install – Plug & Play
• IP66 weatherproof design