ADSL / VDSL / UFB Router with Firewall and VPN, Wi-Fi 6

DrayTek DV2865AX ADSL / VDSL / UFB Router with Firewall and VPN, Wi-Fi 6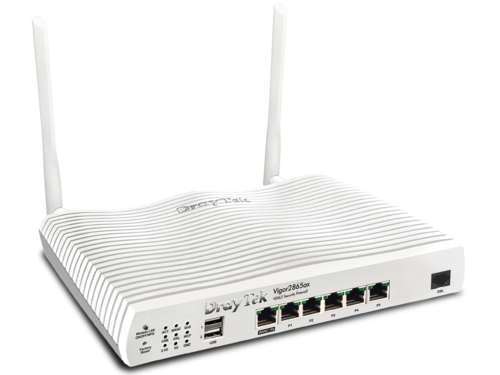 Multi-WAN VDSL2 35b/Ethernet Security Routers for SMB
The Vigor2865 series are VDSL2 35b/ADSL2+ security Firewall routers integrating a DSL modem which is compatible with variants of ADSL and VDSL, including profile 35b supervectoring. There is also a configurable Gigabit Ethernet WAN/LAN port for broadband connections to share the traffic load or serve as a Failover connection.
This model includes built-in 802.11ax (AX3000) Wi-Fi 6
• Multi-WAN with 1 x VDSL2 35b Supervectoring / ADSL2+ WAN port, 1 x configurable GbE WAN/LAN port, 2 x USB ports
• 1 x XDSL port and 1 x configurable GbE WAN/LAN port for Failover, Load Balancing and High Availability mode
• 2 x USB 2.0 ports for 3G/4G LTE USB modems, FTP server, network printer or thermometer
• 5 x Gigabit LAN ports with multiple subnets and 60,000 NAT sessions
• 32 x VPN tunnels (including 16 x OpenVPN/ SSL-VPN tunnels) with most security protocols
• Fast VPN throughput, VPN load-balancing and backup for site-to-site applications
• 16 x VLANs for secure and efficient workgroup management
• IPv6 & IPv4
• Up to 1022 IP addresses and 8 IP subnets
• Integrated IEEE 802.11ax (AX3000) wireless Access Point; dual band; up to 2402 Mbps throughput (ax model)
• High Availability mode
• Object-based SPI Firewall and CSM (Content Security Management) for network security
• Supports VigorACS 2 and VigorACS 3 Central Management Software for remote management
• SD WAN capability when used with VigorACS 3
• Central VPN Management for up to 8 remote Vigor routers
• Central AP Management for up to 20 Vigor Access Points
• Central Switch Management for up to 10 VigorSwitches
New OFDMA Feature for 802.11ax

Higher Transmission Efficiency with OFDMA
OFDMA has been used in LTE for many years, and is now available in 802.11ax for multi-user mode.
With legacy OFDM, each frame is transmitted across the entire channel width. When the transmission rate is low, this causes more latency and jitters and lower the overall efficiency.
OFDMA splits a single frame into groups of subcarriers, and each subcarrier can be sent simultaneously. With multiple access mode, it allows multiple users to transmit at the same time thus improving efficiency and enhancing user experiences in high density environments.
Key Features

Load Balancing
Maximise throughput and reliability by using multiple Internet connections.
________________________________________
Bandwidth Management
Prevent one device using all the bandwidth with bandwidth limit policy, session limit policy, and QoS settings.
________________________________________
VPN (Virtual Private Network)
Build a secure and private tunnel from the LAN of the Vigor2865 Series to remote offices and teleworkers over the Internet.
________________________________________
Hotspot Web Portal
Market your business and communicate with the guests while offering hospitality Wi-Fi.
________________________________________
SSL VPN
SSL VPN works through firewalls providing secure remote access to any network environment. Learn more
________________________________________
Wireless WAN
Get Internet access wirelessly from a Wi-Fi network, a mobile hotspot, or a personal hotspot set up on smartphones.
________________________________________
35b Supervectoring Modem
Integrated VDSL modem, supporting VDSL2 profile 35b supervectoring.
________________________________________
DrayDDNS
Free DDNS service to access the router using a fixed hostname of your choice.
________________________________________
Firewall & Content Filter
Filter web pages by URL keywords or web category to block access to insecure or inappropriate content.
________________________________________
Central AP Management
Use the Vigor2865 router as a wireless controller to maintain and monitor VigorAPs.
________________________________________
VoIP Friendly
The Vigor2865 Series can do port forwarding and reserve bandwidth for VoIP traffic automatically, making VoIP setup effortless.
________________________________________
Central Switch Management
Set up VLAN easily from the router and get a centralized hierarchy view of the switches.
________________________________________