Smoke Detector for SensorProbe

AKCP SK00 Smoke Detector for SensorProbe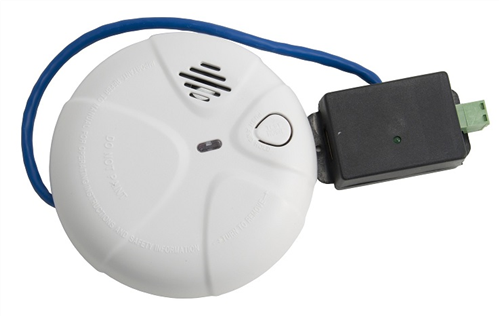 Monitoring for developing smoke is an essential aspect in the security and safety of any facility. AKCP has designed a smoke sensor specically for use with its sensorProbe and securityProbe product line.
These smoke detectors are easy to install and configure and can be used in conjunction with all other of AKCP's alerting features. As with other AKCP sensors, this device has it's own SNMP OID for monitoring across a network, and integration with third party Network Management Systems.
Accurate, cost effective Smoke Detector
• On/Off alarm signal of Smoke Detected
• LED indicates the status of Smoke Detector
• Low profile design for ceiling mounting for maximum smoke detection.
• Sensor type - open/closed contact switch
• Up to 2 Smoke Detector Sensors per sensorProbe2, and 8 per sensorProbe8 / securityProbe
• Includes disconnect alarm that checks that the sensor is securely plugged into the sensor/securityProbe
• The smoke detector can also be attached to dry contacts of a X20 or X60 unit.
• With 9V battery as backup the sensor / securityProbe will still work as a smoke detector on its own.
Dry Contact Output : 0.045mA
Detector Type : Photoelectric Chamber, detects particles of smoke in the chamber
Power Source : 9VDC
Suitable for installation to BS 5839 pt 6 Grade F
Powered by sensor/securityProbe unit and/or 9V Battery
Standby Current : 15mAmp max
Alarm Current : 30mAmp max
Loud piercing 85db alarm at 3m
Ambient Humidity : 10% - 90%
Sensitivity to Smoke : 3% - 6% Obs/m
Extension : 30 meters/100 feet using standard CAT5E LAN cable
Full function test button
Alarm auto-reset
Insect resistant chamber
Missing battery lockout
Battery lifetime:
Zinc Carbon battery: approx. 1 year
Alkaline Energizer: approx. 4 years
Lithium battery: approx. 10 years