DrayTek DV2952 Dual Gigabit WAN Router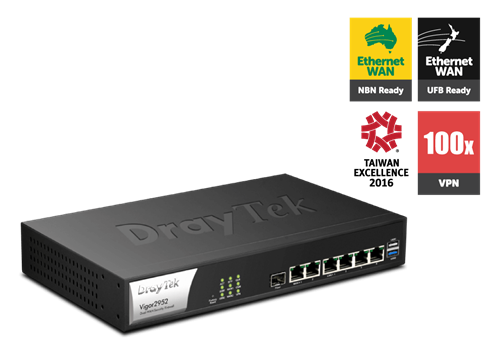 Enterprise level security firewall router designed for businesses that need strong business network features, and security.
The Vigor 2952 Dual-WAN security firewall router is an enterprise level router designed for medium sized businesses that need strong business network features, including support of up to 100 VPN tunnels.
This router is equipped with 2 x Gigabit Ethernet WAN interfaces, with WAN 1 selectable as an SFP port for optic fibre module installation.
For mission critical applications the Vigor 2952 router can be used in High Availability mode, and be used in parallel with another router to provide uninterrupted network connectivity should one of the routers fails.
This router supports business grade network features, including an object-oriented SPI (Stateful Packet Inspection) firewall, IPv6, 100 VPN tunnels, 50 SSL VPN tunnels, tag-based VLAN, multiple subnets, etc.
The centralised network management features, including Central VPN Management, Central Switch Management and Central AP Management, help the network administrators to simplify network configuration tasks through a convenient console.
The Vigor2952 series router can also be rack mounted, using the supplied mounting brackets, into a standard 19" rack or cabinet.
Dual-WAN with 2 x Gigabit Ethernet WAN ports (WAN 1 selectable for SFP port)
Single WAN or Multi-WAN Load Balance and Failover
2 x USB ports (1 x USB 2.0, 1 x USB 3.0)
Only USB port 2 (USB2) can be used for 3G/4G LTE mobile. USB port 1 (USB1) can be used for external storage, printer or thermometer
4 x Gigabit LAN ports with 60,000 NAT sessions
8 Private LANs + DMZ LAN + IP routed LAN
IPv6 compliant
Object-based SPI Firewall with Content Security Management (CSM)
QoS functions
100 x VPN and 50 x SSL VPN tunnels with VPN Load Balance and Redundancy
Central VPN Management
Central AP Management*
Central Switch Management**
High Availability Mode
Smart Monitor Traffic Analyzer (up to 100-nodes)
Supports VigorACS SI Central Management (TR-069)
2 years back to base warranty
Vigor2952