Industrial Cat 1 LTE to I/O Gateway

Teltonika TRB141 Industrial Cat 1 LTE to I/O Gateway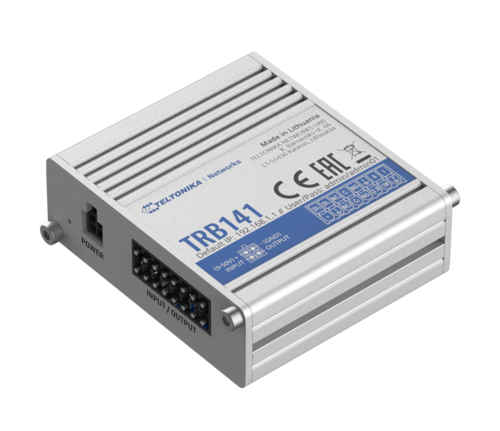 Robust industrial LTE Cat1 & IoT gateway including a robust metal housing
The Teltonika TRB141 is a small, robust industrial LTE Cat1 & IoT gateway including a robust metal housing. The TRB141 is also available as a board without housing.
Multiple Inputs/Outputs for remote monitoring and control
LTE Cat 1 for M2M/IoT communications
Compact size, easy integration
Wide range of power supply voltages
Teltonika Remote Management System compatible
Easy to use, secure and feature rich OpenWrt based Operating System
The Teltonika TRB 141 is a small industrial LTE Cat 1 gateway and equipped with a micro USB and various Input/Output options, including Digital, Relay, Analog, and Isolated.
Paired with secure and functional RutOS, plenty of processing power, and Teltonika Networks Remote Management System (RMS), this device offers unprecedented application flexibility to manage and control equipment remotely over LTE Cat 1.
It has a wide range of software features such as SMS control, VPN, IPsec, Firewall, and FOTA support.
Perfect for application scenarios, where devices must be remotely managed using Inputs/Outputs.
Specifications
Mobile: 4G/LTE (Cat 1), 3G, 2G
CPU: Qualcomm, ARM Cortex A7, 1.2 GHz
Memory: 512 MBytes Flash (70 MBytes for userspace), 128 MBytes RAM (50 MBytes for userspace)
Powering option: 4 pin power socket, 9-30 VDC
SIM: 1 x Internal SIM holder (2FF)
Antenna connectors: 1 x SMA for mobile
Intputs/Outputs:
On 4 pin socket: 2 x Digital input/Digital open collector output (configurable)
On 16 pin socket: 1 x Isolated input, 1 x Single wire input, 1 x Analog input (with 4-20mA capability)
1 x Latching relay output, 1 x Non-latching relay output, 2 x Dry/Wet input (configurable)
Other: 1 x Micro USB slave
Status LEDs: 3 x Connection type, 5 x Signal strength, 1 x Power
Operating temperature: -40° C to 75° C
Housing: Aluminium housing with DIN rail mounting option
Dimensions (W x H x D): 75 x 25 x 65 mm
Weight 136 g

What's in the Box
TRB141
4.5 W PSU
1 x LTE antenna (magnetic mount, SMA male, 3 m cable)
Micro-USB cable (0.8 m)
1 x hex key
I/O connector