Dual-GigE WAN Router/Firewall, with LTE SIM card slot, 802.11n WLAN Vigor2925

DrayTek DV2925LN Dual-GigE WAN Router/Firewall, with LTE SIM card slot, 802.11n WLAN Vigor2925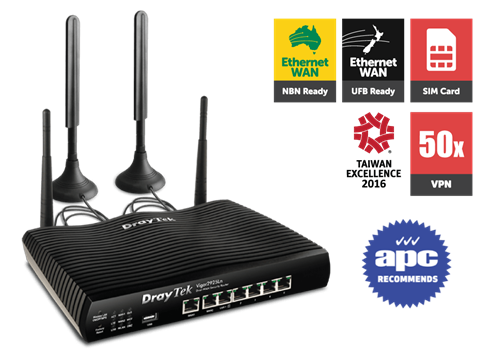 The Vigor2925Ln router has most of the functions of the Vigor2925 series routers, plus a slot for a 4G LTE mobile broadband SIM card. The supported SIM cards include those from the major broadband service providers in New Zealand, Spark, 2Degrees and Vodafone with speeds up to 150Mbps downstream and 50Mbps upstream.
In addition to the 4G LTE mobile broadband, the Vigor2925Ln has other WAN interfaces including 1 x Gigabit Ethernet WAN and 1 x USB port.
The Vigor2925Ln can connect to the Internet through any of these interfaces, or with a combination of interfaces for Load Balance and Failover functions. Like the Vigor2925 series, this router supports business features including an object-oriented SPI (Stateful Packet Inspection) firewall, IPv6, 50 VPN tunnels, 25 SSL-VPN tunnels, tag-based VLAN, multiple subnets, etc.
For mission critical applications, the Vigor2925Ln router can be used in High Availability mode to provide uninterrupted network connectivity,if there is a hardware failure occurrence in the primary router.
The LTE feature makes the Vigor2925L series router an ideal solution for applications such as:
?Remote locations with no fixed line or NBN coverage.
?Quick setup for new branches waiting for DSL/Ethernet WAN (e.g. NBN).
?Load Balancing or Failover backup for an existing primary Internet connection which can be any of ADSL/VDSL/Cable/Ethernet broadband.
?Temporary installations such as disaster recovery and emergency situations, exhibitions, sporting events, etc., where Internet access is required for a short period.
?Provision of Internet access on public transport such as coaches, buses, trains, freighters, etc.
The Vigor2925L series router can be rack mounted using a 1RU rack mount bracket on a standard 19" rack or cabinet.
◾Card slot for a Frequency Division Duplex (FDD) 4G LTE SIM card
◾Quad-WAN with 2 x Gigabit Ethernet WAN ports, 1 x USB port and 1 x 4G LTE SIM card slot
◾Single WAN or Multi-WAN Load Balance and Failover
◾Built-in 802.11n Wireless
◾5 x Gigabit LAN ports with 50,000 NAT sessions
◾Supports IPv6 standard
◾Object-based SPI Firewall with Content Security Management (CSM)
◾Supports QoS functions
◾50 x VPN and 25 x SSL VPN tunnels with Load Balance and Redundancy
◾Central VPN Management
◾1 x USB port supports 3G/4G modem, FTP server, network printer or temperature sensor
◾Central AP Management*
◾Supports Smart Monitor Traffic Analyzer (up to 50-nodes)
◾Supports VigorACS SI Central Management (TR-069)
◾High Availability Mode

LTE Function
The Vigor2925L router has a SIM card slot for a FDD LTE/4G category 4 mobile broadband modem. The 4G/LTE SIM card slot allows you to insert a SIM card from your service provider and have Internet access without the need to use additional hardware. It is protected by a cover.
The Vigor2925L series router has 2 LTE antennas. A 1 metre extension lead with a magnetic base allows the antennas to be placed in the best position for optimum 3G/4G reception.
4G LTE bands supported are:
?B3 (1800MHz)
?B7 (2600MHz)
?B8 (900MHz)
?B20 (800MHz)
Note 1: Band 28 (700MHz) is currently not supported in the Vigor2925Ln router.
Note 2: 3G WCDMA Band 5 (850MHz) is currently not supported in the Vigor2925Ln router.
The maximum data rate for downlink is 150Mbps and the data rate for uplink is 50Mbps.
The SMS feature allows status and alerts to be sent by the router, or an IT admin can reboot or configure the router with a pre-configured host.
WAN Connectivity
The Vigor2925L router supports 4 types of WAN Interfaces, including two Gigabit Ethernet WAN interfaces, a USB port for a supported USB 3G/4G USB modem, and a card slot for 4G LTE modem.
3G/4G mobile broadband access can be achieved through either a SIM card in the 4G LTE SIM card slot, or a USB dongle in the 3G/4G USB port.
With between 2 to 4 WAN interfaces connected, you can configure for Load Balancing or Failover. For example you can use WAN 1 as your primary Internet connection and have a failover connection over a 4G LTE connection.
LAN and VLAN
The Vigor2925L has 5 x Gigabit LAN ports and supports with 50,000 NAT sessions.
The Vigor2925L supports both port-based and 802.1q tagged VLANs. Port based VLANs allow the assignment of a VLAN and IP subnet to each router LAN port. On the other hand, 802.1q tagged VLANs can extend up to 8 VLANs and the IP subnets to an attached switch.
Wireless LAN
The Vigor2925Ln has a built-in 2.4GHz IEEE802.11n wireless Access Point that provides good coverage and excellent Wi-Fi performance. The MIMO technology with diversified antenna arrangement minimises interference effects and ensures good wireless performance.
To match the business level features of Vigor2925 series, Vigor2925Ln supports all major Wi-Fi encryption protocols: WEP, WPA, WPA2 and 802.11X, plus MAC Address access control, and DHCP Fixing to prevent unauthorized accessing.
The Web-portal setup (log-in) provides four rules along with 4 SSIDs. Each of the 4 SSIDs can be created and assigned to a VLAN and IP subnet with separate security levels. The wireless VLAN function lets you isolate wireless clients from each other or from the "wired" LAN.
When users connect to the Wireless LAN, they will be directed with your customised log-in screen before any Internet access is permitted.
The usage information, such as how many and which clients are currently connected and how much bandwidth they consume, can be displayed on screen.
With WPS (Wi-Fi Protected Setup) feature, you can press the WPS button at the front of the router to pass on the security keys to a client PC in the LAN, allowing for easy and secured access to the Wireless LAN.
Quality of Service (QoS)
QoS functions allow the network administrator to set priorities for certain types of traffic to guarantee the required level of performance for data flow. For example, real-time traffic such as VoIP or Video over IP can be prioritised as these have less tolerance over delays caused by network congestion.
The traffic type can be assigned to each of the three QoS classes and reserved bandwidth allocated.
Firewall
The Vigor2925Ln has powerful firewall features including object-oriented SPI (Stateful Packet Inspection) firewall, DoS (Denial of Services), CSM (Content Security Management) and WCF (Web Content Filter).
Stateful Packet Inspection (SPI) Firewall monitors incoming and outgoing packets at layer 3 (OSI model) and passes or blocks the data packets based on the configuration.
The DoS feature protects the network for unwanted access requests from DoS attackers.
CSM enables network administrators to control and manage IM (Instant Messenger) and P2P (Peer-to-Peer) applications, for instance, to keep network users from accessing inappropriate contents and ensure that network traffic flow efficiently.
WCF classifies all websites into 64 categories, and allows network administrators to select categories to protect the users from undesirable website content. DrayTek uses the CYREN WCF database for its Vigor routers, and each router includes a free 30 day trial license.
The object-based firewall provides flexibility by using Objects in the firewall settings. Objects can created and placed in groups for IP, service type, keyword, file extension, etc. This allows a filter rule to be applied to many IP addresses, reducing number of firewall filters required. In addition these objects and groups can be reused for other firewall settings resulting in reduced amount of work required to create multiple firewall rules.
Firewall rules can be applied according to a Time Schedule to control access to the Internet or network services according to predetermined time slots. Up to 4 time schedules can be applied to each firewall filter rule. For example social media can be restricted during work hours and be allowed during off work hours in a company.
VPN & SSL-VPN
Vigor2925Ln supports up to 50 simultaneous VPN tunnels, of major protocols such as IPSec/PPTP/L2TP and 25 tunnels of SSL-VPN protocol. The dedicated VPN co-processor supports the hardware encryption of AES/DES/3DES, hardware key hash of SHA-1/MD5, and LDAP authentication, and ensures that VPN traffic is secure and performance is maximised.
The SSL technology allows secure Web encryption such as those used for on-line banking. With Vigor2925Ln, you can create SSL-VPN in Full Tunnel mode or Proxy mode.
Furthermore, since the Vigor2925Ln supports multi-WAN of DSL, Ethernet and 3G/4G, you can create VPN Trunking for VPN Load Balance and VPN Backup. For instance, you can use a number of connections to a site to increase the bandwidth, or have a backup connection when the primary connection fails.
Central VPN Management
Instead of normal method for VPN connection through web browsers, Vigor2925Ln supports Central VPN Management (CVM) which utilises TR-069 protocol. You can create VPN tunnels with just a few mouse clicks on the icons representing your local network (e.g. public places such as a café) and remote locations (e.g. branch or home office), and the router will establish the connection automatically. This takes away the tedious process required for VPN tunnel creation.
As well as simplifying creation of VPN tunnels, CVM also provide a console to monitor multiple CPE devices and VPN tunnels. This includes displaying the CPE devices on a Google Map.
Other features include scheduling of CPE configuration backup/restore tasks as well as scheduled firmware upgrade of the CPE devices. Up to 8 DrayTek CPE devices are supported.
Central AP Management
Vigor2925Ln supports Central AP Management (APM) with a console to auto configure and manage up to 20 directly connected (via LAN cables) Draytek wireless Access Points including VigorAP 800, VigorAP 810, VigorAP 900 & VigorAP 910C.
The Dashboard feature displays the status such as traffic and number of attached stations, of all the attached Access Points.
With Auto Provisioning enabled on the attached Access Points, WLAN profiles can be created and applied to the selected Access Points from the central console.
The AP Maintenance feature allows a number of actions to be programmed, including Configuration Backup and Restore, Firmware Upgrade, Remote Reboot and Factory Reset, for selected Access Points.
The connected Access Points can also be displayed on a map or floor plan showing their locations and basic descriptions. Other features include Traffic Graph, Rogue AP detection, Event Log, Total Traffic, Station number and Access Point load balancing.
Remote Access Management
The Vigor2925Ln includes a number of management options to provide both local and remote access to monitor and manage the router.
The TR-069 feature integrates with the VigorACS-SI centralised management system. This can be used to allow system integrators or network administrators to configure, monitor and manage the Vigor2925Ln remotely from the comfort of their offices or homes. It can also be used to Auto-Provision the Vigor2925Ln remotely by sending configuration data to the router. There are 3 wizards: a Configuration Wizard, a VPN Wizard and a Firmware Upgrade Wizard. These allow network administrators to quickly and easily carry out complex tasks.
Alarm & Log Management features ensure real time notifications and alerts to specified phone numbers or email accounts in relation to any faults or issues of the connected CPEs.
A number of diagnostic functions are also available for the network administrator to monitor and troubleshoot any network issues. These include Data Flow Monitor, Traffic Graph and Syslog Explorer, etc.