Outdoor Touchscreen Display for Mobotix Door Station System, White

MOBOTIX MX-DISPLAY3-EXT Outdoor Touchscreen Display for Mobotix Door Station System, White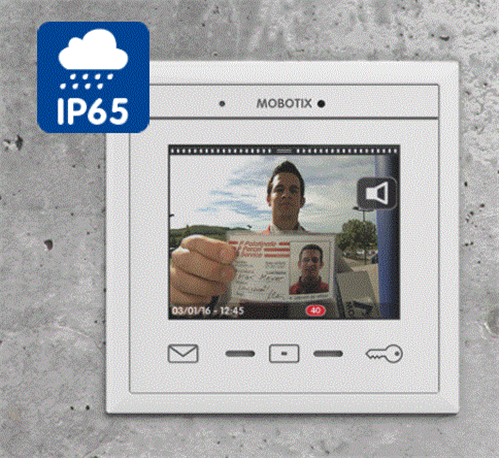 Weatherproof MxDisplay+ for mounting outdoors or in rooms with special requirements
• Operating conditions: IP65, -30 to 60°C
• Remote station for MOBOTIX Door Stations and video systems
• Full duplex hands-free talking
• HD sound with echo/noise suppression and automatic volume control
• Ambilight sensor
• 3 inputs, 1 relay output, connection for external temperature sensor and MxBus
• Ethernet, RFID and WiFi (2.4 & 5 GHz), Bluetooth V3.0 HS
• MxBus and Bluetooth available with upcoming software update
• 1x admin card
• Mounting parts • Frame and in-wall housing to be ordered separately (e.g., FlatMount Frame MX-OPT-FlatMount-EXT-PW)
• Color: white
The Smartphone On The Wall – now also available as a weatherproof model (IP65, -30 to 60 °C). The new MxDisplay+ Outdoor is a weatherproof MOBOTIX surveillance station available now in both white and
black. The robust devices feature the same external design as the indoor models and fit in the same frames and onwall or in-wall housing. The outdoor displays meet protection class IP65 (dust-proof and resistant to sprayed water from any angle), and can be used at ambient temperatures from -30°C to 60°C (-22°F to 140°F). This means they can be readily used in critical environments subject to high humidity, major temperature fluctuations and dust.
Every MxDisplay+ Outdoor is equipped with Bluetooth-ready hardware to accommodate future upgrades and comes standard with an advanced Wi-Fi module, which automatically selects the 2.4 GHz or 5 GHz frequency based on the Wi-Fi server in use. This makes it possible to always have the right connection, depending on the application.
With its gesture-controlled touch screen made of real glass, it offers the same functions as the indoor models which continue to be available. It manages access to the T25 IP Video Door Station and to all MOBOTIX cameras, configures time-based access control for every door, reads and writes RFID transponders, offers a floor call function and controls smart home functions.
MxDisplay+ Outdoor: Differences From Indoor Models
IP65 and ambient temperature range from -30 to 60 °C (-22 to 140 °F).
Suitable for use outdoors and in critical environments (for example, damp locations)
Integrated 2.4 or 5 GHz Wi-Fi module
MxBus-ready and Bluetooth-ready (V3.0 high speed)
MxDisplay+ Outdoor: Technical Data
Operating conditions : IP65 (DIN EN 60529), ambient temperature -30°C to 60°C
Interfaces : Ethernet (single wire connector for AWG20-24 installation cable), Wi-Fi (2.4/5 GHz), RFID, Bluetooth V3.0 HS (can be used with future software update)
Protocols : IPv4, IPv6, HTTP, HTTPS, DHCP (Client + Server), NTP (Client)
Ethernet PoE : (IEEE 802.3af, class 2)
Wi-Fi : IEEE 802.11b/g/n, 2.4 or 5 GHz band; client or access point; WPA2 PSK encryption
RFID : Mifare DESFire EV1
Inputs : 3 self-powered signal inputs, 0 to 48 V AC/DC
Outputs - 1 isolated relay output: max. 48 V AC/DC, max. 60 W, max. 1 A
- MxBus connector (2x2 terminals), can be used with future software update
Temperature sensor connector (T+/ T-), supported PTC/NTC classes
Ni1000 • Ni1000_TK5000 • NTC1.8kOhm • NTC10kOhm • NTC15kOhm_B3950 •
NTC1kOhm • NTC20kOhm_B4150 • NTC2kOhm_B3415 • NTC30kOhm_B4150 •
NTC3kOhm_B3880 • NTC47kOhm_B3950 • NTC50kOhm_B4170 • NTC8kOhm_B3950 •
Pt100 • Pt1000
Supply voltage - PoE or 12–48 V DC (power supply spec.: 12 V/1 A, 24 V/0.5 A, 48 V/0.25 A)
- with MxBus: PoE or 48 V DC (MxBus can be used with future software update)
Power consumption : Typically 3.5 W
Display size : 3.5", resolution: 320 x 240 pixels (CIF)
Supported video sources : Up to 16 MOBOTIX cameras and Door Stations from 14/24 series, firmware 4.4.0.31 and higher
Dimensions (H x W x D) : 99 mm x 99 mm x 37 mm; MxDisplay+ fits into the frame and housing of the Door Station modules and in the FlatMount frame
Weight (without packaging) Approx. 270 g
Controls Touch screen with three non-moving, illuminated soft-touch buttons for several functions, status LED (RGB)
Audio: Microphone and speaker, 16-bit/16 kHz (HD sound), full duplex hands-free talking (listen and speak simultaneously), echo and noise suppression, automatic volume adjustment, equalizer
Delivered parts:
1 x MxDisplay+, 1 x seal, 1 x admin card (red RFID card for accessing locked MxDisplay functions and card administration for KeypadRFID and BellRFID), 1 x screwdriver, 1 x Allen wrench, technical documentation
Certifications:
EMC: EN 301 489-1 (V1.9.2), EN 301 489-3 (V1.6.1)
Security: EN 60950-1.2006/A11:2009/A1:2010/A12:2011
ERM-SRD: EN 300 330-1 (V1.8.1), EN 300 330-2 (V1.6.1)
Additional standards: FCC CFR47 Part 15B+C, RSS-210 Issue 8 (Canada), IFERW (Japan)
MTBF > 80,000 h
Accessories (optional)
FlatMount frame (for example, MX-OPT-FlatMount-EXT-BL), in-wall housing (MX-OPTFlatMount-Box-EXT-IN), module frame (for example, MX-OPT-Frame-1-EXT-BL) with on-wall or in-wall housing (for example, MX-OPT-Box-1-EXT-ON-BL or MX-OPT-Box-1-EXT-IN)