Routerboard hEX Gigabit 5-port Router

MikroTik RB750GR3 Routerboard hEX Gigabit 5-port Router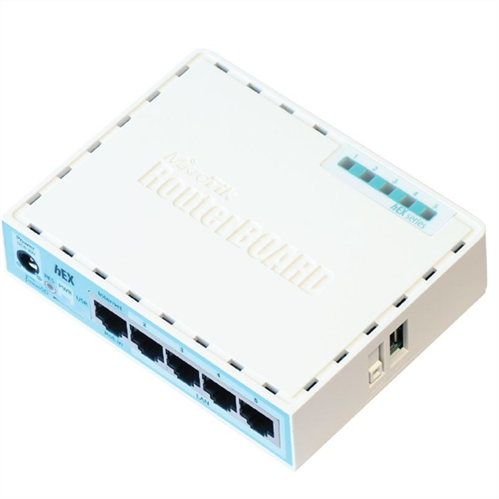 The hEX is a small five port Gigabit Ethernet router for managing your small office network.
It is affordable, small and easy to use, but at the same time comes with a very powerful dual core 880MHz CPU and 256MB RAM, capable of all the advanced configurations that RouterOS supports.
This router has support for hardware encryption (~470Mbps) and the MikroTik dude server package. A microSD slot provides improved r/w speed for database storage on microSD card and for supporting Dude network monitoring.
Dimensions : 113x89x28mm
RouterOS license : 4
Operating System : RouterOS
Powering Details
Number of DC inputs 2 (DC jack, PoE-IN)
DC jack input Voltage 8-30 V
Max power consumption 10 W
Max power consumption without attachments 5 W
FAN count Passive
PoE in Passive PoE
PoE in input Voltage 8-30 V
Ethernet Details
10/100/1000 Ethernet ports 5
Peripherals
Memory card type microSD
Memory Cards 1
Number of USB ports 1
USB Power Reset Yes
USB slot type USB type A
Max USB current (A) 1
Included parts
24V 0.38A power adapter