RouterBOARD mAP (Mini AP) 2.4GHz, 802.11bgn

MikroTik RBMAP2ND RouterBOARD mAP (Mini AP) 2.4GHz, 802.11bgn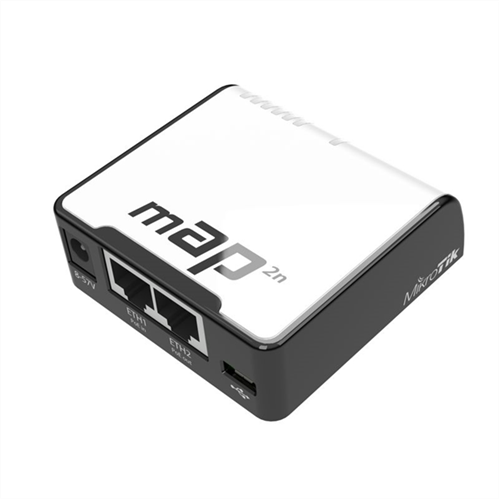 Mikrotik RouterBOARD mAP2n, 2xLAN, 2.4Ghz 802.11bgn wireless, microUSB, RouterOS L4, plastic case, PSU , Passive POE-in/out.
The mAP is a tiny size wireless Access Point with full RouterOS capabilities. It is very portable, since it accepts power from a wide variety of sources - USB, PoE and power jack.
In addition to using this device as a small and portable AP, it also works as a PoE injector - the second Ethernet port provides up to 500mA of power to another device, for example, you can connect a SXT CPE device to it.
• PoE in 10-57V
• Built in 2.4GHz AP
• microUSB for a 3G/4G modem, or for power input
• Station or AP mode wireless
• Passive PoE output (same as input voltage)
In the box: mAP device, 24V 0.8A power adapter, microUSB type B to USB type A adapter.
Case dimensions 68 x 68 x 19mm