XGS 107 Xstream Protection Bundle - 12 Mth

SOPHOS XF1Y1CSES XGS 107 Xstream Protection Bundle - 12 Mth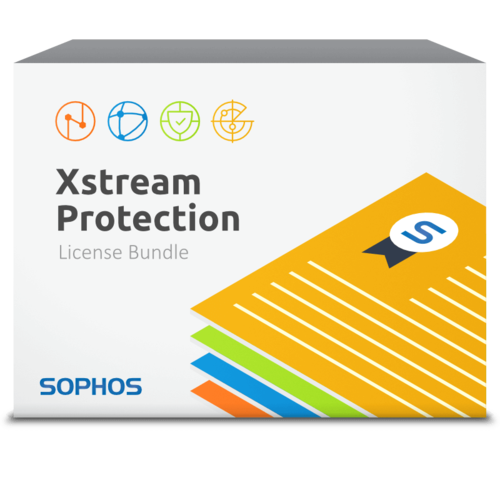 Enterprise Protection
Visibility, Protection, and Performance
Xstream Protection
Sophos Firewall's all-new Xstream architecture delivers extreme levels of protection, performance, and visibility.
Xstream TLS Inspection
Industry leading performance, flexibility, and transparency into all the encrypted traffic on your network.
Xstream DPI Engine
Deep packet threat protection in a single streaming engine for AV, IPS, Web, App control, and TLS Inspection.
Xstream Network FastPath
Automatic and policy based intelligent offloading of trusted traffic processing at wire speed.
Visibility into what's really happening on your network.
Sophos Firewall removes an enormous blind spot, providing extreme visibility and insight into all your network traffic whether it's encrypted, evasive, or elusive.
Application Visibility
Get unmatched clarity into evasive and custom networked applications on the desktop and in the cloud for added control
Network Health and Threats
Instantly identify suspicious or malicious threats on your network including the host, user and process responsible
The best protection to stop unknown threats dead.
Sophos Firewall offers the best protection against the latest advanced threats like ransomware, cryptomining, bots, worms, hacks, breaches, and APTs with unique and innovative technology designed to catch threats we haven't even seen yet.
SophosLabs Intelligence
Powered by deep learning, we identify new and zero-day threats before they get on your network.
Dynamic Sandboxing
The ultimate in affordable protection by analyzing suspicious files in a safe cloud environment using the latest technology from Intercept X.
Intrusion Prevention
Industry-leading IPS offers high-performance protection against the latest network exploits.
Performance to fully protect your network and then some.
Sophos Firewall delivers industry leading performance and price-per-protected Mbps that ensures you can fully engage all the latest next-gen protection technology without compromising on performance.
Xstream Architecture
Our new packet flow processing architecture provides extreme levels of network protection and performance.
XGS Series Appliances
With the latest multi-core CPUs, dedicated Xstream Flow Processors, generous RAM, and solid-state storage you get powerful protection and performance.
Proven Performance
Consistently rated among the top performing in both security effectiveness and price-per-protected Mbps.
Extreme TLS Inspection
Extremely Fast, Effective, and Transparent
Up to 90% of the traffic passing through your firewall is encrypted. Most organizations are completely blind to this traffic. Why? Because TLS Inspection kills their firewall performance. But not any more.
Sophos Firewall's Xstream TLS Inspection solves this problem once and for all. You can now fully enable TLS Inspection without compromising on performance, protection, privacy, and the end-user experience.
SD-WAN Evolved
Unprecedented clarity, connectivity, and control.
Sophos Firewall evolves SD-WAN with unique capabilities that provide unprecedented clarity and control over your connectivity needs.
Synchronized SD-WAN
Leverages the 100% application visibility and control that Synchronized Security provides to make reliable SD-WAN path selection and routing decisions.
SD-RED Branch Office Connectivity
Our zero-touch branch office edge devices make SD-WAN deployments simple, easy, and secure.
Flexible Connectivity Options
No other firewall offers as many modular and flexible connectivity solutions as Sophos Firewall with a full range of wireless, cellular, copper, and fiber options.
Powerful management. Seamless scalability.
Sophos Firewall provides powerful cloud-based central management and reporting tools that enable seamless scalability as your organization and network grows.
Group Firewall Management
Sophos Central provides a powerful set of cross-estate management tools to easily make configuration changes, initiate firmware updates, or manage backups.
Central Firewall Reporting
Powerful centralized reporting enables you to visualize your network utilizing a variety of built-in reports or build your own custom reports.
Plug and Play High Availability
Get added scalability, resiliency, and peace of mind by simply connecting a pair of Sophos Firewalls together to enable high-availability – it's that easy.
Seamlessly integrate your cybersecurity for better protection
Sophos Firewall is part of the world's best cybersecurity ecosystem, integrating in real-time with Sophos Central and Intercept X.
Sophos Central
Sophos Central is the most comprehensive cloud cybersecurity management platform available – anywhere. It provides the ultimate in management efficiency and scalability for all your IT Security products from a single pane of glass.
Synchronized Security
Sophos is a pioneer in Synchronized Security, integrating your endpoint and firewall protection to share information and provide features you just can't get elsewhere, like Security Heartbeat™ for health monitoring, app control, user identification, and much more.
Zero-Touch Threat Isolation
Whether a threat is first detected at your firewall, an endpoint, or server, they all leap into action and work together to provide an automatic response with dynamic firewall rules and lateral movement protection isolating a compromised host to prevent spread, hacker communication, or data loss.
Regain Trust in a World of Zero Trust
On your path to Zero Trust, Sophos Firewall and Synchronized Security lead the way. Trust nothing. Verify Everything.
Analyze
Synchronized Security automatically identifies, authenticates, and verifies users, apps, devices, and their trustworthiness in real-time
Adapt
Security Heartbeat dynamic firewall policies adapt instantly to changes in trust including device compliance, health status, and user, app, or traffic identity
Automate
Synchronized Security automates network access control and device isolation to enable adaptive micro-segmentation