10Gb Ethernet Switch, 2 x 10GbE RJ45, 4 x 1GbE/2.5GbE RJ45 ports

QNAP QSW-2104-2T 10Gb Ethernet Switch, 2 x 10GbE RJ45, 4 x 1GbE/2.5GbE RJ45 ports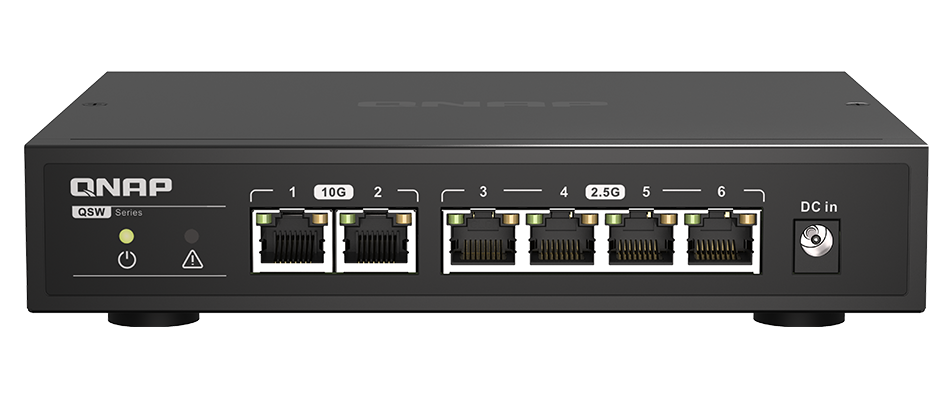 A plug & play switch featuring 10GbE and 2.5GbE connectivity, suited for SOHO and professionals
The QSW-2104-2T is an easy-to-use unmanaged switch with 2-port 10GbE RJ45 and 4-port 2.5GbE RJ45, allowing you to upgrade your network environment by connecting a wider range of devices with different bandwidth requirements.
Featuring a near-silent fanless design and compliance with IEEE 802.3az (Energy Efficient Ethernet, EEE), the QSW-2104-2T operates quietly and with optimal power usage.
With high performance and superb functionality, the QSW-2104-2T is the ideal choice for creating an affordable high-speed network environment in your home or workplace.
Two 10GbE RJ45 ports (compatible with the 10GBASE-T/NBASE-T™ standard) support 5 speeds (10G/5G/2.5G/1G/100M) to meet different bandwidth requirements.
Four 2.5GbE RJ45 (2.5G/1G/100M) ports can immediately multiply your network speed by 2.5 times using existing Cat 5e cables.
No complex settings are required, and auto-negotiation ensures optimal performance.
Automatic loop detection and blocking to ensure continuous network operation.
The unique fanless design with ventilated construction provides noiseless operation.
IEEE 802.3az (EEE) helps to reduce power consumption for low-speed and inactive connections.
Maximum flexibility with multiple 10G and 2.5G Ethernet ports
The QSW-2104-2T features 10GbE and 2.5GbE RJ45 ports for connecting various bandwidth-demanding devices, and supports the NBASE-T™ standard for connection using Cat 5e or Cat 6a cabling. With the QSW-2104-2T, you can easily create a hybrid high-speed network in homes and offices to accelerate file transfer, virtual machine applications, multimedia streaming/sharing, and more.
Note: If the distance between the switch and the device is less than 45 meters (148 feet), a Cat 6 cable can be used to achieve 10Gb/s speeds.
Future-proof your network environment
QNAP offers comprehensive, budget-friendly storage and networking solutions that provide an array of connectivity possibilities. Easily and flexibly upgrade your workplace or home network now to handle bandwidth-hungry applications.
Plug & play. Auto-negotiation for optimal speed of connection.
No complex settings are required to use the QSW-2104-2T - simply connect your devices and it's ready to use. The QSW-2104-2T supports auto-negotiation that optimizes transfer speeds and performance for each connected device.
Loop detection and blocking
The QSW-2104-2T features network loop detection. If a network loop is detected, the QSW-2104-2T automatically locks the looped ports to ensure the network environment quickly resumes normal operation.
Near-silent and energy saving
The QSW-2104-2T features a fanless design for near-silent operation. The unique ventilated construction assists in cooling without disrupting your quiet environment while maintaining high performance. IEEE 802.3az (EEE) support also reduces power consumption without sacrificing performance or functionality.
Management Type

Unmanaged

Number of Ports

6

10GbE BASE-T (RJ45)

2

2.5GbE (RJ45)

4

Power Supply Description

Adaptor

Max. Power Consumption

12W

Input Power Type

DC

Input Voltage Range

12V/1A

MAC Address Table

16K

Total Non-Blocking Throughput

30Gbps

Switching Capacity

60Gbps

Energy Efficient Ethernet (IEEE 802.3az compliant)

Fanless

Supported Standards

IEEE 802.3u 100Base-TX Fast Ethernet
IEEE 802.3ab 1000BASE-T Gigabit Ethernet
IEEE 802.3bz 2.5G/5GBase-T
IEEE 802.3an 10GBase-T
IEEE 802.3az Energy Efficient Ethernet (EEE)IEEE

Form Factor

Desktop

LED Indicators

Per Port: Speed/Link/Activity
Loop LED: Loop
Per System: Power/Status

Dimensions (HxWxD)

34 x 180 x145 mm

Weight (Net)

0.722 kg

Operating Temperature

0°C to 40°C (32°F to 104°F)

Relative Humidity

5~90% Non-condensing

Certifications

FCC, CE, BSMI, VCCI, LVD,CCC,KCC

Electromagnetic Compliance

Class B

Jumbo Frames

9K

Warranty

2 Years
Management Type

Unmanaged

Number of Ports

6

10GbE BASE-T (RJ45)

2

2.5GbE (RJ45)

4

Power Supply Description

Adaptor

Max. Power Consumption

12W

Input Power Type

DC

Input Voltage Range

12V/1A

MAC Address Table

16K

Total Non-Blocking Throughput

30Gbps

Switching Capacity

60Gbps

Energy Efficient Ethernet (IEEE 802.3az compliant)

Fanless

Supported Standards

IEEE 802.3u 100Base-TX Fast Ethernet
IEEE 802.3ab 1000BASE-T Gigabit Ethernet
IEEE 802.3bz 2.5G/5GBase-T
IEEE 802.3an 10GBase-T
IEEE 802.3az Energy Efficient Ethernet (EEE)IEEE

Form Factor

Desktop

LED Indicators

Per Port: Speed/Link/Activity
Loop LED: Loop
Per System: Power/Status

Dimensions (HxWxD)

34 x 180 x145 mm

Weight (Net)

0.722 kg

Operating Temperature

0˚C to 40°C (32°F to 104°F)

Relative Humidity

5~90% Non-condensing

Certifications

FCC, CE, BSMI, VCCI, LVD,CCC,KCC

Electromagnetic Compliance

Class B

Jumbo Frames

9K

Warranty

2 Years