Dual Gigabit WAN Router with Load Balancing, Failover and 3G/4G USB Backup, 4-port Giga LANs, SPI Firewall, 200 x VPNs, 100 x SSL VPN Load

DrayTek DV2960 Dual Gigabit WAN Router with Load Balancing, Failover and 3G/4G USB Backup, 4-port Giga LANs, SPI Firewall, 200 x VPNs, 100 x SSL VPN Load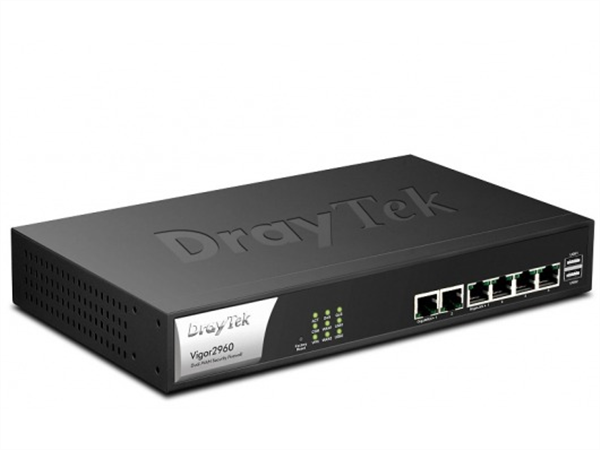 UFB (Ultra-Fast Broadband) Ready
2 x Gigabit WAN ports & 2 x USB ports for 3.5G / 4G Mobile with Load Balance and Fail-Over
4 x Gigabit LAN ports with 80,000 NAT sessions and IPv6
Object-based SPI Firewall, Content Security Management (CSM) and QoS
200 x VPN tunnels with VPN load balance and redundancy, Central VPN Management & 20 x SSL VPNs
Up-to 400Mbps site-to-site IPsec VPN throughput
2 x USB ports for 3.5G / 4G modems, USB disk storage, network printers & USB temperature sensor
Support Smart Monitor Traffic Analyzer (up to 200-nodes)
Support TR-069 for VigorACS SI Central Management
Temperature Monitoring (optional: USB Thermometer)
The Vigor2960 Series serves as a VPN gateway and a central firewall for multi-site offices and tele-workers. With its high data throughput of two-Gigabit Ethernet WAN, VPN trunking and 4 Gigabit Ethernet LAN ports, this device facilitates productivity of versatile business operations.
WAN Port 2x GbE RJ-45
LAN Port 4x GbE RJ-45
USB Port 2x USB 2.0 for 3G/4G/LTE USB modem, storage, printer or thermometer
DrayTek Vigor2960 Series – Dual-WAN Security Firewall offers:
Gigabit Dual WAN interface providing load-balancing and failover for high performance and business continuity
4-port Gigabit LAN interface for facilitating managed services applications
Enhanced security including:
Object-base firewall with advance users (e.g. IP), applications (e.g. IM & P2P,) and content management (web category, keyword and URL)
VPN connection for LAN-to-LAN (site-to-site) and Remote dial-in (client-to-site) with dynamic VPN services: IP Security (IPsec)
VPNs (Triple Data Encryption Standard [3DES] or Advanced Encryption Standard [AES]),and SSL VPN Web Proxy)
Two USB 2.0 ports for printer, file sharing* and 3.5G/4G USB mobile broadband*
Bandwidth Management with 8-level priority Inbound/Outbound QoS
IPv4/IPv6 support to protect investment
TR-069 Management / Working with VigorACS SI
Security without compromise
The Vigor2960 series also provides high-security firewall options with both IP-layer and content based protection. The DoS/DDoS prevention and URL/Web content filter strengthen the security outside and inside the network. The enterprise-level CSM (Content Security Management) enables users to control and manage IM (Instant Messenger) and P2P (Peer to Peer) applications more efficiently. The CSM hence prevents inappropriate content from distracting employees and impeding productivity. Furthermore, the CSM can keep office networks threat-free and available. With CSM, you can protect confidential and essential data from modification or theft.
By incorporating CYREN's GlobalView Web Content Filter services, DrayTek ensures its customers' networks are protected by the best available security technology.
Security
Enable real-time protection from emerging Web threats including malware, phishing and Zombies/bots
Enterprise-level VPN Network
With a dedicated VPN co-processor, the hardware encryption of AES/DES/3DES and hardware key hash of SHA-1/MD5 are seamlessly handled, thus maintaining maximum router performance. For remote tele-workers and inter-office links, the Vigor2960 supports up to 200 simultaneous VPN tunnels (such as IPsec/PPTP/L2TP protocols).
900+ Mbps NAT Throughput
200 VPNs : IPsec throughput up to 600 Mbps
50 SSL VPNs : Throughput up to 90 Mbps
80k Sessions : Recommended for a network of 200 hosts
Centralized Management
The embedded Central VPN Management (CVM) will let network administrator register up to 16 remote routers but run concurrent remote management over 12 remote routers.
Internet Connection
IPv4 PPPoE, DHCP, Static IP, PPTP/L2TP
IPv6 Link Local, Static PPP, DHCP IA NA, DHCP IA PD
Multi-VLAN
3G/4G/LTE WAN with USB modem
Outbound Load Balancing IP-based, Session-based
Inbound Load Balancing
WAN Active on Link Failure
Connection Detection ARP, Ping, HTTP
Dynamic DNS
DrayDDNS
LAN Management
802.1q VLAN
Max. Number of VLAN 20
DHCP Server Multiple IP Subnet, Custom DHCP Options, Bind-IP-to-MAC
PPPoE Server
Port Mirroring
Local DNS Server
Conditional DNS Forwarding
Hotspot Web Portal
Hotspot Authentication Local User Profile, Guest Profile, RADIUS, LDAP, SMS PIN
Networking
Static Routing IPv4 Static Routing, IPv6 Static Routing, Inter-VLAN Routing
Dynamic Routing RIPv2, OSPFv2, BGP
Policy-based Routing Protocol, IP Address, Port, Domain, Country
High Availability Active-Standby, Hot-Standby
DNS Security (DNSSEC)
GVRP
Proxy IGMP, LAN ARP, WAN ARP
SMB File Sharing (Requires external storage)
VPN
LAN-to-LAN
Remote Dial-In (Teleworker-to-LAN)
Protocols PPTP, L2TP, IPsec, L2TP over IPsec, SSL, GRE, IKEv2, IKEv2-EAP, OpenVPN
User Authentication Local, RADIUS, LDAP, mOTP
IKE Authentication Pre-Shared Key, X.509
IPsec Authentication SHA1, SHA2/256, MD5
VPN Redundancy Load Balancing, Failover
NAT-Traversal (NAT-T)
Firewall & Content Filtering
NAT Port Redirection, Open Ports, Port Triggering, DMZ Host, UPnP
ALG (Application Layer Gateway) SIP, RTSP, FTP, H.323
VPN Pass-Through PPTP, L2TP, IPsec
IP-based Firewall Policy
Content Filtering Application, URL, DNS Keyword, Web Features, Web Category (subscription required), QQ Filter
DoS Attack Defense
Bandwidth Management
IP-based Bandwidth Limit
IP-based Session Limit
QoS (Quality of Service) TOS, DSCP, 802.1p, IP Address, Port, Application
Hardware QoS
VoIP Prioritization
Management
Local Service HTTP, HTTPS, Telnet, SSH, TR-069
Config File Export & Import
Firmware Upgrade TFTP, HTTP, TR-069
2-Level Administration Privilege
Access Control Access List, Brute Force Protection, Access Barrier
Syslog
Notification Alert SMS, E-mail
SNMP v2, v2c, v3
Managed by VigorACS
Central AP Management 50 VigorAP
Central Switch Management 10 VigorSwitch
Physical
Rack Mountable Mouting Kit Included
Power Supply DC 12V @ 1.5A
Dimension 273 mm x 171 mm x 45 mm
Operating Temperature 0 to 45°C
Storage Temperature -10 to 70°C
Operating Humidity (non-condensing) 10 to 90%
NAT Throughput 900 Mbps
IPsec VPN Performance 600 Mbps (ASE 256 bits)
SSL VPN Performance 90 Mbps
NAT Sessions 80,000
Max. Concurrent VPN Tunnels 200
Max. Concurrent OpenVPN + SSL VPN 50
Vigor 2960
Vigor2960