5-Pack of 5-Port Managed Gigabit Switch (PSU not included)

Ubiquiti USW-FLEX-MINI-5 5-Pack of 5-Port Managed Gigabit Switch (PSU not included)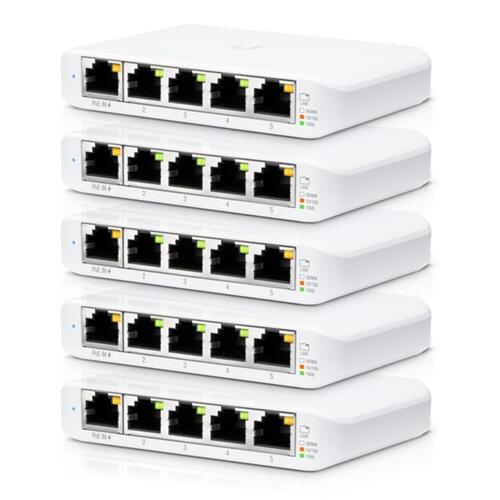 5-Port managed Gigabit Ethernet switch
Powered by 802.3af/at PoE or 5V USB-C power adapter.
5-Pack of 5-Port Managed Gigabit Switches
(Note. Wall plug power adapters not included. Use PoE to power these switches or order seperate power supply. Part code PSU5V2AUSBUSBC)
Build and expand your network with the UniFi Switch, part of the Ubiquiti Networks UniFi Enterprise System.
The USW-Flex-Mini is a smart managed Gigabit switch. It offers 5 RJ45 Ethernet ports, providing Gigabit links to your devices.
Power up the USW-Flex-Mini with the included USB Type-C power adapter or with 802.3af PoE Ethernet in port 1.
Works with UniFi Network Controller
Manage Your Networks from a Single Control Plane
Intuitive and Robust Configuration, Control and Monitoring
Remote Firmware Upgrade
Users and Guests
Guest Portal/Hotspot Support
And much more
Compact Desktop Design
The cost-effective UniFi Switch Flex Mini can be discreetly integrated into any environment.
Copper Connectivity
Five RJ45 ports offer 10/100/1000 links. One port also supports 802.3af/at PoE input.
Efficient Use of Energy
The UniFi Switch Flex Mini uses only a maximum of 2.5W. For your convenience, it can be powered by 802.3af/at PoE or a 5V, 1A USB-C power adapter.
Switch Configuration
You can access the UniFi Switch Flex Mini through the UniFi Controller to configure a variety of features:
• Operation mode (switching or mirroring) per port
• Network/VLAN configuration*
• Jumbo frame and flow control services
• Network settings
• Storm control setting per port
Switch Port Status
You can also view status information for each port:
• Connection speed and duplex mode
• TX/RX data rates
• Network/VLAN setting*
* Note. USW-Flex-Mini uses port-based VLANs only and does not support SSH, STP (forwarding only), 802.1X, DNS suffix, or experience in the controller.
Hardware
Dimensions : 107.16 x 70.15 x 21.17 mm
Weight : 150 g
Networking Interfaces : (5) 10/100/1000 Mbps RJ45 Ports
PoE In Interface : 802.3af/at PoE (Pins 1, 2+; 3, 6-)
Max. Power Consumption : 2.5W
USB Power Method : Type C, 5V
Included Power Adapter : 5V, 1A
ESD/EMP Protection : ± 16kV Air, ± 12kV Contact
Operating Temperature : -5 to 45° C
Operating Humidity : 10 to 90% Noncondensing