8-Port 10/100/1000 Mbps (Gigabit) Managed Switch, with 2 Gigabit SFP

Edgecore ECS2020-10T 8-Port 10/100/1000 Mbps (Gigabit) Managed Switch, with 2 Gigabit SFP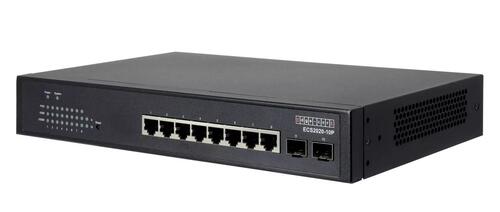 Automatic voice/ surveillance VLANs
10 Port Gigabit Web-Smart Layer 2 Ethernet Switch.
2 SFP & 8 RJ-45 ports.
IGMP/MLP Snooping
4K VLAN.
DDOS protection.
Energy Efficient.
Automatic voice/ surveillance VLANs.
The ECS2020 Series is Edgecore's latest generation cost-effective web-smart switch solution. The ECS2020 is designed for SMB and enterprise markets and provides a complete solution from 10/28-ports, including both non-PoE and PoE options. The switches comply with the IEEE 802.3az Energy Efficient Ethernet standard. Support for IPv4 and IPv6 management and features ensures your network can upgrade from IPv4 to IPv6.The ECS2020 Series offers complete PoE solutions from 70W to 190W. All the switches are rack mountable.
Supports 2/4 integrated Gigabit SFP ports. Besides providing more uplink bandwidth, the SFP ports can be used for redundant links.
Operates at a temperature from 0ºC-50ºC
Supports automatic voice/surveillance VLANs, providing VoIP and IP cameras with the optimum network traffic usage.
4KV Surge Protection
IGMP/MLD snooping manages multicast streams to ensure high-quality, smooth video
Supports Web, SNMP v1/v2c/v3, and Telnet management to provide CLI access. The switch supports a private MIB for detailed information
Specifications

Port

RJ45 10/100/1000 Ports

8

Gigabit SFP Ports

2

Performance

Switching Capacity

20Gbps

Forwarding Rate

14.9Mpps

Flash Memory

16Mb

DRAM

128Mb

MTBF

324,089 hrs

Packet Buffer

4.1Mbits

MAC Address Table

8K

Jumbo Frames

10K

Heat Dissipation

27.297 (Btu/H)

Acoustic Noise

0dB

Power Supply

100V-240V AC, 50/60Hz

Yes

Max Power Consumption (Watts)

8.03W

Mechanical

Rack Space

9"

Form Factor

Rackmount

Dimension (W x D x H)

21.6 x 13.3 x 4.2cm

Weight

814g (1.81lb)

Environmental

Operating Temperature

0ºC ~ 50ºC

Storage Temperature

-40ºC ~ 70ºC

Altitude

3000m

Operating Humidity (noncondensing)

10% to 90%

Storage Temperature (noncondensing)

10% to 90%

Certification

CE/FCC

Yes

UL/BSMI

Yes

Safety Compliance: CB

Yes
Specifications

Port

RJ45 10/100/1000 Ports

8

Gigabit SFP Ports

2

Performance

Switching Capacity

20Gbps

Forwarding Rate

14.9Mpps

Flash Memory

16Mb

DRAM

128Mb

MTBF

324,089 hrs

Packet Buffer

4.1Mbits

MAC Address Table

8K

Jumbo Frames

10K

Heat Dissipation

27.297 (Btu/H)

Acoustic Noise

0dB

Power Supply

100V-240V AC, 50/60Hz

Yes

Max Power Consumption (Watts)

8.03W

Mechanical

Rack Space

9"

Form Factor

Rackmount

Dimension (W x D x H)

21.6 x 13.3 x 4.2cm

Weight

814g (1.81lb)

Environmental

Operating Temperature

0ºC ~ 50ºC

Storage Temperature

-40ºC ~ 70ºC

Altitude

3000m

Operating Humidity (noncondensing)

10% to 90%

Storage Temperature (noncondensing)

10% to 90%

Certification

CE/FCC

Yes

UL/BSMI

Yes

Safety Compliance: CB

Yes