AirMax 3.5GHz 18dBi, 120 degree Sector Antenna

Ubiquiti AM-3G18-120 AirMax 3.5GHz 18dBi, 120 degree Sector Antenna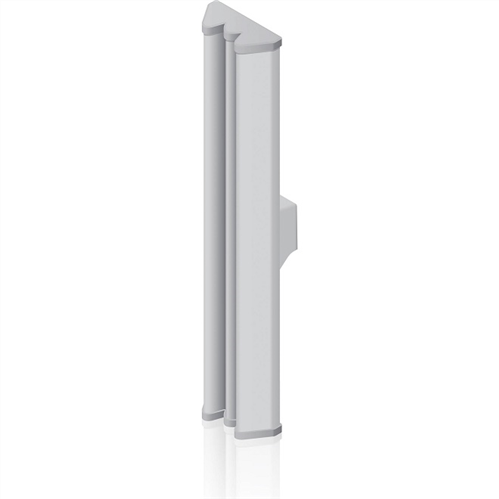 AirMax 3.5GHz 18dBi, 120 degree Sector Antenna
Patent-pending next-generation technology achieves gain, cross-pol isolation, and beam shaping characteristics rivaling the highest quality cellular carrier base station antennas in the world. Instantly pair with Ubiquiti Rocket M3 to create a powerful AirMax 2x2 MIMO PtMP Base Station. Ubioquiti Rocket M3 mount and weatherproof RF jumpers included.
Rocket M3 Seamlessly Integrates with Ubiquiti Dual Polarised AirMax Base Station Sectors.
Ubiquiti Rocket M3 and AirMax Base Station/Rocket Antennas have been designed to seamlessly work together. Installing Ubiquiti Rocket M3 on AirMax Base Station/Rocket Antennas requires no special tools; you simply snap it into place with the mount provided with the Antennas.
Ubiquiti Dual Polarised antennas also work perfectly with MikroTik 802.11n NV2 long range wireless radio cards as well.
Frequency Range : 3.3 - 3.8 GHz
Gain :17.3 - 18.2 dBi
Polarisation : Dual-Linear
Cross Polarisation : 28 dB Min.
Max VSWR : 1.5:1
Vertical Beamwidth : 121° (6 dB)
Horizontal Beamwidth : 118° (6 dB)
Connector Type : (2) RP-SMA Female
Dimensions : 735 x 144 x 78
Wind Loading : 125 mph
Pole Mount Diameter : 38 - 75mm
AKA ANT-157