32 Serial Cisco Straight, dual 10/100/1000 Ethernet, dual ac power, 4GB flash , 2 USB 2.0 ports, FIPS140-2 Certified

Opengear CM7132-2-DAC 32 Serial Cisco Straight, dual 10/100/1000 Ethernet, dual ac power, 4GB flash , 2 USB 2.0 ports, FIPS140-2 Certified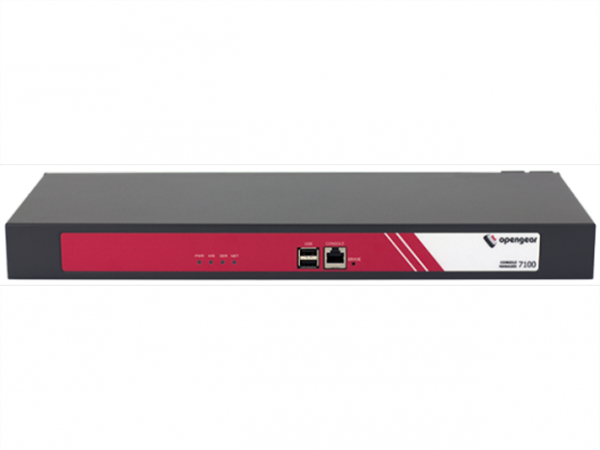 32-Port Console Server, RS-232 RJ45 serial (Cisco Straight pinout), Dual Gig (10/100/1000) Ethernet, Dual AC power, 4GB flash , 2 x USB 2.0 ports, FIPS140-2 Certified
The Opengear CM7100 is a feature-rich console server that simplifies out-of-band management for your network, server and power infrastructure in data centers and remote sites. Powerful monitoring, diagnostics and remediation features enable efficient recovery from infrastructure fault conditions and maximize uptime. An intuitive dashboard with proactive alerting provides network and IT administrators with real-time status of the core infrastructure.
16-96 serial ports, out-of-band management of network and server devices
Simple straight-through cabling to Cisco®-style serial consoles
Integrated RESTful API engine on devices running firmware 4.0 or higher
AAA including Active Directory and TACACS+ integration, lock down access per user and group
Opengear's solution raises secure remote access and infrastructure management to a new level. SmartOOB extends traditional out-of-band management to monitor and log systems health and environmental conditions, proactively detecting faults before they become failures.
Securely access your networking devices, servers and power equipment and monitor for console warnings from managed device
Proactively detects faults before they become failures
Automated response with customized rules and policies undertaking complex actions depending on what is detected
Monitors and controls UPSes and power status (disruptions, surges, power cycling)
Enables monitoring of temperature, humidity, motion, water and door access
Built-in TFTP server increases efficiency and mitigates the risk of infrastructure failures by enabling remote provisioning, maintenance and recovery
Bulletproof console management with integrated 16-48 port console server