Jabra 14201-10 DHSG EHS Cable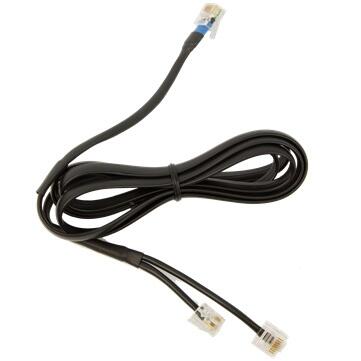 Remote call control for a wide range of phone models with DHSG support
Jabra LINK 14201-10 enables remote Electronic Hook Switch Control (EHS) with Jabra wireless headset and a wide range of phone models from Aastra, Agfeo, Auerswald, Funkwerk, Innovaphone, Siemens, Snom, Swyk, Deutsche Telecom, Tiptel and Ipitomy (see Jabra compatibility overview or consult your Jabra sales contact for the right solution).
Once installed, employees can control their call directly from their Jabra wireless headset up to 450 ft away from their desk.
Hear ring tone in headset
Answer and end calls
Adjust the volume
Mute the microphone
This means you will be able to answer telephone calls while away from your desk. You will hear the telephone ring in your wireless headset, then at the touch of a button you can answer the call.