Dual-Band Wi-Fi 6 PCIe Network Card for QNAP NAS, PC and Mac

QNAP QXP-W6-AX200 Dual-Band Wi-Fi 6 PCIe Network Card for QNAP NAS, PC and Mac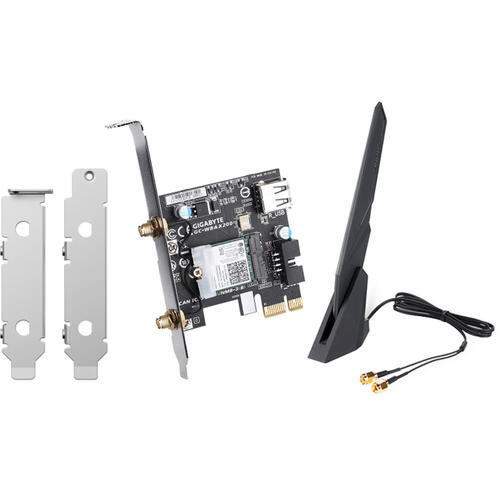 PCIe 2.0 x1 Host Connection
Wi-Fi 6 (802.11ax)
Up to 2400 Mb/s Throughput
2.4 GHz / 5 GHz (Dual-Band)
Install the QXP-W6-AX200 Wireless Dual-Band Wi-Fi 6 PCIe Network Card into an available PCIe 2.0 x1 slot for fast and reliable connections to Wi-Fi 6 (802.11ax) networks.
This dual-band adapter is designed to deliver up to 2400 Mb/s over the 2.4 GHz and 5 GHz frequencies with compatible devices. It also offers Bluetooth 5.0 connectivity for Windows PCs when plugged into an internal USB connection. Additionally, it includes a powerful antenna with a magnetic base that can be adjusted for optimal signal reception. The QXP-W6-AX200 is compatible with both Windows- and Linux-based systems in addition to select QNAP NAS enclosures.
It comes with a full height bracket pre-installed and includes half-height low-profile brackets to fit in your system.
QNAP QXP-W6-AX200 Network Card
Installs into an available PCIe 2.0 x1 slot
Delivers up to 2400 Mb/s over the 2.4 GHz and 5 GHz frequencies
Backward compatible with 802.11a/b/g/n/ac standards
Bluetooth 5.0 connectivity with Windows PCs
Adjustable antenna with a magnetic base
Works with Windows, Linux, and QTS operating systems
WiFi-6