LTE 4G VoIP Gateway, 8 Channels

Yeastar TG800L LTE 4G VoIP Gateway, 8 Channels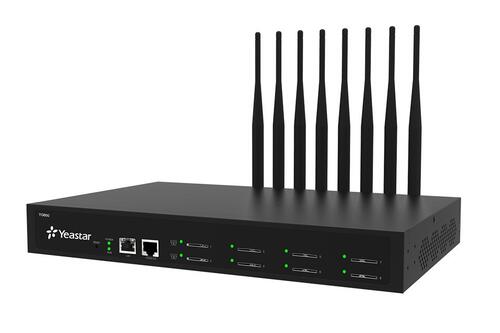 8 channels
High compatibility with major IP-PBX and soft switch brands
Echo Cancellation: ITU-T G.168 LEC
The Yeastar TG800 is a VoIP gateway with 8 channels providing 4G network connectivity for soft switches, and IP-PBXs. It supports two-way communication: VoIP to 4G and 4G to VoIP.
VoIP Gateway
Connects 4G network to the VoIP network directly
8x 4G LTE channels
Cost-effective backup when the landline goes down
High compatibility with major IP-PBX and soft switch brands
Transport: UDP, TCP, TLS, SRTP
Voice Codecs: G.711 (alaw/ulaw), G.722, G.726, G.729A, WCDMA, ADPCM, Speex
Echo Cancellation: ITU-T G.168 LEC
LAN Ports: 1 10/100Base-T Ethernet
Network Protocols: FTP, TFTP, HTTP, SSH
Supports call transfer, call waiting, call status display, white list and black list, packet capture
Package Includes: Gateway, DC 12V, 1A power supply, warranty card, one short antenna.
Yeastar voIP Gateways
Cost-Effective & Feature-Rich
A Yeastar VoIP Gateway is an ideal addition to any SMB telephony system, bringing advanced VoIP technology & your phones and network together.
Complete Portfolio
Yeastar's TA, TG, and TE Series VoIP Gateways offer up to 32 FXS ports, 16 FXO ports, 16 GSM/3G/4G channels, and two T1 ports.
High Performance
Clear voice calls and carrier-grade reliability are guaranteed by a high-end TI chipset and processor. You'll get superb voice compressions.
Interoperability
Excellent interoperability with Vodia, Asterisk, Lync Server (Skype for Business), FreePBX, Xorcom, 3CX platforms, and many more. Also certified with Elastix and Broadsoft.
Easy Management
The simple and intuitive web GUI allows for easy and straightforward configuration, saving you time.
Rich Applications
A robust feature set that fulfills business needs & makes full use of analog phones, PSTN lines, digital lines, and cellular networks.