PowerBeam M5 AC 802.11n/ac 27dBi AP/Bridge/CPE

Ubiquiti PBE-5AC-500 PowerBeam M5 AC 802.11n/ac 27dBi AP/Bridge/CPE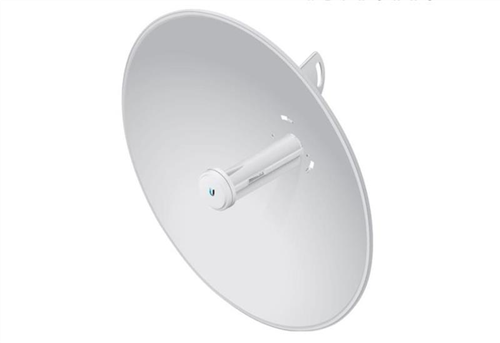 The nw Ubiquiti PowerBeam AC (also known as the NanoBeam 5AC) 27dBi has a compact, all-in-one design with uniform beam width, efficient footprint and a faster processor. The PowerBeam can be easily mounted in a variety of ways thanks to the innovative mechanical design.
The PowerBeam directs RF energy in a tighter beamwidth. With the focus in one direction, the PowerBeam blocks or spatially filters out noise, so noise immunity is improved. This feature is especially important in an area crowded with other RF signals of the same or similar frequency.
All-in-one design The PowerBeam provides both the radio and antenna in the smallest possible footprint.
Quick and easy installation.
airMAX M series Technology provides performance improvements in latency, throughput, & scalability compared to other outdoor systems in its class.
Powered by Ubiquiti's powerful airOS loaded with features and optimizations for outdoor wireless performance, Ubiquiti's airMAX platform also features airView Spectrum Analysis and airControl central device management.
Ubiquiti's Antenna R&D team applied their years of experience in cellular basestation antenna design in developing the revolutionary airMAX.
The PowerBeam™ PBE-5AC-500 includes a protective radome to shield the radio from the elements. The PBE-RAD-400 is an optional accessory available for the PBE-M2-400 and PBE-M5-400.