802.11a 500mW Outdoor Wireless Access Point/Bridge, PoE adapter included

Ubiquiti NSM5 802.11a 500mW Outdoor Wireless Access Point/Bridge, PoE adapter included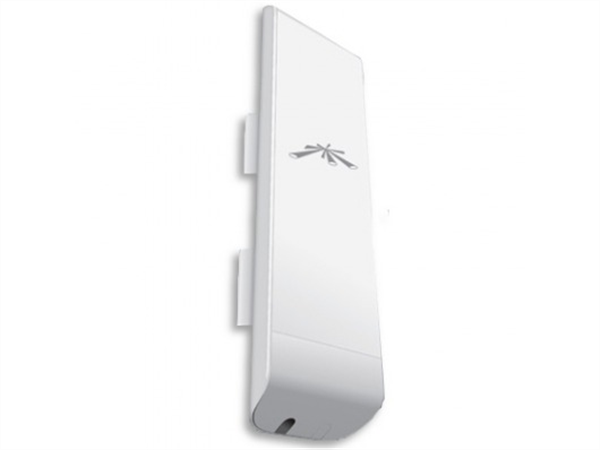 The NanoStation5 Broadband Outdoor Wireless CPE Router from Ubiquiti Networks features a broadband wireless CPE technology, hi-gain two antenna system, advanced radio architecture, and firmware technology allowing throughput, stability, and capacity performance.
The NanoStation5 is a reliable solution for high performance and can work in extreme temperature and weather conditions.
NanoStation5 utilizes Adaptive Antenna Polarity technology, which can statically or dynamically switch antenna polarities to optimize your connections.
The AirOS is an intuitive, versatile Ubiquiti -firmware technology that is included with NanoStation5. It is designed to require no training to operate. Behind the user interface is a powerful firmware architecture which enables high-performance outdoor multi-point networking.
Dimensions: 294 x 31 x 80 mm
Weight: 400 g
Power Supply: (PoE) 24V, 0.5A
Max. Power Consumption: 8W
Power Method: Passive PoE (Pairs 4, 5+; 7, 8 Return)
Operating Frequency: 5170-5875 MHz
Gain: 14.6-16.1 dBi
Networking Interface: (2) 10/100 Ethernet Ports
Processor Specs: Atheros MIPS 74Kc, 560 MHz
Memory: 64 MB DDR2, 8 MB Flash
Frequency: 5 GHz
Cross-pol Isolation: 22 dB Minimum
Max. VSWR: 1.6:1
Beamwidth: 43° (H-pol) / 41° (V-pol) / 15° (Elevation)
Polarization: Dual Linear
Enclosure: Outdoor UV Stabilized Plastic
Mounting: Pole-Mount (Kit Included)
Operating Temperature: -30 to 75° C (-22 to 167° F)
Operating Humidity: 5 to 95% Noncondensing
Wireless Approvals: FCC Part 15.247, IC RS210, CE
RoHS Compliance: Yes
Shock & Vibration: ETSI300-019-1.4
Dimensions: 294 x 31 x 80 mm
Weight: 400 g
Power Supply: (PoE) 24V, 0.5A
Max. Power Consumption: 8W
Power Method: Passive PoE (Pairs 4, 5+; 7, 8 Return)
Operating Frequency: 5170-5875 MHz
Gain: 14.6-16.1 dBi
Networking Interface: (2) 10/100 Ethernet Ports
Processor Specs: Atheros MIPS 74Kc, 560 MHz
Memory: 64 MB DDR2, 8 MB Flash
Frequency: 5 GHz
Cross-pol Isolation: 22 dB Minimum
Max. VSWR: 1.6:1
Beamwidth: 43° (H-pol) / 41° (V-pol) / 15° (Elevation)
Polarization: Dual Linear
Enclosure: Outdoor UV Stabilized Plastic
Mounting: Pole-Mount (Kit Included)
Operating Temperature: -30 to 75° C (-22 to 167° F)
Operating Humidity: 5 to 95% Noncondensing
Wireless Approvals: FCC Part 15.247, IC RS210, CE
RoHS Compliance: Yes
Shock & Vibration: ETSI300-019-1.4