NanoBeam 400mW Outdoor AP/Bridge 802.11a/n, with 16dBi Antenna

Ubiquiti NBE-M5-16 NanoBeam 400mW Outdoor AP/Bridge 802.11a/n, with 16dBi Antenna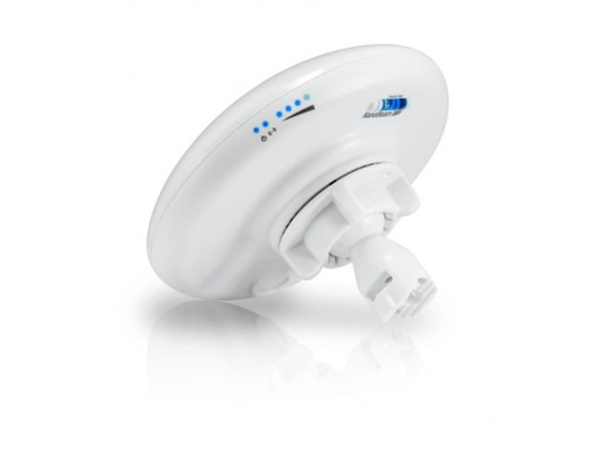 airMAX Technology
Atheros MIPS 74Kc, 560 MHz Processor
64MB DDR2, 8MB Flash Memory
1 x 10/100 Ethernet Port
airOS, airView, airControl Software
Power/LAN/WLAN LED Indicators
Quick Assembly
Versatile Mounting
RoHS Compliant
FCC, IC, CE Approved
The NBE-M5-16 5 GHz 16dBi NanoBeam airMAX Bridge from Ubiquiti Networks directs RF energy in a tighter beamwidth. NanoBeam maximizes noise immunity by its uniform bandwidth. With focus in one direction, the NanoBeam blocks or spatially filters out noise, so noise immunity is improved. This feature is important in an area crowded with other RF signals of the same or similar frequency.
The NBE-M5-16 combines the radio and antenna in an efficient and compact unit that gets maximum gain out of the smallest footprint. It features an innovative mechanical design and high speed processor for optimal performance at low cost.
airMAX Technology
Ubiquiti's Time Division Multiple Access (TDMA) airMAX protocol allows each client to send and receive data using pre-designated time slots scheduled by an intelligent AP controller. This "time slot" method eliminates hidden node collisions and maximizes airtime efficiency. It provides significant performance improvements in latency, throughput, and scalability compared to all other outdoor systems in its class.
Intelligent QoS: Priority is given to voice/video for seamless streaming.
Scalability: High capacity and scalability.
Long Distance: Capable of high-speed, carrier-class links.
Software
airOS
airOS is a versatile, highly developed Ubiquiti firmware technology. It is an intuitive technology, designed to require no training to operate. Behind the user interface is a powerful firmware architecture, which enables high-performance, outdoor multi-point networking. NanoBeam uses airOS which provides additional advantages, including protocol support, Ubiquiti channelization, spectral width adjustment, ACK auto-timing, AAP technology, and multi-language support.
airView
Integrated airView provides advanced spectrum analyzer functionality such as waterfall, waveform, and real-time spectral views that allow operators to identify noise signatures, and plan their networks to minimize noise interference. Waterfall aggregates energy over time for each frequency. Waveform aggregates energy collected. Real-time feature shows energy in real time as a function of frequency. Recording automates airView to record and report results.
airControl
airControl is a powerful and intuitive web-based server network management application, which allows operators to centrally manage entire networks of Ubiquiti devices. It features network map, monitor device status, mass firmware upgrade, Web UI access, management of groups of devices, and task scheduling.
Hardware
All-in-One Design
The NanoBeam provides both the radio and antenna in the smallest possible footprint.
Quick Assembly
No fasteners are required for pole-mounting, and a single wall fastener (not included) is required for wall-mounting.
Convenient Alignment
The NanoBeam pivots on its ball joint for easy aiming.
Efficient Footprint
The radio and antenna are combined into a single body that takes up minimal space.
Versatile Mounting
The NanoBeam can be mounted in almost any position needed for line of sight.
Aesthetics
The NanoBeam is small enough to blend discreetly into the background at a customer's location.