Patton SN4114/JO/EUI 4 FXO VOIP Gateway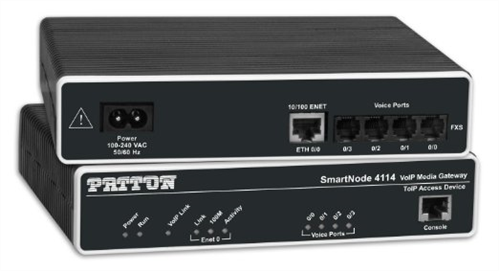 The Patton Smartnode 4114 is a 4 FXO VoIP Gateway. The Smartnode 4114 will terminate 4 Analog PSTN lines and convert them to VoIP Protocols for use with VoIP Phone Systems.
If you are using 3CX this is a MUST purchase as it is the ONLY gateway that is plug-n-play.
4 FXO
1x10/100baseT
H.323 and SIP
External UI Power
SmartNode 4110 Series Features & Benefits
10/100 Full-Duplex Auto-Sensing Auto-MDX Ethernet port
14 LEDs for System, Ethernet, and Call status
Universal 100-240VAC (contact us for 48VDC Power)
Configuration and Management through Webinterface, CLI, Telnet, Console and SNMP
Up to 8 Voice and FAX Calls over IP Support-Use any CODEC or T.38 FAX on any port, any time
2,4,6 or 8 FXS ports connect to your standard telephone with programmable tones, ringing, CLIP etc.
2 or 4 FXO ports connect to a PBX or the PSTN.
Programmable call routing switches between any FXS, FXO, H.323 and SIP interface.
Toll Quality CODECs & T.38 FAX-Use standard G.711 or G.726 Codecs for toll-quality or G.723.1 or G.729ab for low-bandwidth applications. T.38 FAX and FAX Bypass features allow high-quality fax over IP.
H.323v4 and SIP Signaling are both supported at the same time in one firmware. Maximum interoperability and deployable into any enterprise or carrier softswitch network, or standalone.
IPSEC VPN, Encryption, & VLAN-Connect your telephone to IP and secure your calls with optional IPSEC. Choose DES/3DES or AES for encryption. VLAN tagging/stripping allows interfacing into your 802.1pQ network.
Full ToIP™ Call Switching-Enhanced circuit-switched call routing allows user programmable and adaptive call handling based on hunt groups, caller/called ID and other call parameters