Indoor/Outdoor 6 Megapixel Hemispheric (180 degree) IP Camera

MOBOTIX MX-Q25-D016 Indoor/Outdoor 6 Megapixel Hemispheric (180 degree) IP Camera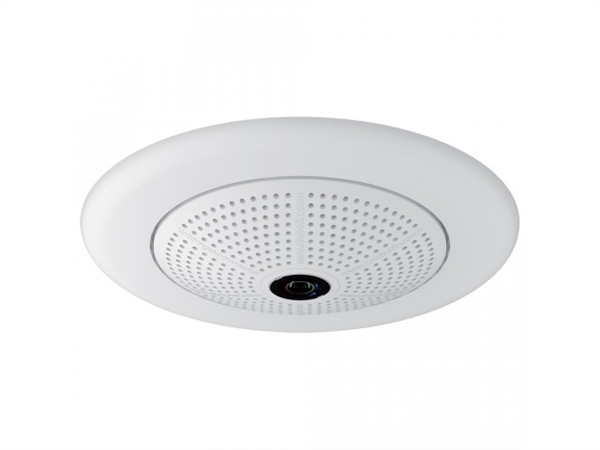 Hemispheric IP camera with 6 Megapixel Moonlight Sensor, color (day) • HD premium fisheye lens B016 (focal length 1.6 mm, f/2.0, 180° x 180°) • Max. image size: 6MP (3072 x 2048) • IP65, -30 to 50°C (-22 to 122°F) • Internal DVR: 4 GB microSD • HD Audio with integrated microphone and speaker • Temperature sensor, shock detector, MxActivitySensor, MxAnalytics (incl. behavioral detection), ethernet patch cable 0.5 m/1.6 ft • Interfaces: Ethernet 10/100 (RJ45), MxBus, USB; I/O and RS232 via Interface Box (MOBOTIX accessory) • Color: white
View an entire room, unobtrusively, with a single camera – without any blind spots.
Mobotix Q25M Hemispheric camera is a user-friendly, efficient and cost-effective system solution for audio and video room surveillance without blind spots.
Innovative Hemispheric Technology
The primary components of the Mobotix Q25M camera include a fisheye lens, a high-resolution image sensor, and image correction software integrated into the camera.
Using an ultra-wide angle fisheye lens, the camera captures a 180° hemispheric image of the room and projects it onto the image sensor.
When ceiling mounted, the image area of the hemispheric camera covers the entire room. The convex image captured by the hemisphere is corrected for the viewer by the integrated software, providing a view of the scene from a "normal" perspective. The virtual Pan-Tilt-Zoom (vPTZ) feature allows you to enlarge or move image sections, just like a PTZ camera but without moving parts.
One or more image sections can be isolated and corrected for perspective, allowing you to monitor and record several different areas of a room at the same time.
Discreet And Low Maintenance
Hemispheric cameras are extremely discreet because they manage their task with only one lens, which is generally focused on the entire room and not a specific object. Mobotix hemispheric cameras have no moving parts, require little maintenance, and are silent when panning and focusing on a specific image area.
Mobotix Q24 can be considered a "covert camera" as it does look like a camera. It looks more like a smoke detector than anything else.
Fewer Cameras Thanks To Panoramic Views
The perspective of the hemispheric image can also be transformed into an ultra-wide angle panoramic view spanning 180° if the camera is mounted on a wall. This offers a substantially better view of the scene compared to other cameras, and reduces the number of cameras required. When ceiling mounted, one camera can also capture an entire room by two opposite panoramic views.
Keeping Objects In View At All Times
With using several separate cameras, moving objects will often jump from one viewing area of a camera to another. This produces a confusing situation for the viewer because objects may disappear from sight, or even appear twice if the viewing areas overlap. This is not the case with hemispheric panoramic cameras. Objects remain in view at all times and the viewer can always keep track of objects in the scene.
No PC/DVR Required For Recording
Advanced flash memory (such as a MicroSD card) is integrated into the camera and replaces maintenance-intensive and expensive main memory (PC/digital video recorder). Because everything is processed within the camera itself, the high-resolution images do not have to be constantly transferred via the network for evaluation, which minimizes the required bandwidth and considerably reduces system costs. If necessary, the camera can also store data externally on a ring buffer on a server/PC.
Event-Controlled Image Format Minimizes Storage Costs
Automatic image adjustment (frame rate, size) in the case of movement, noises or sensor action reduces bandwidth and storage requirements.
Reliable For Both Indoor And Outdoor Use
More than 100,000 MOBOTIX systems are operating successfully worldwide. The weather proof cameras operate fail-safe around the clock – from -22 to +140 °F.