10Gbps Bi-Directional Single-mode SFP+ Module, 10km Range, 1270/1330

ETU-LINK ESB23X-3LCD10 10Gbps Bi-Directional Single-mode SFP+ Module, 10km Range, 1270/1330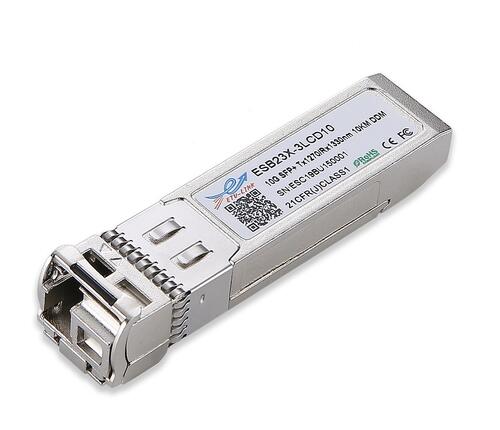 SFP+ transceiver optimised for high performance and cost effectiveness to supply customers the best solutions for telecommunication and data communication.
Bi-Directional Transmit 1270nm / Receive 1330nm
Applications
10G Base-ER/EW
10G Fiber Channel

ETU-LINK's ESBxxX-3LCD10 optical transceivers with CDR are designed for 10Gb/s optical interfaces for telecommunication and data communication with single mode fiber (SMF).This transceiver can support 9.953-11.1Gb/s
SFP MSA package with Single LC connector
Very low EMI and excellent ESD protection
Digital Diagnostic Monitor Interface
Hot pluggable
10Gb/s serial optical interface
Up to 10km distance
Compliant with SFP+ MSA
High transmission margin
+3.3V single power supply
Below 0.8W power consumption
SFP mechanical interface
Standard
SFP+ MSA Compliant
SFF-8472 reversion 9.5 compliant
IEEE802.3-2005 compliant
Telcordia GR-468-CORE compliant
FCC 47 CFR Part 15,Class B compliant
FDA 21 CFR 1040.10 and 1040.11,class1 compliant
RoHS compliant
Fibre is the same word as fiber.
Fiber is preferred in American spelling; Fibre is the preferred spelling in New Zealand English.